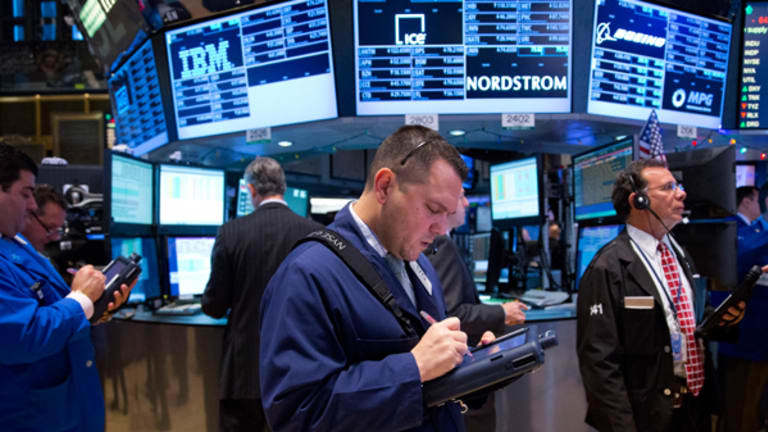 Health Care, Technology Stocks in Focus Going Into Quarter
The CNBC 'Fast Money Halftime' trading panel sizes up the market going into the next quarter.
NEW YORK (TheStreet) -- The quarter is ending and stocks are lower Tuesday. Some sectors are continuing to show strength including health care, said Pete Najarian, co-founder of optionmonster.com and trademonster.com, during CNBC's "Fast Money Halftime." 
But Najarian is looking to play defense, not offense and thinks investors should buy portfolio protection as long as volatility -- as seen by the CBOE Volatility Index undefined -- remains low. Najarian sees continued uncertainty in oil prices.
That uncertainty can be explained by three catalysts, said Jon Najarian, co-founder of optionmonster.com and trademonster.com. The oil market continues to be oversupplied, the U.S. dollar remains strong and there's worry about additional supply coming online from Iran. 
Portfolio protection may not be a bad idea. Non-farm payrolls data will be released on Friday, the Federal Reserve and European Central Bank both have meetings planned for April, and the flood of first-quarter earnings results begins.  
Joseph Terranova, chief market strategist for Virtus Investment Partners, is more optimistic heading into those events. He believes stocks are headed higher, adding that "earnings estimates are way too low" and the payrolls report will be "much stronger than people think." His bullish focus remains on health care, consumer staples and consumer discretionary stocks. 
Jon Najarian added that consumer technology stocks could outperform. Specifically he likes SanDisk (SNDK) . He also likes European equities. 
Investors will get a better chance to buy large-cap technology stocks, according to Josh Brown, CEO and co-founder of Ritholtz Wealth Management. He also pointed out that the average S&P 500 stock is up just 0.6% this quarter. However, the companies within the index that derive more than half of their revenue from overseas are down 1.8% for the quarter as investors worry about the negative impact of the rising U.S. dollar. 
Brown also likes Russell index growth stocks, which are up 7% on the year. He argued that while many large-cap financial stocks are underperforming the broader market, industries within the sector such as wealth management and online brokerages are doing quite well.  
The financial stocks have an attractive valuation but will likely struggle to move higher until the Federal Reserve hikes interest rates, Pete Najarian added. He also likes health care stocks and Intel (INTC) . 
Jim Lebenthal, president of Lebenthal Asset Management, agreed, saying he likes large-cap pharmaceutical stocks, old tech stocks like IBM (IBM) , Intel and Cisco Systems (CSCO) , as well as bank stocks. If the rate hike is delayed a few more months, it won't make much of a difference over the long term. 
Scott Devitt, an analyst at Stifel Nicolaus, upgraded Priceline Group undefined to buy and set a price target of $1,400. The stock is down 4% in the past 12 months, compared to the S&P 500's 14% rally, he said. He blamed the underperformance on the company's exposure to Europe, where 70% of its bookings are made.
However, the European economy is improving, with a strengthening consumer and improving GDP. As more Americans visit the continent because of the stronger dollar and more Europeans travel domestically because of the improved economy, Priceline could be a major beneficiary, Devitt said. 
Devitt also maintains his sell rating on Twitter (TWTR)  and said he will continue to evaluate the stock. 
Brown is optimistic on Twitter, saying its acquisition of Periscope could be a "game-changer" down the line. Citigroup estimates Instagram's valuation to be at $35 billion. Facebook (FB) bought Instagram for $1 billion.
While Periscope may never command such a lofty valuation, it could appreciate drastically in value if users adopt to the new platform, Brown concluded.