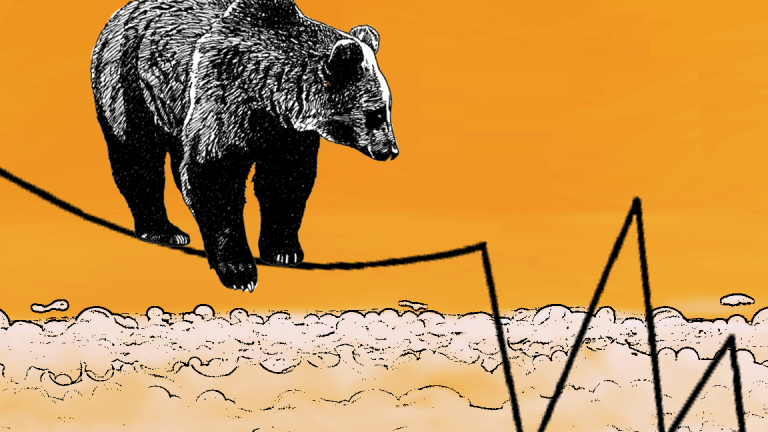 Gotta Stop the Drop: Cramer's 'Mad Money' Recap (Monday 11/12/18)
Jim Cramer talks about what's behind this dramatic decline and how can it be stopped. Here's what would help signal a bottom for stocks.
The U.S. equity markets gave no reprieve to investors on Monday, despite the observation of Veteran's Day. It was "right back to the trenches" as the major U.S. indices came under significant pressure, Jim Cramer told his Mad Money audience Monday night. 
Cramer hosted a special edition of Mad Money, his "Salute to the Troops", with veterans and military personnel as his honored guests.
The Dow Jones Industrial Average declined sharply and the market's harsh action left investors wondering when the selling is going to stop. To that end, Cramer said, he has a list of things that need to happen for the market to truly touch bottom.
First, Apple (AAPL) needs to stop declining. The stock fell 5% on Monday after a key supplier issued a profit warning, increasing investor concerns that iPhone demand may be waning.
Next, Cramer said, the FANG stocks have to follow suit. Amazon (AMZN) is doing the best out of FANG (Cramer's acronym for Facebook (FB) , Amazon, Netflix (NFLX) and Alphabet (GOOGL) ), and will likely bottom first, while Alphabet seems like "an outright buy" right now, Cramer reasoned.
Apple, Amazon, Facebook and Alphabet are part of Cramer's Action Alerts PLUS portfolio.
And the Fed needs to tell investors it's winning the fight against inflation. While Cramer agrees the Federal Reserve should hike again in December, he believes Chairman Jerome Powell should signal that the Fed is in wait-and-see mode rather than on autopilot with respect to further rate hikes.
Fourth, we need to see some cooperation between the U.S. and China, Cramer reasoned, and we also need to see the dollar stop rising.
While we need FANG and Apple to bottom, we also need to see General Electric (GE) find its footing. Finally, we need to see the "flight to quality" stop, as investors continue piling into McDonald's (MCD) , Coca-Cola (KO) and other names that do well during a recession.
Until some or all of these of signal actions happen, though, we can't trust that the market isn't done going lower, Cramer said.
Cramer and the AAP team are repositioning their portfolio into names that are more insulated to global trade and an economic slowdown. Find out what they're telling their investment club members and get in on the conversation with a free trial subscription to Action Alerts PLUS.
Executive Decision: Starbucks
As part of his "Salute to the Troops" show, Cramer interviewed Kevin Johnson, CEO of Starbucks (SBUX) .
About five years ago, Starbucks made a commitment to hire 10,000 veterans by the end of 2018, only to hit that goal two years ago. The company doubled down, saying it would hire 25,000 veterans or veterans' spouses by 2025. They're already at 21,000 and continue to make it an important part of their hiring initiatives.
Johnson explained that it's a win-win: Veterans need to transition back to civilian life and Starbucks wants to help, providing a full range of benefits including healthcare and college achievement programs.
For their part, the veterans are "fantastic people" who are mission-driven, care about team results and are resourceful, Johnson said.
As for the business, Johnson said the turnaround really began about 18 months ago, and it's finally starting to pay dividends. The distribution deal with Nestle is just now kicking in and that will be a beneficial driver for several years, he argued, adding that efforts to streamline and simplify the business are working.
Because of these growth initiatives, the company was aggressively buying back stock in the low $50s, as management thought the stock was undervalued. As for China, Starbucks' second-largest market, Johnson says his company isn't immune, but so far isn't feeling many ill effects due to the trade situation with the U.S.
Starbucks closed down 1% on Monday, at $67.91, but was climbing in after-hours trade.
Over on Real Money, Cramer says there are too few leaders and to many clinkers in this market. Get more of his insights with a free trial subscription to Real Money.
Executive Decision: FireEye
While our U.S. troops protect us on battlefronts throughout the world, we shouldn't forget about cybersecurity. That's why Cramer sat down with Kevin Mandia, the CEO of FireEye Inc. (FEYE) .
The company had a great quarter and is the best in the business, Cramer said. How does having veterans on the team help someone like Mandia? They have great attention to detail and incredible leadership qualities, Mandia said, adding that he has many of his senior managers meet with four-star generals in an effort to pick up some of those qualities.
When asked about the recent election, the CEO said that they were "pretty darn secure from my perspective." If something were to have happened, Mandia said, his team would have noticed it. Everyone was ready for this election though, not just FireEye, Mandia said. The entire industry, as well as the government, was prepared.
Meddling in influencing elections is another matter, though, he said, particularly with the anonymity we have with the internet. There need to be repercussions for nations that cross the line in regards to cybersecurity, Mandia said, and there needs to be some accountability. 
Know Your Dividends
Next, Cramer wanted to talk about dividends, which can be a lifesaver during times like this. Dividends are like magic, he said, because investors can re-invest that income and increase their future payouts. 
But not all dividends are created equal.
Just because a stock has a high yield doesn't mean investors should chase it. In fact, a high yield can be a red flag, Cramer said. That's because the yield goes higher as the stock price goes lower and investors will start to sell if they fear the dividend will be cut.
Case in point: Just look at GE or Anheuser-Busch (BUD) .
Anheuser-Busch built up a mountain of debt as it turned to M&A to fuel growth. As the dollar rose though, it became more expensive to pay it back with its revenue generated from overseas. The company recently cut its dividend in half as a result.
That pales in comparison to General Electric though, which "is indeed in trouble," Cramer said. The company cut its dividend in half in November 2017, before axing it by more than 90% down to a penny per share just last month. The company has balance sheet issues as well and should have raised capital when it had the chance.
So what's the bottom line here? Dividends can add a wonderful boost to an investor's portfolio, but only if they inspect the quality of the underlying company's balance sheet and its fundamental first.
Lightning Round
In the Lightning Round, Cramer was bullish on Roku (ROKU) , Zebra Technologies (ZBRA) , Cypress Semiconductor (CY) , Science Applications International (SAIC) , AvalonBay Communities (AVB) , Prudential (PRU) , Eaton Corp (ETN) , Nvidia (NVDA) , Exxon Mobil (XOM) , Salesforce (CRM) , Vornado Realty Trust  (VNO) and McDonald's.
Cramer was bearish on Impinj (PI) , Micron (MU) and SAP AG (SAP) . 
Search Jim Cramer's "Mad Money" trading recommendations using our exclusive "Mad Money" Stock Screener.
To watch replays of Cramer's video segments, visit the Mad Money page on CNBC.
To sign up for Jim Cramer's free Booyah! newsletter with all of his latest articles and videos please click here.
At the time of publication, Cramer's Action Alerts PLUS had a position in AAPL, AMZN, FB, GOOGL, CRM.