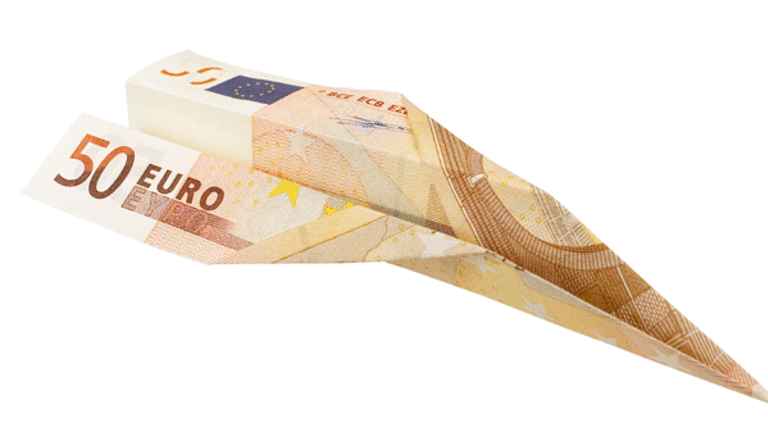 Publish date:
Have Earnings Estimates Declined too Much on the Rising Dollar?
The CNBC 'Fast Money Halftime' trading panel takes a closer look at first-quarter earnings estimates, as well as General Electric's large restructuring plan.
The CNBC 'Fast Money Halftime' trading panel takes a closer look at first-quarter earnings estimates, as well as General Electric's large restructuring plan.
NEW YORK (TheStreet) - With first-quarter financial reports getting under way, CNBC's "Fast Money Halftime" trading panel took a closer look at earnings expectations. On Friday, analysts at J.P. Morgan lowered their 2015 earnings estimates for the S&P 500 to $123. 
"Estimates are very tepid," said Christine Short, director of media and public relations at Estimize. She expects earnings to fall 1.5% in the first quarter compared with last year, but overall, said that investors have priced in enough downside. 
She also expects some companies to outperform, including Amazon (AMZN) - Get Report, Priceline (PCLN) , Gilead Sciences (GILD) - Get Report, Intuitive Surgical (ISRG) - Get Report and Whirlpool (WHR) - Get Report. 
Estimates for some companies have come down too much, but there will be others where analysts haven't accounted for enough exposure to the U.S. dollar, according to Jim Lebenthal, president of Lebenthal Asset Management. Overall, he expects markets to trade relatively flat through earnings. 
The stock market is going through an "earnings recession," said Jon Najarian, co-founder of optionmonster.com and trademonster.com. Some analysts are way too bearish on the quarter, he added. 
"We will get over it," Stephen Weiss, founder and managing partner of Short Hills Capital Partners LLC, said of the rising U.S. dollar. Sentiment has become very bearish for this quarter of earnings, which could lead to upside surprises. 
Investors need to focus on the fundamentals going forward, which Weiss considers "very bright." Companies will guide for some "cushion" in respect to the dollar, he added, and many are likely to receive leniency from analysts and investors. 
In other big news, General Electric (GE) - Get Report announced a huge restructuring, looking to shed a majority of its financial services business and buy back $50 billion worth of stock. 
Sarat Sethi, managing director at Douglas C. Lane & Associates, said the move is "absolutely" a good one for GE. Real estate prices are high, which will be good for the company when it looks to shed those assets. 
The dividend has room to grow and the balance sheet is strong, Sethi added. The company can now focus on its growth businesses in industrials, aerospace, and health care. Eventually, energy will be a solid contributor to earnings as well. Following the restructuring, GE Capital will represent less than 10% of the overall business, down from 42%. 
The stock is still 50% off its all-time high, Weiss pointed out. But the enormous buyback and restructuring is a "very, very positive thing." The stock is still a buy, despite jumping more than 7.5% on Friday. 
The company is "de-conglomerating" itself, Lebenthal said. Now investors will be able to better understand GE, which is a good thing. He pointed out, however, that the stock's volatility may increase now that it has become more cyclical.
Turning to the technology sector, Apple's  (AAPL) - Get ReportApple Watch is available for pre-order on Friday. Shares were up 0.3% and Lebenthal said, "I see no risk to the watch," as most analysts and investors have very little expectations for the device. 
Najarian agreed, adding that the focus should be on Apple Pay, iPhone sales and increased capital returns. 
The watch is not make or break for Apple, Short added. If it doesn't do well, it shouldn't have a "huge negative impact."
She likes the smart apparel prospects coming from Under Armour (UA) - Get Report and Nike (NKE) - Get Report more than a smart watch.
Crude oil is almost always in focus, with West Texas Intermediate prices jumping 1.7% on Friday as the weekly rig count continues to fall. But Paul Sankey, oil and gas analyst at Wolfe Research, isn't exactly bullish, pointing out that the rate of decline in rig counts has slowed. 
The rig count is now less relevant in his opinion, while production from Saudi Arabia has become more important. He's bearish on oil prices in the next six months, but "incredibly bullish" over the long-term. His top picks include Devon Energy (DVN) - Get Report, Anadarko Petroleum (APC) - Get Report and EOG Resources (EOG) - Get Report.