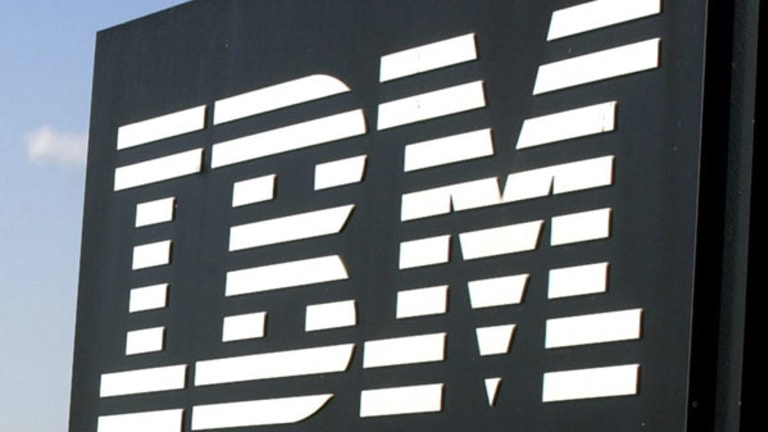 NEW YORK (TheStreet) -- In July 2012, when IBM's (IBM) - Get International Business Machines (IBM) Report stock was about where it is today, I wrote a piece headlined, "Is Wall Street Ignoring Risk at IBM?."
As it turns out, it was. IBM's stock soared to a high of around $215 from $186 on the day the piece ran, which is higher than it is today.
All investors cared about was that the company beat earnings and it that wasn't veering from its so-called 2015 "roadmap," which is supposed to deliver earnings per share of $20.
A not-so-funny-thing happened on the road to shareholder bliss: The company's sales growth didn't just stall, but for the past six quarters has shifted into reverse. (Interesting how the sales slippage almost correlates perfectly with Sam Palmisano's departure as CEO. At the time, some of us -- OK, yours truly -- wondered if he was getting out while the getting was good. But I digress...)
After quarters of pretending not to notice, with last night's sales miss, investors are finally paying attention.
To quote UBS analyst Steve Milunovich, "Credibility is at a low."
Bernstein analyst Toni Saccanoghi wonders whether IBM is "broken."
A better question: Outside of pulling levers like share buybacks and acquisitions, was it ever really fixed?
There's no question that IBM, under Palmisano and Gerstner, didn't stand still and become a template for Dell. It moved ambitiously into software and it made a bunch of acquisitions away from its legacy hardware business. The company would tell skeptics that it is now run for cash, with profits reinvested in the business.
And in a stroke of brilliance, it created a highly effective investor relations marketing strategy, creating a five-year "roadmap" to hit a specific earnings per share target. The 2015 roadmap calls for earnings per share of $20.
Not only did that give the company a long-term target to tantalize investors with, but it went so far as to say which levers it will pull to get there: Buybacks, acquisitions and "operating leverage."
I'm not a fan of long-term public stock targets, because so much can happen between here and there. And, indeed, that's what is happening with IBM. Investors have finally figured out that earnings per share growth on zero or negative sales growth can only go so far. Best case, it suggest low quality earnings; worst case, earnings growth that isn't sustainable.
Milunovich, in his report, comes right out and says, "Low quality earnings -- yet again."
He also notes, "The stock has traded in a multiple range of 10-16 times the past five years. We think the low end of that range is appropriate given increased uncertainty."
And that's the point, which most investors ignored until now. As I quoted Fred Hickey of the High-Tech Strategist newsletter bemoaning in that piece last year: The company was getting a growth multiple for no top-line growth.
And it didn't just happen.
"Over the past five years," Hickey wrote at the time, "IBM's revenues have barely budged ... that's with a strong tailwind from a weaker dollar and the benefit of 55 acquisitions totaling to a cost of $17.25 billion and very few divestitures. It looks to me that real 'organic' growth has been negative, even throughout the economic rebound."
It didn't matter then because investors bought into the "roadmap" and ignored everything else.
Reality Check: They aren't anymore. This has been a story, in large part, of buybacks to get the earnings per share higher. It's a big reason, based on his comments, Warren Buffett is in the stock.
Confession and no surprise to anybody who knows me: I'm a huge Buffett fan, but he'd be the first to tell you he is not always right. In the long run maybe he will be on IBM (I've learned you can't be dogmatic on names like this -- and I'm talking about me not he) but it was a tech stock purchase by a guy who used to go out of his way saying he does not invest in tech. And the buybacks, some apparently at higher prices, have done little more than lift the earnings per share at a company whose top line is flatlining. IBM's quarterly revenue is back to where it was in in 2008, but its stock is 45% above its 2008 peak. The reaction to that is usually something like, "Duh, buybacks, silly!" To which Ken Hackel of CT Capital -- and author of Security Valuation and Risk Analysis: Assessing Value in Investment Decision-Making -- says: "IBM shows the folly of share buybacks; they do NOT change return on capital which is essential for superior performance."
Hard to argue with that.
-- Written by Herb Greenberg
Herb Greenberg, editor of Herb Greenberg's Reality Check, is a contributor to CNBC. He does not own shares, short or trade shares in an individual corporate security.