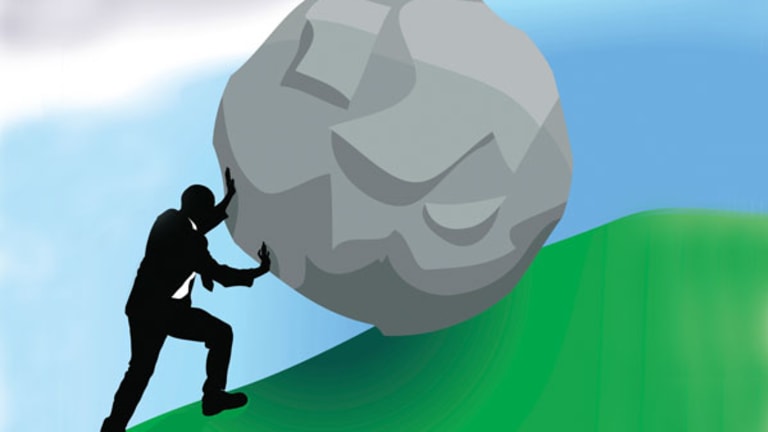 Greenberg: Red Flags Flying Over Boulder Brands
On the surface, the growth looks impressive. But at Boulder Brands a number of red flags fly that look past its impressive growth. Will its gluten-free push roll the wrong way?
Editor's Note: This article was originally published at 11:44 a.m. EDT on Real Money on Sept. 25. Sign up for a free trial of Real Money.
NEW YORK (
) -- Talk about cashing in on fads. Just look at the stock of
Boulder Brands
(BDBD)
, the former Smart Balance, which is the closest to a pure play on the gluten-free gravy train.
Since April its shares have doubled, with a reported sales gain last quarter of 45.6% on sharply higher profit following the company's acquisitive dive into gluten free.
Over the past two years Boulder has gobbled up Udi's and Glutino. Udi's is considered one of the top gluten-free bread brands in the U.S. and Canada-based Glutino has a broader mix of products.
Gluten-free now accounts for slightly less than half of sales at a company once known almost exclusively for its Smart Balance butter-like spreads.
But even with less than half its sales generated by gluten free, make no mistake that on Wall Street, gluten free is the story of Boulder Brands. In a report headlined "Gluten Free Rolls Along," Cannacord analyst Scott Van Winkle wrote, "We continue to believe that Boulder Brands has a favorable financial model and platform for growth in the healthier foods arena that is highlighted by its rising exposure to gluten free."
Gluten free has, without question, been a growth area in food products. Gluten is found in wheat, barley, rye and a few related grains. The only people who must avoid gluten are those with celiac disease, where the long-term effects can be deadly. But in the past few years, almost out of nowhere, gluten free has become synonymous in some circles with a healthy lifestyle.
The food industry -- never one to miss out on a fad -- hopped on board, increasingly slapping "gluten free" on anything that doesn't already contain gluten. The FDA has rolled out gluten-free labeling guidelines. And gluten-free labeled products, once only given their own sections in health food stores, can now be found in conventional grocery stores.
Red Flags Flying
On the surface, the growth looks impressive. But at Boulder Brands a number of red flags fly. Among them:
Receivables have grown substantially faster than sales for eight quarters. Last quarter they surged 70% and the quarter before 62%, or nearly double the sales growth. When receivables grow faster than sales, the concern is that customers are being given incentives somehow to take more products than they can sell.
Organic sales into grocery stores of all Boulder products, including butter-like spreads, are greater than sales out of the stores. Last quarter, for example, Boulder's organic sales grew by 12%, an uptick from the prior quarter. Yet Nielsen reported sales (or purchases by consumers) at the grocery level increased in the mid-to-low single digits in each of the four-week periods within the quarter (and they have been trending lower). Most of the slide appears to be with the company's butter-like spreads, which have been in decline. Regardless, such discrepancies between sales into and out of the channel can be disconcerting. They can suggest a channel that is stuffed with more goods than can be sold.
Perhaps more puzzling and troubling, even as Boulder is rapidly expanding its gluten-free lines through broader distribution into conventional grocery stores and new products, its reported sales growth for both Udi's and Glutino has tumbled in the past two quarters. And not by a small amount, with Glutino slowing to 36% in the second quarter and 34% in the first quarter, down from 62% and 57% in the prior two quarters. The story is similar at Udi's and slowing trends are occurring at the grocery level as well, according to Nielsen.
As sales are slowing, inventory at Boulder is ballooning, growing last quarter at a rate more than triple revenue growth. The company attributes the high inventory to several factors, including "efforts to stay ahead of the continued growth and distribution gains in our gluten-free businesses." But too much inventory can be a problem if it doesn't sell through. Not only can it lead to price-cutting and lower margins, but lower future sales if disappointed grocers don't reorder at the same rate.
CFO Christine Sacco dismissed the concerns. "We estimate the fill-out of conventional gluten-free sets will take 12 to 24 months," she said. "We believe growth in the category is estimated to be 15% from a same-store sales perspective." And that's before taking into account "additional growth opportunities in our alternative channels, such as food service, club and the UK," she said.
What about the discrepancy in shipments and grocery sales? She said Nielsen doesn't include sales from the likes of Whole Foods, Costco, Trader Joe's and sales in Canada. To fill that consumption-data void, she says, "We use shipments in an attempt to capture the entire market."
As for receivables racing ahead of sales, Sacco said it's the result of acquiring and integrating Glutino and Udi's and "offering extended days across the business to align company terms."
But is the gluten-free sales trend sustainable? Or like most fads will it flame out? And with so much of its sales tied to gluten-free, will Boulder Brands be vulnerable?
"We think it's similar to organic in its day," Sacco said.
Apples and Oranges
Reality: Organic and gluten free are two distinctly different categories and comparing them really is (given the health-food nature of the discussion) apples and oranges. Still, there's no getting around it. Gluten free's growth has been explosive. But it's unclear, even as it goes mainstream, how much staying power and sustainable growth it really has.
Annie's CEO John Foraker acknowledged as much at a recent investment conference when he said that even though gluten-free products have been growing quickly, faster than his overall business, "we also are cognizant that some consumers are in gluten-free maybe for diet reasons and other things which maybe are not as sustainable."
Meanwhile, with growth comes competition. The latest entry: Goodbye Gluten from baking giant
Grupo Bimbo
, whose brands include Arnold, Oroweat, Sara Lee, Thomas and Entenmann's.
And if the general public winds up tiring of gluten free, they're all battling for a real market, among diagnosed celiacs in the U.S., which numbers a whopping (wait for it) 3 million people, or about 1% of the population.
Disclosure: My daughter is celiac and I've spent a tremendous amount of time with her at Columbia University's Celiac Center, including multiple meetings with the center's nutritionist.
I've researched the subject the way any parent (a journalist, no less) would. I've read. I've interviewed. I've become engrossed. To see what my daughter would be going through, I put myself on a temporary gluten-free diet, only to be chastised by the Celiac Center's nutritionist, who told me point blank that if you're not celiac you should not eat a gluten-free diet. Her reasoning is that it tends to be higher in calories and less nutritious.
There's something else I've learned. It's one thing to buy gluten-free products. It's another to avoid gluten entirely, especially at restaurants where cross-contamination can be unavoidable. (That's a significant issue for restaurants and food service, as gluten-free menus start popping up.) In other words, a truly gluten-free diet is as rigorous as being vegan, vegetarian or any other diet. It's tough to follow and, like most diets, fleeting, especially when you're inside a bakery, dining out with friends or traveling.
Which gets back to the question of gluten free's sustainability as a growth niche. The answer? See the history of diets, especially those that might make you gain weight, and one that is usually mentioned as a possible cause of a laundry list of maladies, not a certain cause. Not only is the diet vulnerable but, so too, it would appear, is Boulder.
-- Written by Herb Greenberg
Herb Greenberg, editor of Herb Greenberg's Reality Check, is a contributor to CNBC. He does not own shares, short or trade shares in an individual corporate security.