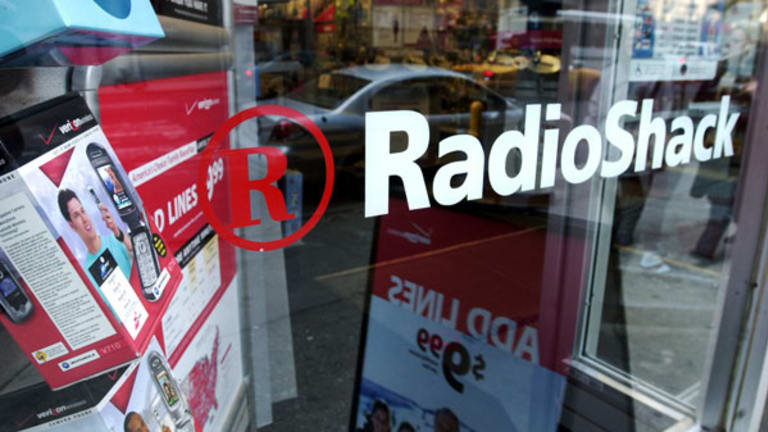 This article appeared at 8:53 a.m. EDT on RealMoney Sept. 11.

SAN DIEGO (RealMoney) -- Shame on RadioShack (RSH) for leaving the best part for the fine print that most people probably would've missed. 
To read the text of its earnings release today is to read about a company discussing "debt restructuring," closing stores and, in general, a "recapitalization." But, above all, it's a company discussing "a solution to maximize the value to all of our stakeholders" 
To anybody who has been around the market for any amount of time, that should've set off bells and sirens. 
"Recapitalization" is often a buzzword for bankruptcy, and the use of the word "stakeholders" should've been the dead giveaway. 
But the company left the best part to the fine print of the liquidity section in its 10-Q, filed with the Securities and Exchange Commission. Here, RadioShack not only bluntly said that it's thinking about Chapter 11 bankruptcy, but that it is considering Chapter 7 liquidation. 
From the filing: 
"We have experienced losses for the past two years that continued to accelerate into the second quarter of fiscal 2015, primarily attributed to a prolonged downturn in our business. Our ability to generate cash from operations depends in large part on the level of demand for our products and services. We continue to face an uncertain business environment and face a number of fundamental challenges in our mobility business due to consumer interest in handsets available in the market today, aggressive price competition on these products and intense wireless carrier marketing activities. Our retail business also faces the challenge of revamping our product assortment to anticipate and meet our customers' needs and wants to produce profitable operating margins. We believe these challenging market conditions will continue for the third quarter and possibly the balance of the year.
"Given our negative cash flows from operations and in order to meet our expected cash needs for the next twelve months and over the longer term, we will be required to obtain additional liquidity sources, consolidate our store base and possibly restructure our debt and other obligations. We are exploring alternatives and are engaged in discussions with third parties as well as our key financial stakeholders, including our existing lenders, bondholders, shareholders and landlords, in an effort to create a long-term solution. Alternatives include the sale of the company, partnership through a recapitalization and investment agreement, as well as both in and out-of-court restructuring. We presently anticipate announcing a recapitalization alternative, in the near term, which may be our most likely course of action, but we are continuing to evaluate all of our alternatives to restructure existing debt terms and other arrangements to provide additional liquidity. There can be no assurance that we will be able to successfully implement a long-term solution.
"If acceptable terms of a sale or partnership or out-of court restructuring cannot be accomplished, we may not have enough cash and working capital to fund our operations beyond the very near term, which raises substantial doubt about our ability to continue as a going concern. As a result, we may be required to seek to implement an in-court proceeding under Chapter 11 of the United States Bankruptcy Code ("Bankruptcy Code"). If we commence a voluntary Chapter 11 bankruptcy case, we will attempt to arrange a 'pre-packaged' or 'pre-arranged' bankruptcy filing. In a 'pre-packaged bankruptcy,' we would make arrangements with new and existing creditors for additional liquidity facilities and the restructuring of our existing debt terms, before presenting these arrangements to the bankruptcy court for approval. In the absence of a "pre-packaged" bankruptcy, we would consider a 'pre-arranged' bankruptcy filing, in which we would reach agreement on the material terms of a plan of reorganization with key creditors prior to the commencement of the bankruptcy case. An in-court restructuring proceeding would cause a default on our debt with our current lenders.
"We anticipate that in the near term we will seek to pursue one of the alternatives described above which may include a restructuring of existing debt terms and other arrangements to provide additional liquidity. As part of the various alternatives, we may begin a program to close a number of underperforming stores and other measures to make reductions in our cost structure. However, the actual number of store closures could vary considerably depending on the specific restructuring alternative implemented. Absent an agreed upon restructuring plan, the store closure program would require consent from our lenders.
"There can be no assurance that any of these efforts will be successful. Each of the foregoing alternatives may have materially adverse effects on our business and on the market price of our securities. In the event the restructuring alternatives described above are not achievable, we would likely be required to liquidate under Chapter 7 of the Bankruptcy Code." (emphasis added)
Liquidation?!
That's right. And while that simply mean the lawyers are making sure all bases are covered, the reality is: RadioShack isn't just talking bankruptcy reorganization, but liquidation. 
Not that this should be a surprise. Just the other day Michael Pachter of Wedbush, explaining why his stock target for RadioShack is zero, said, "Continued margin erosion will likely compel the company to enter bankruptcy in order to pursue its turnaround. Our price target reflects our expectation that creditors will force a reorganization and wipe out RadioShack's equity." With that already out in the market, RadioShack should've just come out and said it in its earnings release. This is no time for spin. 
Memo to management: No matter how you position this to investors, at this point it won't make a difference to the outcome. 
Oh, and while we're at it, I'm guessing the $200 million authorized stock buyback in 2011, which was suspended in 2012, will never be resurrected. 
At the time of publication, Greenberg had no positions in stocks mentioned but positions can change at any time.
Follow @herbgreenberg.
Subscribe to RealityCheck, Herb On TheStreet Blog
Herb Greenberg, editor of Herb Greenberg's Reality Check, is a contributor to CNBC. He does not own shares, short or trade shares in an individual corporate security. He can be reached at herbonthestreet@thestreet.com.