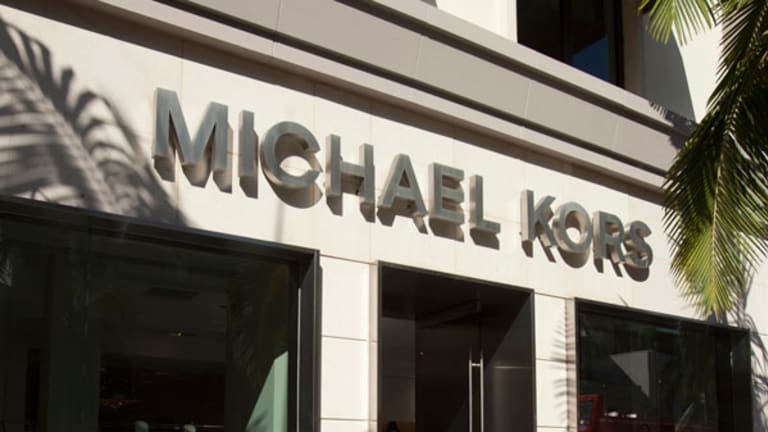 Greenberg: Kors Analyst Action -- Coincidence or Not?
Analyst reports on Michael Kors seem to hint that the company has been quietly telegraphing a disappointing earnings report.
Updated from July 15, 2014: Kors, through a letter to TheStreet from its outside counsel, says this is "completely false and unfounded." The lawyer added that that had I called the company prior to publication I would have received "vehement denials and assurances" that Kors "takes Regulation FD compliance very seriously."
SAN DIEGO (TheStreet) -- Whenever you see a bunch of analysts put out notes on a company on the same day on no news, you can't help but wonder what's going on in the background.
The latest example: Michael Kors (KORS) , which has been red-flagged on my subscription-required Reality Check report.
Monday, the stock was off a few percentage points after the Wall Street Journal wrote a somewhat ambiguous piece about the company -- not the kind of piece that would normally move a stock.
Then, today, at least four analysts took some kind of action: Two lowered their price targets and two reiterated their somewhat bearish (as in "underweight" and "neutral") views. Among them:
-- Barclays, the underweight, noted: "Google trends in the U.S. ... have turned negative." The analyst also cited "an uptick in summer promotional activity compared to that in prior years.
-- Sterne Agee, which is neutral, said: "Investor sentiment has shifted significantly post Q4 results, with questions increasingly focused on the trajectory of top line, as well as sustainability of margins. While sales growth is likely to remain strong in the near term, our recent store work has found broader/deeper markdowns within retail stores and key wholesale accounts."
-- Piper, which remains overweight, lowered its price target and said: "While investment is clearly a theme for FY15 already reflected in mgmt's guidance, sentiment is increasingly more bearish with heightened concerns on promotional levels and slowing sales."
-- Citi, also cutting its price target, said: "KORS failed to meet plan in 17% of responses in Apr-Jun vs. only 1% in Jan- Mar; (2) additional commentary on lack of newness & limited selection (18%); (3) elevated clearance levels in full price stores (30-50% off promotion for 30% of the store); (4) risk of moderating store productivity levels given notable store expansion cadence ."
Reality -- and take it with the grain of the conspiracy theorist I sometimes can be: Given that all of these actions came on the day the company announced the date of its earnings release (Aug. 5, before the market opens) you (certainly I) can't help but wonder if the company has been quietly priming the pump. By that, I mean giving some kind of body language that the quarter may not be quite what the street expects.
Remember, last quarter analysts had voiced concern about the confusion over margins.
And it doesn't take a genius to see what's going on in the market place. As I tweeted this morning:
And:

OK, I didn't really need a purse, but in recent months, to my wife's dismay, I have been hitting the purse departments at Bloomingdale's and Macy's (M) - Get Macy's Inc Report to check out Kors pricing. Nothing better than seeing it for yourself.
-- Written by Herb Greenberg in San Diego
Herb Greenberg, editor of Herb Greenberg's Reality Check, is a contributor to CNBC. He does not own shares, short or trade shares in an individual corporate security. He can be reached at herbonthestreet@thestreet.com.