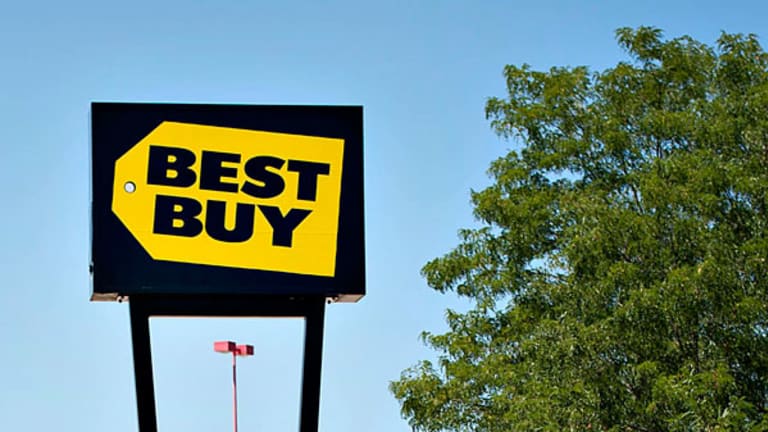 Greenberg: Best Buy 'Hopes' for Hot Products
That is not a good business model.
This article appeared at 10:12 a.m. EDT on RealMoney Aug. 26.

SAN DIEGO (RealMoney) -- Listening to the Best Buy (BBY) call and reading though their earnings release, I just keep thinking to myself: Something's gotta give.
The company's tone on the call was extremely optimistic and, notably, not defensive.
But the challenges appear so obvious and, more troubling, they are tied to a hot product cycle. Chief Financial Officer Sharon McCollam all but acknowledged that when she was asked about her forecast for negative single-digit comparable-store sales for the fourth quarter.
Responding to one analyst, she said: "The fact that the innovation in mobile has been pretty soft this year was different than we had hoped." Had hoped!
That's it, in a nutshell, with this important overlay: Competition from Amazon (AMZN) , and Best Buy's own shift to online, continues to drive margins lower.
Best Buy itself says that traffic to bricks-and-mortar continues to decline as consumers shift online. Yet, online comparable-store sales, up an impressive 22%, grew at a lower rate vs. the 29% rise seen in the prior quarter, and the 25% the quarter before that. Still, the 22% read was well above figures recorded a year earlier.
On the bright side: Best Buy is rapidly adapting to the current environment, notably in its ship-from-the-store service. As one industry friend notes:
"Remember, they are still doing almost $40 billion a year in a 40,000 square-foot box -- or right at $1,000 per square foot. And that is with a lot of dead space in the middle of the Store. Hhgregg (HGG) is doing under $10 billion a year in a 30,000 square-foot box -- that is trouble."
Less bright: Margins continue to fall, as do costs, as the company struggles to beat Amazon at its own game. In the end, it's about costs. If the company can get the costs right, it has a chance. And one good product cycle will make Wall Street forget, at least temporarily, how precarious Best Buy's high-wire act really is.
But hoping for hot products isn't a good model. It's totally out of the company's control. Yeah, something's gotta give -- it's just unclear what that will be, and when it will happen.
At the time of publication, Greenberg had no positions in stocks mentioned but positions can change at any time.
Follow @herbgreenberg.
Subscribe to RealityCheck, Herb On TheStreet Blog
Herb Greenberg, editor of Herb Greenberg's Reality Check, is a contributor to CNBC. He does not own shares, short or trade shares in an individual corporate security. He can be reached at herbonthestreet@thestreet.com.