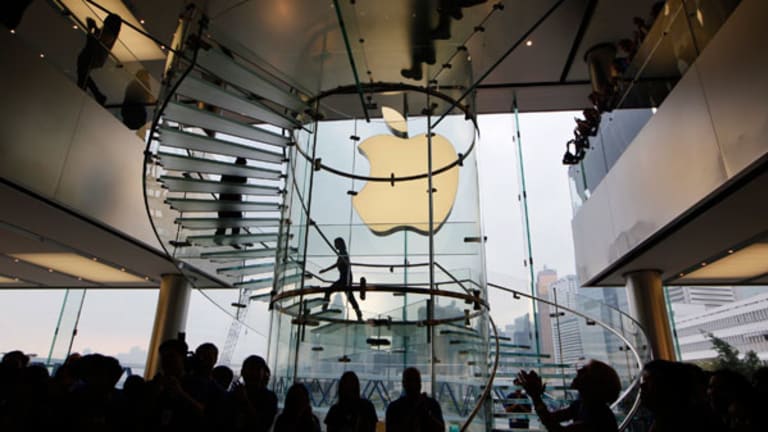 Greenberg: Apple's Latest Ad-Stravaganza
The live blogging, constant TV coverage and the overall hype surrounding the Apple developer's conference has me wondering: But, why? In what amounts to a giant free advertisement, Apple gets coverage of the latest and greatest tweaks to its operating system and even new products. But, for the most part, everything being rolled out, for the average user, is incremental (and, it could be argued, annoying because if the new operating system is at all radically different than the one customers just learned to use, they may now have to learn something different.)
SAN DIEGO (TheStreet) -- The live blogging, constant TV coverage and the overall hype surrounding the Apple (AAPL) - Get Apple Inc. Report developer's conference has me wondering: But, why?
In what amounts to a giant free advertisement, Apple gets coverage of the latest and greatest tweaks to its operating system and even new products.
But, for the most part, everything being rolled out, for the average user, is incremental (and, it could be argued, annoying because if the new operating system is at all radically different than the one customers just learned to use, they may now have to learn something different.)
I love new technology, really enjoy my Macs and iPhone, but the "gotta have" wow-factor that was the backbone of these events, is gone. You still hear the cheers from the audience, but they're often for things that only could excite a developer.
All of this ad-stravaganza will not likely move Apple's stock -- at least not sustainably move it.
What will move it:
A) Improved growth, which gets harder, the bigger Apple gets; and
B) as growth slows, dividends and the ultimate short-term crowd-pleaser, buybacks.
Reality: All anybody really cares about, with Apple, is the announcement of a new phone with a bigger screen -- and maybe a watch and definitely TV. Software doesn't drive purchases, hardware does. Software, if all goes right, merely makes the hardware work better.
And now, with everybody who is going to own a smartphone already owning one, the question is whether a new iPhone with a bigger screen will pry the older iPhones out of user hands prematurely, or more importantly, keep them in the Apple fold. That, in turn, would stem any further growth declines, keeping the dream alive even longer.
Buybacks will support the stock for now; sales will support it later.
-- Written by Herb Greenberg in San Diego
Herb Greenberg, editor of Herb Greenberg's Reality Check, is a contributor to CNBC. He does not own shares, short or trade shares in an individual corporate security. He can be reached at herbonthestreet@thestreet.com.