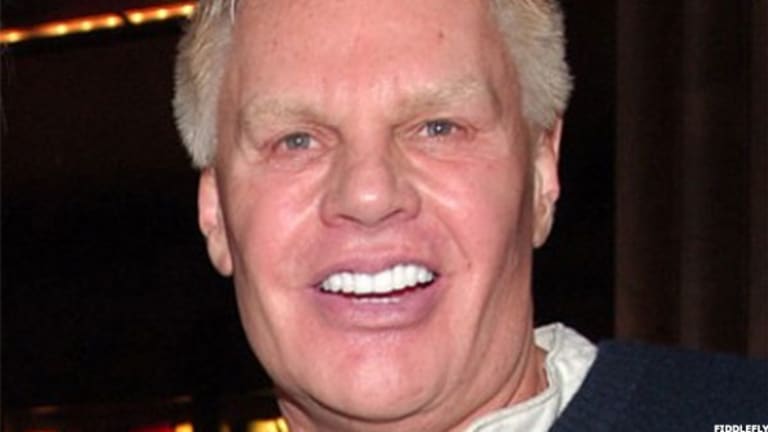 Greenberg: And the Worst CEO of 2013 Is...?
It may appear obvious to you, because you're an investor in a company whose shares have been pummeled. Maybe the past few quarters were horrible. Or maybe you're an employee, a former employee, a customer or a supplier. Everybody thinks they know who the year's worst CEO is -- or should be. Every year I go through this exercise of trying to determine who should be the worst CEO and who the runners up should be, and every year I anguish over it. I screen for bad performers looking at stock prices overlaid with various financial metrics. (My favorite is anything that shows growth, or lack thereof, though that can be skewed by acquisitions.)I solicit ideas from readers, social media followers and viewers. I consult with colleagues and analysts. I try to avoid being tempted by what might a good headline vs. who really deserves it.And then...I pick.
SAN DIEGO (TheStreet) -- It may appear obvious to you, because you're an investor in a company whose shares have been pummeled. Maybe the past few quarters were horrible. Or maybe you're an employee, a former employee, a customer or a supplier.
Everybody thinks they know who the year's worst CEO is -- or should be.
Every year I go through this exercise of trying to determine who should be the worst CEO, and who the runners up should be, and every year I anguish over it. I screen for bad performers looking at stock prices overlaid with various financial metrics. (My favorite is anything that shows growth, or lack thereof, though that can be skewed by acquisitions.)
I solicit ideas from readers, social media followers and viewers.
I consult with colleagues and analysts.
I try to avoid being tempted by what might be a good headline vs. who really deserves it.
And then ... I pick.
Remember, the one rule of being included on the list: The CEO must currently be on the job. I also tend to stick with larger cap companies. This year I've added a twist: Going into detail on several companies whose CEOs were nominated but, in the end, didn't make the final cut.
The Nominees
It's easy to knee-jerk react to some kind of bad news and nominate someone. But after doing a deep dive -- and wrestling with myself over the merits -- there are some who deserve to be in the spotlight, and even nominated, but in the end don't deserve to make it to runner up.
If nothing else, the process (for me, at least) is instructive, while (for you) providing a window into my thought process.
Among those who didn't make the cut after considerable research:
Cisco's John Chambers
I don't take naming someone like John Chambers lightly.
He is, after all, John Chambers -- the same John Chambers, Cisco's (CSCO) - Get Cisco Systems Inc. Report CEO for 17 years, who built one of the great tech companies.
From a stock and growth perspective, this has not been his year. And that's after slowing growth over the prior five years, which followed uneven and mediocre growth in the five years before that.
The subpar performance shows in Cisco's stock, which has skidded 10% over the past 10 years -- sharply underperforming the S&P 500 by a wide margin.
In an effort to repay investors, during the period the company has spent around $72 billion buying back 3.8 billion shares of its stock at an average price of $20.97, which ironically is pretty close to where the stock is today.
Cisco also initiated a dividend, which thanks to its slumping shares now yields above 3%.
Still, the question looms: Under Chambers has Cisco lost its way, or is it merely a victim of the same vagaries that have whipsawed big tech, in general?
From a stock perspective, Intel (INTC) - Get Intel Corporation Report is the closest comp. But others that appear to have been blindsided by the most recent cycle, including Oracle and IBM, have far better 10-year records in stock market.
If anything, Chambers, whose background is in sales, has tended to be overly optimistic.
And that's how he wound up landing on this year's list of nominees: As recently as August, while voicing caution based on his conversations with customers, he told investors: "As I look at our strength in our momentum going into Q1, I feel extremely confident."
By the first quarter's report in November, however, the story had changed -- and not in a small way. Growth tumbled, notably in emerging markets; so did revenue guidance, which Credit Suisse analyst Kulbinder Garcha called "worryingly weak."
Citigroup analyst Ehud Gelblum adds that he believes the company is losing share in its switching business to customers like Google (GOOG) - Get Alphabet Inc. Report, Facebook (FB) - Get Meta Platforms Inc. Report and Amazon (AMZN) - Get Amazon.com Inc. Report, which he believes "are more inclined to build important pieces of the network solution, including switches, by themselves."
To blunt the broader blow, Chambers has been attempting to transition Cisco more into software and services. That worked for a time for IBM, but will it work for Cisco?
We won't know until after the fact, which gets to a question I ask whenever I consider naming someone to this list: Could somebody else have done better? I honestly don't know, especially since many of Cisco's big-tech peers have hit a similar brick wall.
Chambers, who intends to leave within three years, deserves to be called out for Cisco's lackluster long-term (and, more recent stunningly bad) performance. But you could argue, by that standard, especially this past year, so does Oracle's (ORCL) - Get Oracle Corporation Report Larry Ellison and IBM's (IBM) - Get International Business Machines Corporation Report Virginia Rometty. I'd add Intel to the list but Paul Otellini, CEO for eight years, left in May. (One of the rules for inclusion on this list is that the CEO must be on the job today.)
In other words, in big tech this year, Chambers appears to be more the rule than the exception.
This note: With Cisco's strong cash flow and bulging cash hoard, it would appear Chambers' biggest risk isn't being named to some journalist's silly worst CEO list, but to become a magnet for activists. Surprised that hasn't happened. At least it hasn't happened, yet.
Caterpillar's Doug Oberhelman
Early on I was sure Doug Oberhelman would be a shoo-in to be among the worst. It's been one quarter after another of from bad to worse performance. When I started looking at the company I asked whether Oberhelman is the victim of bad luck, bad timing or bad execution?
The answer: Yes.
Without question the Bucyrus acquisition in 2010, shortly after Oberhelman took the top spot, is a deal that has come back to haunt him. Caterpillar (CAT) - Get Caterpillar Inc. Report paid (some say overpaid) for Bucyrus, a maker of giant-sized mining equipment, at the peak of the mining cycle. "We expect it to be accretive in the first full year," Oberhelman told investors. Famous last words. (It wasn't.)
As the New York Times said at the time, the deal was akin to "doubling down on the mining business." The Times then quoted a Morningstar analyst as saying: "It's a big bet on commodities, a big bet on emerging economies. With a purchase price this full, it doesn't give much in terms of wiggle room if they are wrong."
The rest is history, born out by Caterpillar's abysmal negative growth for the past four quarters -- and its stock, which for the past two years has lagged the S&P 500 by a margin wide enough to drive a Bucyrus mining shovel through.
And I haven't even touched on its botched purchase of a Chinese company shortly after the Bucyrus deal, which earlier this year led to a writeoff of $580 million, or nearly the entire purchase price. Turns out much of the company was a sham; Caterpillar says it was the victim of "deliberate, multi-year, coordinated accounting misconduct."
A Caterpillar spokeswoman acknowledges that "primarily, as a result of the substantial decline in demand for mining equipment, 2013 has been a challenging year for Caterpillar. While mining is a great long-term business for us, it's cyclical and we understand that. We believe we've taken many actions to align our costs with the environment we're in currently."
And that's the point, and why I can't put Oberhelman on the worst CEO list. Caterpillar is bad, but so is Joy (JOY) and so is Deere (DE) - Get Deere & Company Report. Nobody, it appears, could have done any better unless they hadn't bought Bucyrus and that Chinese company.
This much is clear, however, in the wake of the botched Chinese deal and what appears to be a dismantling of Bucyrus, not to mention acquisition accounting red flags flown by short-seller Jim Chanos of Kynikos & Associates, going forward Oberhelman has zero credibility on acquisitions. Why his total cash compensation last year went up, given the performance, is unclear. At Joy, for example, the CEO's total cash compensation went down.
More important for Oberhelman is whether he can pull this all off when the mining dust settles. He has run out of excuses.
United's Jeff Smisek
Judging by the numbers, Jeff Smisek of United Continental Holdings (UAL) - Get United Airlines Holdings Inc. Report should not be on this list. United's shares are up around 60% this year, almost triple the S&P 500, and its revenue growth appears to be in a propeller-driven DC-3 like ascent (which is better than none at all.)
Yet, in the years I've been doing this list I've never had a write-in campaign quite like this one -- pleading that Smisek be named the year's worst CEO.
After reading the hundreds (and I do mean hundreds) of emails from employees and customers, and talking with airline executives, analysts and industry watchers, it's very clear something is very wrong at United.
Customers complain about an inferior product, such as little in the way of wi-fi on most planes; inconsistency of in-flight TV, even on new planes; crowded and outdated lounges; surly employees and a devaluation of frequent-flier miles. Employees and customers from both legacy United and Continental, gripe about poor morale.
And they all point fingers at the same person: Smisek, formerly of Continental, who is widely regarded as the pilot of what has become among the industry's most turbulent mergers.
Airline mergers historically have gone poorly, but that changed with Delta's (DAL) - Get Delta Air Lines Inc. Report acquisition of Northwest, which by all standards is considered the new gold standard of success.
The difference, those in the industry say, boils down to leadership. Delta CEO Richard Anderson, as the story goes, made it clear from the start that Northwest would merge into Delta.
Smisek, an attorney, tried to please both sides. The result, for United, has been confusion and chaos.
Even three years after the deal was completed, the company is trying to work out contracts and other kinks associated with the merger.
Here's what I know: I should not be hearing from that many employees and customers. I have a baseline and this is way off it. And while that's an intangible, if your employees and customers aren't happy, no matter what the industry, your numbers are at risk.
Investors, in large part, are looking at it differently -- assuming as a laggard it can do nothing but improve. And maybe it can, but as bearish analyst Jamie Baker of J.P. Morgan recently wrote in a report: We're all for trying harder and agree that prior underperformance can lead to pretty easy future comps. But execution about-faces are comparatively rare, which is why we remain surprised by the market's warm embrace despite heavy lifting ahead.
With that as a backdrop, Smisek would certainly rank among the least popular CEOs. And despite the company's financial performance, it still lags the group, which would make him among if not the worst airline CEOs this year.
But in the broader corporate world, as long as United's stock and other metrics are going in the right direction, I can't name him among the worst of all CEOs. Whatever happens this year could be the tipping point.
P.S.: As a longtime United frequent flier, bouncing between San Diego and Newark every month, I don't really see any difference pre-or-post merger in the friendliness of cabin or gate personnel. Some are friendly, some aren't. It has always been that way. The real question I have is whether Smisek has ever eaten what passes for eggs and sausage in domestic first class. My guess, he hasn't. (I usually opt for the Honey Nut Cheerios. Honey Nut Cheerios? Yep, pretty much says it all.)
Runners Up:
Sears' Eddie Lampert
Him again? Sears (SHLD) Eddie Lampert is on this list because it would be hard to do a list like this without including him. I included him in 2007, too, even though he was chairman (a hands-on chairman, at that).
This year, however, he formally became CEO and since then the stock has underperformed the S&P 500 and the SPDR retail index -- not that it matters, because his ESL Investments is the largest investor.
The real story is in sales growth trends, which continue to deteriorate. The spin, from Sears, is that it is in the process of transforming itself into a "members centric" model.
Reality: Any way you slice it Sears has been a disaster, and the buck stops with Lampert, regardless of his title. The difference with him and most other poor-performing CEOs -- he's not at risk of losing his job. It's doubtful he would fire himself.
Darden's Clarence Otis
During the depths of the most recent recession Darden (DRI) - Get Darden Restaurants Inc. Report bucked the trend and CEO Clarence Otis was considered an industry standout.
But now, when people talk of Darden, they can't help but focus on its performance, or lack thereof -- performance so unappetizing that activist, Barington Capital, recently issued an 84-page report focused largely on how poorly Darden has done relative to its peers.
Perhaps most hard to stomach: A gut-wrenching decline in same-store sales at Red Lobster and Olive Garden, which account for around three-fourths of revenue. Otis says he's confident that the trend will reverse in fiscal 2014, and maybe it will. The question is whether it can be done profitably considering that operating margins have been been shrinking.
Still, this is a company that recently increased its dividend, for good reason: Investors needed something to keep them from bailing.
Even so, Darden's stock trailed the group and the S&P 500, while net debt on its balance sheet has swelled to $2.6 billion from $2.1 billion a year ago, largely the result of last year's acquisition of the Yard House chain. S&P recently downgraded Darden's debt, saying the Yard House deal "resulted in a steady deterioration in debt protection metrics" while calling Darden's financial policies "relatively aggressive in regards to its continued dividend increases in light of operating challenges."
In the end, the question is whether Otis can keep his job. "He's amazingly tone deaf," says industry consultant John Gordon, of Pacific Management Consulting Group. "He really hasn't been able to grasp the heart and soul of restaurant dynamics and the collection of brands. He's been unable to recognize the slow motion challenges the big brands face. At the same time, he's been unable to deal with historic and cultural Darden issues that should have been snuffed out ages ago. Not versatile. Too slow."
Furthermore, there has been turmoil in the top ranks. There has been a revolving of top execs at Olive Garden and Red Lobster. And earlier this year, when it was announced that Darden President Drew Madsen would leave, the Orlando Sentinel (Darden is based on Orlando) quoted Investment Technology Group analyst Steve West as saying, "At some point, the critical mass is going to catch up to Clarence.... I hear it more and more now from clients -- that's not the one they wanted. It's Clarence they wanted to step down."
After the latest heartburn-sparking quarter, reported Thursday -- including plans to spin off its drowning Red Lobster -- the pressure is likely to increase. You can't help but wonder whether under better management a spinoff of Red Lobster (or some other restructuring) already happened -- or not been necessary.
As one restaurant executive told me, after the spinoff was announced: "Darden has been forced to take these steps to protect the dividend they just increased -- and couldnt afford."
Pass the Prilosec, please.
Nuance's Paul Ricci
Paul Ricci has run speech recognition company Nuance (NUAN) - Get Nuance Communications Incorporated Report since 2000 and it wouldn't be inappropriate for investors to ask: What have you done for me lately?
A look at almost any growth metric and disaster would be a compliment.
Overall sales last quarter rose just 0.7% compared with 27.7% a year earlier. Operating margins sank to 2.6% from 12.7% a year earlier. And perhaps most disconcerting organic revenue growth, a significant metric at growth-by-acquisition "rollups" like Nuance, was a negative 9% compared with a positive 12% a year earlier.
Not surprisingly, Nuance's stock drop of 40% over the past one and two years would have ranked it in the bottom 25 of the S&P 500 (which it is not part of).
Yet, going back over years of earnings calls, it wasn't supposed to be like this. The Nuance story has been bouncing around, depending on the quarter, from speech recognition on mobile, smartphones and health care. The demise of customer Blackberryundefined hasn't helped, but neither apparently has its role as the purported provider of voice recognition to Apple's (AAPL) - Get Apple Inc. Report iPhone.
All along the company has been delivering the message of "just be patient" as it tries to morph itself into a generator of "predictable" recurring revenue.
But the real issue is this: Has Ricci run out of rope? In the years I've been watching the company I've always asked: What happens when the acquisitions stop? While they haven't stopped at Nuance, they have slowed -- and with the dismal performance, we have the answer.
And it's why this year he ranks as one of the worst CEOs.
Now the question is whether Carl Icahn, a relatively new Nuance investor -- who has been raising his stake in the company -- agrees. (Doubtful.)
Nuance didn't respond to my request for comment.
And the Winner Is...
This year's winner (or loser) is longtime Abercrombie & Fitch (ANF) - Get Abercrombie & Fitch Company Report CEO Michael Jeffries.
Just as last year's pick was obvious -- Andrew Mason of Groupon (GRPN) - Get Groupon Inc. Report, who has since left the job -- so is Jeffries, who brilliantly built the company into what it is today, only to (and this is my opinion) fall into the classic trap of being blinded by his own success. The story is best told by Abercrombie's crumbling stock price.
Abercrombie is the only non-mining/natural resources company to land in the bottom 25 of the Standard & Poor's 500 for the last one and three years.
Much of that 40% decline occurred over the past year, and it happened for a reason: From a growth perspective, Abercrombie is an unmitigated disaster. And this has nothing to do with a series of outrageous and sometimes offensive comments Jeffries has made -- notably about uncool teens.
We're talking off-the-cliff growth, with seven straight quarters of same-store sales declines, highlighted by an 11.7% drop in overall revenues last quarter vs. an 8.7% gain a year earlier.
And margins? At 5.9% last quarter, or roughly half they were a year ago, it appears the only way Abercrombie can lure customers is by ripping prices to shreds.
Until I started researching Abercrombie, I had totally missed that my colleague, Jim Cramer, recently slapped Jeffries onto his Mad Money Wall of Shame, saying the company has become irrelevant. Jim is right, and I believe he was being overly generous.
This year I would be negligent to give this award to anybody but Jeffries. Nobody is more deserving. Abercrombie didn't respond to my request for comment.
Onward...
-- Written by Herb Greenberg in San Diego
You can contact me at: herbonthestreet@thestreet.com.
Herb Greenberg, editor of Herb Greenberg's Reality Check, is a contributor to CNBC. He does not own shares, short or trade shares in an individual corporate security.