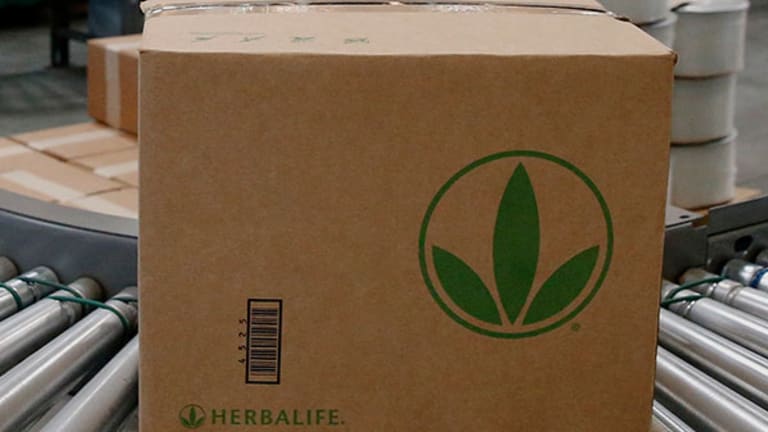 Greenberg: An Inflection Point for Herbalife?
Herbalife surprised investors not with lower-than-expected profit but with revenue, an ominous sign of a slowing growing.
NEW YORK (TheStreet) -- The surprise in Herbalife's (HLF) - Get Free Report results wasn't the miss on earnings, which could easily be explained away by something like rising legal and lobbying costs.
The real surprise was with revenues: Not only did revenue growth of 7% come in below the 9% to 11% range forecast in April -- one month into the quarter -- but Herbalife trimmed revenue growth to a range of 8.5% to 10.5% from earlier guidance of 10% to 12%.
Equally surprising was the continued slowdown in two important metrics for Herbalife: Growth in volume points and sales leaders. Sales leaders are the people who sell Herbalife's products. With a multi-level marketer, any slowdown in that number can suggest either maturity and/or a more selective process in letting people sell the product; volume points are a bit more complicated. Here's how the company describes them in its 10-Q:
"A key non-financial measure we focus on is Volume Points on a Royalty Basis, or Volume Points, which is essentially our weighted average measure of product sales volume. Volume Points, which are unaffected by exchange rates or price changes, are used by management as a proxy for sales trends because in general, an increase in Volume Points in a particular geographic region or country indicates an increase in our local currency net sales while a decrease in Volume Points in a particular geographic region or country indicates a decrease in our local currency net sales.
"We assign a Volume Point value to a product when it is first introduced into a market and the value is unaffected by subsequent exchange rate and price changes. The specific number of Volume Points assigned to a product, and generally consistent across all markets, is based on a Volume Point to suggested retail price ratio for similar products. If a product is available in different quantities, the various sizes will have different Volume Point values. In general, once assigned, a Volume Point value is consistent in each region and country and does not change from year to year.
The reason Volume Points are used in the manner described above is that we use Volume Points for Member qualification and recognition purposes and therefore we attempt to keep Volume Points for a similar or like product consistent on a global basis. However, because Volume Points are a function of value rather than product type or size, they are not a reliable measure for product mix. As an example, an increase in Volume Points in a specific country or region could mean a significant increase in sales of less expensive products or a marginal increase in sales of more expensive products."
For the quarter, volume points rose 5% worldwide, including a 1% slip in North America an a 7% fall in South and Central America; a year ago volume points were rising in all regions -- 11% in North America and 33% in South and Central America.
Sales leaders, meanwhile, rose just 9% in the quarter versus a 15% gain a year ago. What's behind the slide in growth?
It can, honestly, be anything -- from the company's crackdown on the use of certain lead generation tools by distributors to an overall effort to clean itself up ahead of any new rules implemented by regulators.
Reality: Going into earnings I didn't think a quarter's results -- win, lose or draw -- would matter. The bigger issue for Herbalife and the entire multi-level marketing industry, I told anybody who would listen, is any action taken by the Federal Trade Commission, which has launched an inquiry into Herbalife -- whose shares are red-flagged on the Reality Check Watch List.
I still believe that a quarter's numbers and guidance are just that -- a single quarter in time. But the negative trend in the most recent numbers can't be ignored. Something has changed, and whatever it is caught the company by surprise in the last two months of the quarter.
Is it an inflection point? Too early to say. But even if it isn't it could very well be a preview of what investors might expect if regulators ever decide to reel in not just Herbalife, but the industry, with more restrictive rules. That, in my opinion, in the very least, would result in a business model reset.
P.S.: Herbalife's volume point and sales leader growth in China, while an impressive 38% and 33%, respectively, compare with the prior quarter's gains of 91% and 40%. That doesn't bode well for either Nu Skin or Usana, both of which are also red-flagged on the Reality Check Watch List -- and both of which are more heavily tied to China than Herbalife. --
Subscribe to Reality Check, Herb On TheStreet blog
Herb Greenberg, editor of Herb Greenberg's Reality Check, is a contributor to CNBC. He does not own shares, short or trade shares in an individual corporate security. He can be reached at herbonthestreet@thestreet.com.