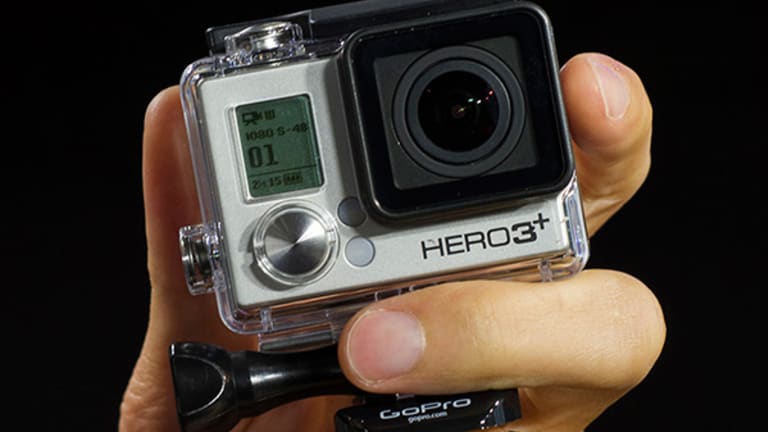 GoPro Surges 15 Percent On 3Q Report: Looking Behind the Lights
Last night, GoPro GPRO reported a third quarter that caused the stock to shoot up a quick 15 percent. Here's why... and where the stock can go from here
NEW YORK (TheStreet) - Last night, GoPro (GPRO) - Get GoPro, Inc. Class A Report reported a third quarter that caused the stock to shoot up a quick 15 percent. To give some context, remember that GoPro is the BEST performing IPO of 2014, according to IPO ETF manager and research firm Renaissance Capital. At $68/share going into 3Q, it was up 180 percent since its June 25th IPO (at $24/share)-despite the fact that it was off its highs in the mid-$90s. While some of this outperformance was from the first day pop, aftermarket performance was also strong (despite some volatility) as well - making the company an outlier this year for IPOs. (Per Renaissance Capital, of the 235 IPOs that have priced, the average first day pop is 12.8 percent while total average return is 11.6 percent-- in other words, average aftermarket performance has been negative). That outperformance plus the fact that the company had a 60x forward P/E going into the print, meant that the company needed to blow the quarter out of the water.(I would note that even Oppenheimer's recent underperform initiation that hit the stock actually noted positivity for 3Q and 4Q-their sell thesis is based on long-term story in 2015 and beyond).
And... GoPro did, indeed, blow it out of the water!
So let's look at the key metrics:
Given that this is a momentum and growth name, of absolute most importance was top-line growth. Consensus revenue expectations were for an increase of 38 percent for 3Q and 4Q, but given the multiple and optimism, the company needed to also surpass the whisper numbers in the low 40 percent range. Well, they did-with 3Q revenue up 46 percent and 4Q guidance for revenue up 56 percent.
Next up? Gross margin. This metric was so key because we are starting to see a shift in GoPro mix. The company just rolled out their Hero4 products, which were sold to retailers starting in September and hit stores in October. While the most popular Hero3 products were in the $299-399 range, included in the GPRO Hero 4 roll-out (along with the Hero4 black at $499 and the Hero4 silver at $399) was the Hero4 white for $129 to reach to a broader audience and capture volume and more share. Well, this quarter, gross margin came in at 44.5 percent, which was 230 basis points higher than last quarter, showing stabilization and strong sell-throughs of Hero4 Silver and Black, offsetting Hero4 White sales. (Surprisingly, the entry-level price level was actually soft-and it remains to be seen if this one doesn't have enough features to remain appealing to individuals wanting to make the GoPro purchase).
It will of course be key that sell-through at retail is high given the move in the stock here. That said, we heard this quarter that the Hero4 launch was the "best in the company's history" and that the company also is moving to meet demand for the product (which was another question mark going into the report).
GoPro could be the shining light this holiday season as we are seeing mixed results. There are a couple of crucial debates for the stock from here:
KEEPING UP THE MOMENTUM POST-LOCK UP EXPIRATION Remember, on Dec 23rd, the float will increase by about 100 million shares from the current 20 million to about 120 million. This could create some downward pressure as insiders look to lock in gains. Separately, there is also the possibility of a follow-on offering pre-lock up. We saw this with GrubHub on August 25th, before their lock up expiration on September 30th Will GoPro follow in the trajectory or high multiple recent consumer IPOs like Noodles or Container Store which posted strong initial results and then plummeted as sales and comps decreased, compressing the multiple? Or will it follow consumer IPOs like Five Below or Michael Kors that were able to hold onto their premium multiples given continued topline momentum and stable gross margins? That remains to be seen
IS THIS A CONSUMER TECH STOCK OR A SOCIAL MEDIA CONTENT STOCK? Even on a growth adjusted basis, GoPro trades at a premium to other consumer tech stocks such as Garmin in the low 20x P/E range. Even Apple's peak multiple in the mid-2000s was 50x, and that's when it's revenue was growing at 50 to 60 percent The long-term bull thesis on the name (and what is currently being factored into the stock) clearly factors in the content story. The belief holds that GoPro's social media strategy and monetization of content could allow for another leg up for the stock. Remember, Google  bought Twitch for $1 billion, which implies a $20 per-user valuation. Applying this to GoPro would add another $1 to 2 billion of value on its market capitalization. Ultimately, the view is that GoPro could either have its own YouTube equivalent or that it could license media content by users as monetization alternatives. We don't have much clarity on the monetization strategy at this point, though (other than some comments about Xbox live). Right now, investors are using social media statistics as a proxy for eventual content demand. The company noted that last quarter, GoPro content published on YouTube was up 92 percent year-over-year, views on YouTube were 72mm for the quarter (up 99 percent year-over-year), and video minutes watched on GoPro's YouTube channel were up more than 133 percent year-over-year. And GPRO noted that monthly content submission to GoPro's Video of the Day and Photo of the Day site jumped 160 percent from September to October with the roll-out of Hero4 GoPro videos such as "Waltz on the Walls of City Hall," "Golf Trick Shot," and "Office Soccer" are illustrative of its success in this personal content area-as is achieving almost 17 million hits on its "The Adventure of Life in 4K" Hero4 launch video, or the scale of viewership that puts it on par with the number of viewings that Gravity tallied in its record-breaking box office performance for the month of October release last year Athletes such as Shaun White, Lindsey Vonn, Kelly Slater and Julia Mancuso shared their Hero4 experiences - and in just 25 days, athletes posted more than 3,000 photos and videos, reaching more than 50 million fans, and generating almost 8 million shares, likes and comments On the conference call this quarter, GoPro noted they introduced several new features to GoPro Studio in the GoPro app that streamlines the process of editing and sharing videos (including automatic offloading)
CAN GOPRO RISE ABOVE COMMODITIZATION RISK? With increased features being incorporated into Apple's iphone camera and more widespread use of smartphone cameras generally, a big worry for GoPro is eventual commoditization due to competition. Of course, the counter-argument is niche use for action video and the ability to dominate those areas given higher-level performance. We have seen Garmin do a great job of better-than-surviving despite smartphone increased penetration-though, again, of course Garmin is at a lower multiple
CAN GOPRO TRANSFORM THE TOTAL ADDRESSABLE MARKET?
Right now, the camcorder market is shrinking--expected to decrease at 7.3 percent per year from 2013 to 2018. This is key because GoPro, with high growth, represents about 45 percent market share of digital camcorders. If GoPro can actually increase general camcorder demand and use through its innovation, it would add another leg up to the story - but many questions loom about saturation and sector slowdown
GoPro will also eventually become more of an ecosystem play, though sale of the cameras themselves are still the important driver. But GoPro is rolling out new accessories such as "Fetch" to capture your dog's view of the world, along with "Smart Remote," a wearable and waterproof remote that provides full camera control and highlight tagging of key moments. Software tools will also be an important long-term component
International expansion (now just about 30 percent of revenues) also has strong potential to drive further upside
Here is the real-time earnings quick analysis I did on CNBC's Closing Bell last night: