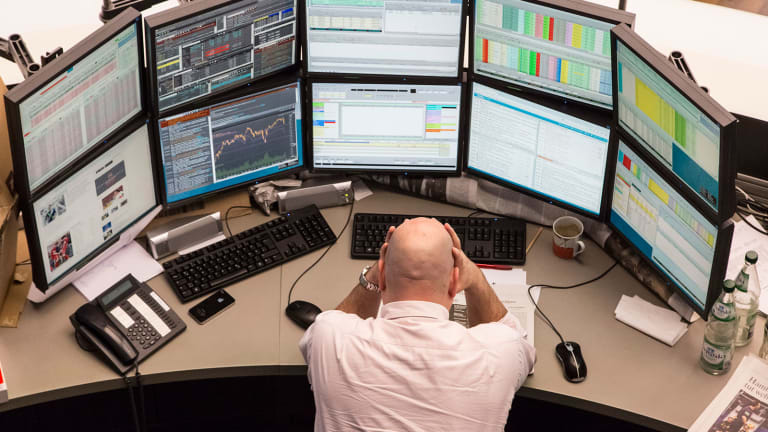 Flash Crash-Like Selloff Met by Buyers; Cook's Letter to Cramer Was 'Significant'
The CNBC 'Fast Money' traders break down Monday's violent selloff and subsequent rally. Apple CEO Tim Cook's letter to Jim Cramer gave investors some clarity on China.
NEW YORK (TheStreet) -- Wall Street on Monday felt frighteningly similar to the "Flash Crash" of May 2010. While the futures market indicated that morning trading would be rough sledding for the bulls, no one anticipated the actual carnage. 
Within the first few minutes of trading, companies like Celgene (CELG) - Get Celgene Corporation Report, Verizon (VZ) - Get Verizon Communications Inc. Report and Starbucks (SBUX) - Get Starbucks Corporation Report were down more than 20%, the Nasdaq 100 ETF (QQQ) - Get Invesco QQQ Trust Report saw losses eclipse 15% and the Dow Jones Industrial Average plunged almost 1,100 points. 
According to Ben Willis, investors can thank TheStreet's Jim Cramer, co-manager of the Action Alerts PLUS portfolio for a bit of upbeat news. On CNBC's "Squawk on the Street" show, Cramer revealed a letter that he received from Apple (AAPL) - Get Apple Inc. (AAPL) Report CEO Tim Cook. 
Much of the recent fear driving investors has come from the apparent slowdown in the Chinese economy. However, Cook wrote that Apple has not seen a slowdown in iPhone sales there, and continues to do well in the region. 
While the market clearly opened lower and took a few minutes to shake off whatever was pinning it down, Willis, a senior floor broker at Princeton Securities Group, says a big part of the partial rebound that followed could have been spurred by that outlook on China. That helped turn things around as investors put things into perspective, he said. 
Willis wasn't the only one with that thought, as Jeremy Siegel, a professor of finance at the University of Pennsylvania's Wharton School of Business, called the Cook/Cramer letter an "extraordinarily significant announcement." Investors are panicked about the Chinese economy and this at least seems to provide some sort of clarity, he said. 
While Siegel remains bullish, he's not so sure that stocks won't eventually retest Monday's lows. While the exchanges need to make some changes to prevent future flash crashes from occurring, investors need to realize that so far, this is just a pullback, and that's a normal piece to the investing puzzle. However, the type of volatility we're seeing destroys investors' faith in the market, he concluded. 
Josh Brown, CEO and co-founder of Ritholtz Wealth Management, agreed that its possible stocks will retest the lows. While he acknowledged he's not a doom-and-gloom type of guy, the flash crash in 2010 saw a 12% rally in the four days following the violent, albeit temporary selloff. However, two weeks later, stocks were trading at lower levels than the flash crash bottom. So it's important to either be nimble or stick to your plan, depending on what kind of investor you are. 
"What's happened between 9:30 [a.m.] and 9:45 [a.m.] is over," said Jim Lebenthal, president of Lebenthal Asset Management. He believes the market is near the end of a correction and valuations are starting to look attractive. There are plenty of high-quality companies trading at just 10 times earnings -- bear market valuations, he said.
Lebenthal said investors don't need to buy the absolute low in order to make money, noting that those who bought Apple at $92 will do well, but that doesn't mean that those buying at $107 won't do well in the long term too. European and U.S. economies are doing well, and stocks are likely to reflect that eventually, he concluded. 
The problem with China is that the country isn't able to take the same measures as other central banks when the going gets rough, said Stephen Weiss, founder and managing partner of Short Hills Capital Partners.  For instance, it can't cut interest rates, as that would hurt its banks, and many firms can't borrow because of their poor credit quality, he explained. He thinks China needs to embark on spending projects -- and not by building more ghost towns. The lack of emerging market growth may weigh on the U.S. markets, but investors should stick to individual stocks, not broad market buying, Weiss said.
Specifically, he used today's selloff to buy Gilead Sciences (GILD) - Get Gilead Sciences, Inc. (GILD) Report and Pfizer (PFE) - Get Pfizer Inc. Report.
This article is commentary by an independent contributor. At the time of publication, the author held no positions in the stocks mentioned.