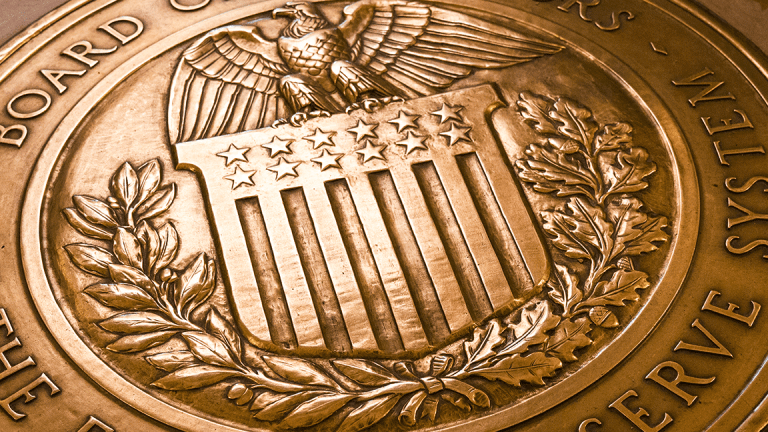 Fed Fuels This Rally: Cramer's 'Mad Money' Recap (Wednesday 11/28/18)
Jim Cramer says if we have a slowdown, don't blame Powell and the Fed. Instead, keep your eyes on the G-20 and trade issues.
Today was a big win for the stock market and investors should enjoy it, Jim Cramer told his Mad Money viewers Wednesday. After months of bullish comments on the economy, Federal Reserve Chairman Jay Powell did an abrupt about face, changing his mind on the pace of interest-rate hikes.
Cramer has said for weeks that the Fed was seeing the economy wrong, not taking into account the slowdown in housing, autos, oil and retail. But today's actions by Powell conform with Cramer's "one-and-wait" strategy on interest rates -- meaning one more rate hike, then a pause to assess economic data -- news that led to a magnificent rally.
Stocks were able to jump from bearish to bullish, Cramer said, with Salesforce.com (CRM) leading the charge, up 10.2%, and taking the rest of the FANG stocks with them. Amazon (AMZN) closed up 6% and Apple (AAPL) ended the day up 3.8%. Other economically sensitive stocks, like the transports and industrials, also rallied, which is exactly what should happen in a bull market.
Investors are not out of the woods yet, Cramer cautioned, as tariffs and trade will still dominate the headlines and it's likely President Trump will increase Chinese tariffs from 10% to 25% if a deal cannot be reached.
As of today however, investors are no longer fighting the Fed. Powell has proven to be a flexible leader, Cramer concluded, and we should all celebrate the win.
Over on Real Money, Cramer says the Fed should crack down now on non-bank lending. Get more of his insights with a free trial subscription to Real Money.
Which Stocks Can Hold On?
Can tech stocks mount a sustainable rally? Cramer said it depends on the stock. In the case of DXC Technology (DXC) , the answer is likely "No."
DXC was formed almost two years ago after the old Hewlett-Packard spun off its IT consulting business and merged it with Computer Sciences Corp. DXC shares rose 59% during their first 18 months, but over the past two months have fallen from $96 to just $62 a share.
Initially, DXC was making its numbers through cost cuts. The company later tried to ignite growth by spinning off its slower-growth public sector business as Perspecta (PRSP) . As revenues continued to decline, investors began to worry that cost cutting was hurting DXC's ability to win new business.
Yesterday, DXC caught an analyst upgrade, citing the company's cheap valuation. But Cramer reminded viewers that stocks are not cheap when earnings are in decline. He felt the stock may see a short-term bounce as the overall market recovers, but over the long term, tech investors want growth that DXC simply doesn't have. 
Executive Decision: Qualcomm
For his "Executive Decision" segment, Cramer spoke with Steve Mollenkopf, CEO of Qualcomm (QCOM) , a stock that's off 25% from its September highs. Shares currently yield 4.4%.
Mollenkopf explained the upcoming 5G revolution will begin next year and wireless carriers will be able to offer 10 times the speed of 4G service for just 1/30th of the price. That means every company that has devices connected to the Internet will benefit.
The rollout of 5G will begin in the U.S. and South Korea in the spring, Mollenkopf said, with Europe beginning mid-year and China following in the second half of the year. There is a lot of activity happening worldwide in preparation for this rollout.
Mollenkopf added that the U.S. is in a strong position to be a leader in 5G, but governments around the globe are taking an interest because of the huge opportunities it presents.
When asked for an update on Qualcomm's ongoing legal battle with Apple, Mollenkopf said both companies continue to work toward a resolution.
Cramer and the AAP team are trimming some of their weaker names into this market strength. Find out what they're telling their investment club members and get in on the conversation with a free trial subscription to Action Alerts PLUS.
Linde and Praxair 
Investors looking for winners in an uncertain environment need all the help they can get. Fortunately, our government is happy to oblige by allowing more companies to merge with their competition.
Nothing is better for a company than being part of a perfectly legal oligopoly, Cramer told viewers. That's why he's a fan of industrial gas supplier Linde (LIN) , which just received approval to acquire Praxair (PX) . The merger gives the Linde 32% market share, as the U.S. will now only have three major players in the space.
We've seen this pattern before in the airlines. In years past, air travel was highly competitive, and airlines would go out of business like clockwork. But then the government approved a number of airline mergers, which led to 70% of all domestic flights being controlled by just four remaining carriers. In fact, many flights now don't have any competition at all.
The same is true for bottles and cans, where Ball Corp.  (BLL) was allowed to gobble up its competitors, leading to a duopoly. Shares of Ball are up 31% for the year.
As for Linde, Cramer said, the company deserves it's premium multiple of 20 times earnings and he thinks shares are only going higher.
Another Threat: Non-Bank Lending 
Now that the Federal Reserve has fallen in line on interest rates, Cramer said it's prudent to look at what else might still go wrong to derail stocks. One thing Powell is worried about are non-bank mortgage lenders, and Cramer said he's worried. too.
Non-bank lenders now control almost half of the mortgage market, yet they play by a different set of rules than traditional banks. The last time lending got out of control, the Fed choose to sidestep its regulatory authority, a move that proved to be a big mistake.
The Fed has the power to shut down risky lenders, Cramer said, and with home sales falling, inventory rising and interest rates forcing sellers to drop their prices, those with floating-rate mortgages could get themselves into trouble, which in turn could spell trouble for this fledging non-bank industry.
Before we move toward a mini-financial crisis all over again, the Federal Reserve needs to get involved, Cramer concluded. 
Lightning Round
In the Lightning Round, Cramer was bullish on Berkshire Hathaway (BRK.A) (BRK.B)  Axon Enterprise (AAXN) , Oneok (OKE) , JPMorgan Chase (JPM) , Delta Air Lines (DAL) , American Airlines (AAL) and Acadia Pharmaceuticals (ACAD) .
Cramer was bearish on FNB Corp (FNB) and Copa Holdings (CPA) .
Search Jim Cramer's "Mad Money" trading recommendations using our exclusive "Mad Money" Stock Screener.
To watch replays of Cramer's video segments, visit the Mad Money page on CNBC.
To sign up for Jim Cramer's free Booyah! newsletter with all of his latest articles and videos please click here.
At the time of publication, Cramer's Action Alerts PLUS had a position in CRM, AMZN, AAPL, JPM.