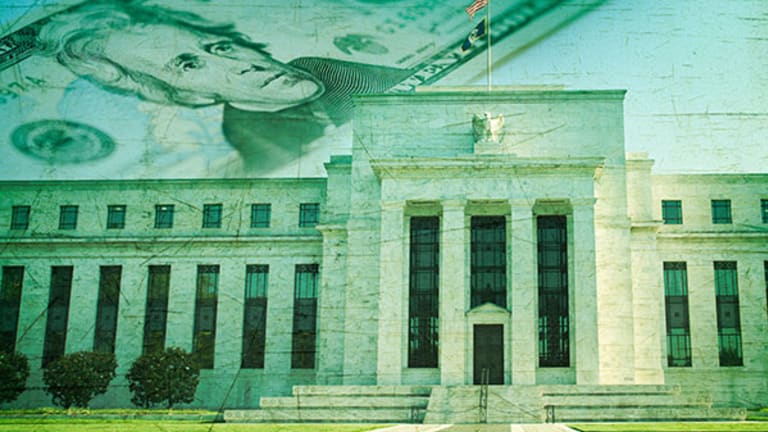 Fed Crashes the Party: Cramer's 'Mad Money' Recap (Wednesday 4/5/17)
Jim Cramer stresses discipline here because, he says, a frothy market can quickly turn on investors.
Talk about a crazy market, TheStreet's Jim Cramer said on his Mad Money show. After a strong ADP jobs report in the morning sent stocks higher, the FederalReserve minutes released at 2 p.m. Eastern threw cold water on the market and caused the major indices to closer lower Wednesday. 
So what gives? The ADP report showed that the labor market remained strong in March. But after a slew of disappointing data -- ranging from auto sales to building permits, housing sales and retail sales -- the jobs data was just one good report in a long list of not-so-great results.
Simply put, the rally was fragile and that didn't stop the Fed from stomping all over it, Cramer said. In the group's prior meeting, they talked about the stock market being too hot, which gave investors second thoughts for obvious reasons. 
On Friday we get the non-farm payrolls report. If the report is strong, it's likely that the stock market will bounce back. But if it's weak, stocks have some downside coming their way, Cramer said. 
A weak report will have other implications too. For years investors actually liked mediocre economic news. It meant the Fed wouldn't hike rates and that it would remain dovish. Good news meant they could raise interest rates. 
But after the election and a pretty good economic rebound in 2016, investors warmed up to the idea of a rate hike. Suddenly, they wanted rate hikes, which would boost the banks' bottom line and validate a stronger economy. A weak jobs report on Friday will dash that hope though, as the likelihood for multiple rate hikes from the Fed could dissipate. 
If the market is this sensitive to one comment from the Fed, or a politician or one jobs report, it means you need to use extra discipline. Watch Friday's labor report to get a sense on where the market could be headed next, Cramer said. 
Meanwhile, on Real Money, Cramer says the quest for growth stocks is making strange things happen. Check out his strategy with a free trial subscription to Real Money.
What will move markets this quarter and how should investors position themselves ahead of time? Jim Cramer sat down with four of TheStreet's top columnists recently to get their views. Click here to listen to his latest Trading Strategies roundtable with them and read their advice for stocks, bonds, forex and gold.
Wall of Fame
On the show's "Wall of Fame" segment, Cramer paid tribute to some of the market's great executives, Honeywell (HON) CEO Dave Cote and Panera Bread (PNRA) CEO Ron Shaich.
Cote retired at the end of March, but left behind a legacy at Honeywell. He turned around the struggling conglomerate and generated a 575% return on the stock during his 15-year tenure. That's more than 2.5 times better than the S&P 500 during that time. He led with integrity and was a game-changer during the recession, Cramer said.
Read more about Cramer's discussion with Cote just last week.
Panera's Shaich may not be retiring, but his days of leading this company are over, now that Panera has accepted JAB Holdings' $7.5 billion bid.
The stock is up 80-fold and has outperformed some of the best food stocks in the market. While the company had its struggles -- like figuring out the "mosh pit" of customers caused by mobile ordering -- Shaich found solutions. He transitioned the company to Panera 2.0 and has built one of the countries' most successful restaurant chains.
Cramer added that "active players" can't get onto the Mad Money Wall of Fame, but this pair is an excellent addition.
Executive Decision: Cara Therapeutics
In an "Executive Decision" segment, Cramer sat down with Derek Chalmers, the president and CEO of Cara Therapeutics (CARA) . This breakthrough speculative biotech company focuses on pain management treatments, an industry that has traditionally relied on potentially dangerous and addictive opioids. 
The stock is up about 90% year-to-date and was near a new high when the company announced a secondary offering. This will be used to clean up the balance sheet and see at least two drugs through to the end of testing, Chalmers explained.
He explained that one in three Americans suffer from chronic pain. This is treated through opioids, like oxycodone, or anti-inflammatory drugs, which have their own potentially debilitating side effects. 
But by targeting peripheral nerve ending receptors and immune cells, Cara's treatments don't impact the brain or central nervous system the same way. 
Why hasn't a larger company already done this? Chalmers explained the chemistry behind the treatments is much different than traditional drugs. It's unique on a molecular level, which gives Cara a unique product angle. 
As for targeting, Chalmers said he believes the treatment can be applied across all sorts of different pain problems, ranging from post-operative to inflammatory problems. The company also has a promising push going for its anti-itch treatments, a very underserved market.
Executive Decision: Axon Enterprise
On the show's "Executive Decision" segment, Jim Cramer sat down with Rick Smith, CEO of Axon Enterpriseundefined , former known as Taser International. The stock will begin trading under the ticker AAXN on Thursday.
The stock suffered through a volatile day, but  closed lower by just 0.45%. What happened? The company announced that it's going to give out its new Axon Body 2 camera to every police officer in the U.S., if their departments sign up for it. Beyond that, Axon will also give one year of program support. 
Smith said he hopes every officer and police department takes the company up on the offer.
It's sort of like the razor-razor blade model, Cramer said, explaining that a company gives away the razor in order to sell blades to its customers over a long period of time. 
The goal with Axon would be to give away the camera, betting that the department will see the value, and then become paying subscribers to Axon's software services. 
Smith acknowledged that officers were hesitant of the product when it first came out. But over the years, the camera has actually proven to increase officer safety, he said. 
Axon wants to take the risk off the table for these departments by letting them try their products free for a year. The software provides a great ROI for the business and building out a large user base and community is step one, Smith explained. 
The company has been planning the move, so there won't be a large one-time cost coming down the road as a result of the plan, Smith said. 
Lightning Round
On the show's "Lightning Round" segment, Jim Cramer was bullish on Zions Bancorporation (ZION) . 
He was bearish on FreeportMcMoRan (FCX) , Wix.com (WIX) , Omeros Corp. (OMER) and Compass Diversified Holdings (CODI) . 
Read more of Cramer's comments about the stocks in the Lightning Round.
Hewlett Packard Enterprise (HPE) recently completed a complex deal, which saw it spin off its Enterprise Services business and merge it with Computer Science Corp. The combined tie-up is now known as DXC Technology (DXC) . 
As investors know, HPE was the result of H-P's prior breakup. HPE also split off most of its software business, merging it with Micro Focus in an $8.3 billion deal. Both moves resulted in increasing value for shareholders and creating cash for HPE. 
In the latest deal, prior HPE shareholders received 0.855 shares of DXC for each share of HPE they own.
So what does Cramer think? Given that the Action Alerts PLUS portfolio owns both, he recommends staying long both. 
HPE has an attractive business and a low valuation. It's spinning off its undervalued businesses to create value and has plenty of cash on its balance sheet. If it implements a buyback, HPE could create even more value. 
DXC has a slow-growing legacy business, but its digital solutions business expects 25% to 30% compound annual growth. But the real excitement is in its margins. The company thinks it can expand its margins by a significant amount, which will lead the way to 20% earnings growth through 2020. Not many companies can claim that, Cramer noted. 
Cramer says HPE is a stock investors can buy right here, right now. But for DXC, even though it's valuation is attractive and growth is good, the stock has been too hot. Wait for a pullback before getting long.
Cramer and the AAP team are keeping a close eye on Walgreens (WBA) . Find out why they're recommending their investment club members follow news about this stock closely. Get a free trial subscription to Action Alerts PLUS.
Search Jim Cramer's "Mad Money" trading recommendations using our exclusive "Mad Money" Stock Screener.
To watch replays of Cramer's video segments, visit the Mad Money page on CNBC.
To sign up for Jim Cramer's free Booyah! newsletter with all of his latest articles and videos please click here.
At the time of publication, Cramer's Action Alerts PLUS had positions in WBA, HPE, DXC.