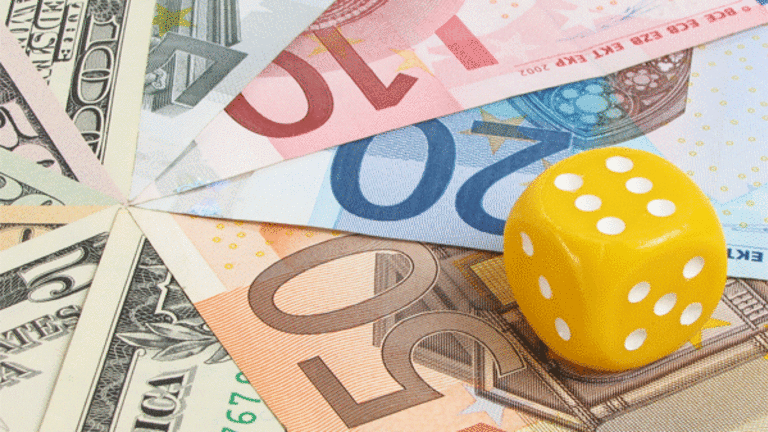 'Fast Money': Where Do We Go From Here?
The trading panel discussed the future of this week's promising rally.
The trading panel discussed the future of this week's promising rally.
The markets cooled off Friday but still finished on the upside for third consecutive week.
The
Dow Jones Industrial Average
was down 148.38, or 1.87%, to 7,776.18, while the
S&P 500
lost 16.92, or 2.03%, to 815.94. The
Nasdaq
was down 41.80, or 2.63%, to 1,545.20.
Guy Adami said on
CBNC
's "Fast Money" TV show that the rally "remains intact." He told viewers they need to be long on the S&P if it stays above 800.
Tim Seymour noted that the good news in today's trading session is that the VIX stayed below its 200-day moving average on a down day for the market.
Karen Finerman expressed concerns about comments from Jamie Dimon, CEO of
JP Morgan Chase
(JPM) - Get Report
that March was a difficult month for his company. She presumed that might be the case of other financial instituitions. She said the condition of those banks is important for the rally to continue.
Melissa Lee, the moderator of the show, shifted the discussion to tech's big week. Adami noted that
Intel
(INTC) - Get Report
hit a four-month high, while
HP
(HPQ) - Get Report
surged, up 12% this week.
Seymour said tech has had a good run because the companies in the sector have good balance sheets. He also noted the rebound in chips, adding he liked
Taiwan Semiconductor
(TSM) - Get Report
in this space.
Alcoa
(AA) - Get Report
was up 19% for the week. Seymour said the company has a good balance sheet and "is not throwing assets out there at bargain prices." Jeff Macke said the company pulled off a "great deal" when it was able to raise much more debt money that it expected -- $500 million at 5.25%.
Lee commented on the heighten M&A activity in fertilizer stocks. Adami said these stocks have had tremendous runs off of levels that were "absolutely ridiculous." He said he feels people may be chasing these stocks. "You don't want to be one of them. There's always tomorrow."
Lee brought in Gene Munster, an analyst with Piper Jaffray, to talk more about the tech rally. Munster said the tech rally is taking a pause after a 20% gain in the past three weeks. "That's a little too far, too fast," he said.
Munster said although the fundamentals of these companies are meeting expectations, it's not a good enough reason to buy them.
In this situation, he likes
Yahoo!
(YHOO)
as a defensive play. With newspapers going out of business, companies need to brand their products through display advertising, and Yahoo is one of the biggest display properties, he said.
He also said Carol Bartz, Yahoo's CEO, will probably sell the surf business to
Microsoft
(MSFT) - Get Report
.
Munster remained high on
Google
(GOOG) - Get Report
despite its inability to monetize You Tube. "Every advertiser you talk to says they have to buy Google. For every dollar you put into Google, you get back more than a dollar back. That's a good business model," he said.
Munster doesn't expect
Apple
(AAPL) - Get Report
to move up a lot in the short term. He said the next big catalyst will come in the summer when the company unveils its latest iPhones. He expects Steve Jobs to return to Apple in a strategic role.
Carter Worth, chief market technician for Oppenheimer Asset Management, expects the market will remain where it is now for another eight to 10 weeks before it decides whether a recovery is in the offing.
Worth showed Lee two charts that pointed to two sectors that have been performing well relative to the S&P index: consumer discretionary stocks and financials.
He said the consumer discretionary stocks have always been one of the three stocks that led the markets out of past recessions. He said the financials haven't seen any new lows since
Freddie Mac
( FRE) and
Fannie Mae
( FNM) were nationalized in July.
Lee asked Whitney Tilson, managing partner of T2 Partners, to talk about the rally in the financials.
Tilson said his firm has switched from going short to long on
Wells Fargo
(WB) - Get Report
and
American Express
(AXP) - Get Report
.
He feels there is a 70% chance Wells can make it without a "catastrophic" outcome, in which case it becomes a $40 to $60 stock instead of a $2 stock, if it doesn't.
As for American Express, he said it has gotten access to some of the federal bailout money to keep its business going.
Tilson told the panel that some analysts have been off base in their analysis of banks when they look at what their losses will be ultimately be and compare those to their current balance sheets and reserves.
In the case of Wells, he sees the bank saddled with $50 billion to $120 billion of losses against $20 billion in reserves. Why go long? Because the bank will take $8 billion in losses a quarter for the next couple of years and offset those losses with $8 billion to $10 billion in profits each quarter, he said.
Jon Najarian came on the show to provide some pointers in evaluating M&A activity, which topped $200 billion this quarter. Najarian said investors should consider valuation, volume and volatility in any potential deal. He said he moves on a deal only after he's seen 80% to 90% of the action on the offer.
In recent days, he's seen big moves on two stocks:
MEMS Electronic Materials
(WFR)
and
Allergan
(AGN) - Get Report
.
In the final trades, Macke said to take some profits on bank stocks and sell some gold. Finerman said to short
Brookfield Properties
(BPO)
, and Seymour said to sell
Teck Cominco
(TCK)
and buy it back later at a lower price.
"Check out
"'Fast Money'Portfolios of the Week" on Stockpickr every Thursday.