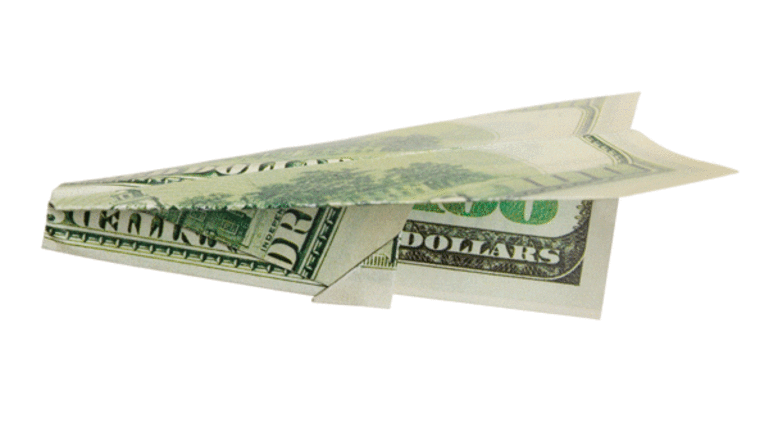 'Fast Money' Recap: Yahoo! Stays Up in Air
The company's 2-cent beat provides little clarity on the Microsoft takeover question.
A day of record oil prices, a falling dollar and a ho-hum batch of earnings reports left U.S. stocks in negative territory at the close Tuesday. The Dow lost 0.8%, the S&P 500 gave up 0.9%, and the Nasdaq slipped 1.3%.
On
CNBC's
"Fast Money" TV show, Jeff Macke said
McDonald's
(MCD) - Get McDonald's Corporation Report
negative same-store sales growth in the U.S. was countered by explosive international growth. He said that
Yum! Brands'
(YUM) - Get Yum! Brands Inc. Report
earnings conference call would likely reveal that its China sales are growing fast.
Pete Najarian pointed out a solid earnings report from
DuPont
(DD) - Get DuPont de Nemours Inc. Report
. He said the stock had made a big run into earnings, and it's time for investors to take some their position off the table.
3 Stocks I Saw on TV
var config = new Array(); config<BRACKET>"videoId"</BRACKET> = 1517472338; config<BRACKET>"playerTag"</BRACKET> = "TSCM Embedded Video Player"; config<BRACKET>"autoStart"</BRACKET> = false; config<BRACKET>"preloadBackColor"</BRACKET> = "#FFFFFF"; config<BRACKET>"useOverlayMenu"</BRACKET> = "false"; config<BRACKET>"width"</BRACKET> = 265; config<BRACKET>"height"</BRACKET> = 255; config<BRACKET>"playerId"</BRACKET> = 1243645856; createExperience(config, 8);
After a modest earnings beat,
Yahoo!
(YHOO)
shares traded slightly lower. Karen Finerman said the Internet company's numbers don't give her a lot of confidence in its power to negotiate with
Microsoft
(MSFT) - Get Microsoft Corporation Report
, which has issued a hostile bid for Yahoo!. She predicted Yahoo! stock will end up between $28 and $32.
Macke said that Microsoft doesn't have to chase Yahoo!, and he said that Microsoft CEO Steve Ballmer might even drop the bid.
Najarian said that as long as the merger stalls, it's wise to sell calls on a Yahoo! position. He agreed with Macke that Microsoft doesn't have to do a deal, and said that Yahoo!'s 2-cent EPS beat is not enough to sweeten the deal for Yahoo!. He predicted that the deal would take months to close.
Finerman said that Microsoft will take some action by Monday morning and pointed out that Yahoo!'s guidance doesn't mean much. Macke agreed with Finerman on Yahoo!'s guidance.
Elsewhere in Tech
VMWare
(VMW) - Get VMware, Inc. Report
shares rose 12% on earnings today. Najarian said he loves the virtualization space. He said VMWare has risen since its IPO. He predicted solid earnings from
EMC
(EMC)
tomorrow.
Adami said Microsoft is still the play. He said that VMWare is a valuation story and that EMC is OK but is "grounded" at $16. He noted a solid price increase in Microsoft and said that given what
Intel
(INTC) - Get Intel Corporation Report
and
IBM
(IBM) - Get International Business Machines Corporation Report
have said in their earnings statements, Microsoft should deliver great numbers.
Energy and the Buck
Crude oil neared $120 a barrel today. Finerman said that oil is trading in step with the dollar's decline. Macke said that it's best to trade oil on the basis of the charts. He said oil is going parabolic here and recommended taking profits even though it's very hard to get short here.
Najarian recommended playing natural gas on oil's rise. He said names such as
Apache
(APA) - Get APA Corporation Report
,
Chesapeake Energy
(CHK) - Get Chesapeake Energy Corporation Report
,
XTO Energy
( XTO) and
Devon
(DVN) - Get Devon Energy Corporation Report
are all exploding through 52-week highs. He said he prefers natural gas as oil approaches $120.
Adami predicted that the dollar would reverse huge in the second half of the year. Because oil has a supply side and a demand side, he said, it wouldn't get hurt as badly when the dollar rallies.
The traders took a minute to talk about McDonald's earnings. Adami said that the fast-food company beat by 11 cents. Stripping out 5 cents of earnings made on currency exchanges, McDonald's still beat by 6 cents, he said. It's cheap on a valuation basis, too, he said.
Macke said that the selloff is to be expected when everyone knows the company is executing very well. He said that in the bad tape, a downward move for the stock is not a big deal.
CME Group
(CME) - Get CME Group Inc. Report
, which operates the Chicago Mercantile Exchange, saw shares slip today. Adami said that if the SEC merges with the CFDC, the news won't bode well for CME Group.
Adami said that volume for the company is up but profit per contract is down. He said the stock might be worth a trade as a "flyer."
Macke said that no matter what the company says, investors will be concerned about the government.
Coach
(COH)
said it was withholding data for 2008. Finerman said that this is always bad news, because if the company knew anything positive, it would report it. Macke agreed.
AT&T
profit jumped 22% on wireless sales. Adami said he likes the stock, which has risen ever since he recommended it at a 52-week low. He said he believes it will go higher from here.
Najarian recommended
Millicom
( MICC), which he said is making inroads in Africa and Asia. He said the company is a growth story.
Royal Bank of Scotland
(RBS) - Get Royal Bank of Scotland Group Plc Report
shares went down on writedowns. Finerman said that she liked the way the company is raising capital. She said that offering the shareholders a chance to participate was a good way to do it.
National City
( NCC), on the other hand, sold shares to a private-equity firm at a huge discount.
Ahead of
Apple's
(AAPL) - Get Apple Inc. Report
earnings, the crew welcomed Piper Jaffray Senior Research Analyst Gene Munster to the show. He said not to overthink Apple. He predicted the company would beat Street estimates. He said a new 3G iPhone should be out in June. He said that this phone will be mainstream by 2009. He said he has a $250 price target on the stock.
Macke said a $250 price target seems both "crazy and reasonable." He said the stock is bulletproof, but he would rather buy a dip ahead of earnings. Adami said that investors can own the stock into or out of earnings. He predicted that the stock would trade back to $200. Najarian said he loves Apple.
The Market at Large
The stock market is on track to report negative earnings growth for the second quarter in a row. Najarian said that the financials have been the problem. He recommended the energy sector, which he said has performed well. He said that
ConocoPhillips'
(COP) - Get ConocoPhillips Report
purchase of Burlington Resources has brought exposure to natural gas, which is now a bull market.
Adami said it's wise to be more forward-looking than the stock market. He said that it might be time to cycle out of agricultural names and start buying financials. He predicted a bull market in financials in six months. Macke recommended buying the dips in the financials.
Finerman said any stocks, like
Intuitive Surgical
(ISRG) - Get Intuitive Surgical Inc. Report
that have great expectations built in, are going to get hurt on a tiny miss. She cautioned against getting involved in high-multiple stocks.
JetBlue
(JBLU) - Get JetBlue Airways Corporation Report
reported great customer satisfaction, but it has been hurt by rising fuel costs. CEO Dave Barger joined the show to discuss his company. Barger said that fuel costs are hurting the company, but he thinks air travel continues to be an affordable luxury. He said he's focused on protecting JetBlue's balance sheet and making good decisions for the long term. He said he'd consider any buyout offers but the company is focused on organic growth.
Finerman said Barger is a great operator, but she can't get involved unless the company starts finding alternative fuel sources. Macke said that Barger is a great manager but the stock is still a sell. Adami agreed.
Najarian said the airlines have had trouble hedging against rising oil prices. He said that until the space consolidates, airlines are going to have a hard time.
Trader Radar
Ford
(F) - Get Ford Motor Company Report
traded on unusual volume today.
Commander Planet
In honor of Earth Week, Najarian once again appeared as Commander Planet to discuss hybrid cars. He said hybrid sales in the U.S. have increased 44% in the past year and that
GM
(GM) - Get General Motors Company Report
and
Toyota
(TM) - Get Toyota Motor Corporation Report
plan to put battery-powered cars on the market by 2010.
Najarian said the best play on the trend is
Energy Conversion Devices
( ENER), which makes batteries for cars. He said the company also has exposure to thin film solar technology, another green play. He also recommended
Enersys
.
Fast Messages
A viewer asked for a good ETF green play. Najarian recommended
PowerShares WilderHill Clean Energy
(PBW) - Get Invesco WilderHill Clean Energy ETF Report
. The traders also discussed
Claymore/Mac Global
(TAN) - Get Invesco Solar ETF Report
, but no one made a clear recommendation.
A second viewer asked if
Intrepit Potash
is a good buy on its IPO. Adami said he'd rather play
Potash
(POT)
or
DuPont
(DD) - Get DuPont de Nemours Inc. Report
. Macke said it's a sign of fertilizer mania when IPOs such as Intrepid Potash start hitting the market. He advised caution.
Emerging Money
Tim Seymour joined the traders to talk about Russian oil conglomerate
Rosneft
, which trades on the London stock exchange. He said other Russian oil plays include
Lukoil
and
Gazprom
, which trades on pink sheets. For an ETF with exposure to the space, he recommended the
Market Vectors Russia
(RSX) - Get VanEck Russia ETF Report
ETF. He said oil and gas represent 52% of the fund's exposure. He predicted tremendous expansion for Gazprom.
Final Trade
Macke said he's selling Yahoo! shares. Adami recommended Apple. Finerman chose Microsoft. Najarian selected EMC.