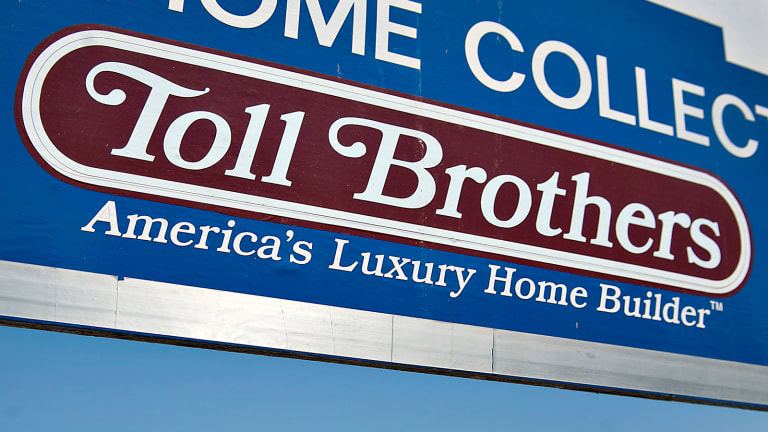 'Fast Money' Recap: With Homebuilders Gaining Strength, Their Stocks Are Worthy of Investment
CNBC's 'Fast Money Halftime Report' panelists discussed Tuesday's market setback and homebuilding companies that are looking increasingly attractive to investors.
NEW YORK (TheStreet) -- With the markets' steep pullback midday on Tuesday, CNBC's "Fast Money Halftime Report" panelists offered up their assessment of whether the market is due for a correction and explored how homebuilders figure into the picture.
The Dow Jones Industrials Average, Nasdaq and S&P 500 declined more than 1% across the board in midday trading, 
"The market is due for a correction," said Joe Terranova, chief market strategist of Virtus Investment Partners. "Today is  not the day to invest in the market. ... The market will continue to fall into tomorrow."
Jim Lebenthal, chief investment officer and CFO of Lebenthal & Co., agreed. Investors may believe the Fed won't raise rates until 2016, he said, adding, however, with reports of durable goods performing better than expected and other economic data pointing to a stronger economy, investors may begin to wonder if the Fed may raise rates sooner.  
"All of a sudden, the market says, 'Whoa' and thinks the Fed may be onto something here and readjusts its expectations to a September or December rate hike," said Lebenthal, in explaining Tuesday's downturn. But even with this adjustment, he believes investors can pick stocks and that shares are likely to go higher from here.
Both Lebenthal and Terranova agreed, however, that if unemployment figures were to suddenly worsen, that could prompt a market correction.
Guest panelist Eddie Perkin, portfolio manager of investment management firm Eaton Vance, said he doubted a rate hike was likely to happen soon and advised investors to remain in the markets but act defensively. He suggested owning large-cap stocks, as well as shares of utilities, real estate investment trusts (or REITs) and companies offering consumer staples.
One stock in particular that Perkin likes is that of JPMorgan Chase (JPM) - Get Report. "This is the best house in a bad neighborhood," he said. Citing as reasons for being a fan, he mentioned JPMorgan's CEO and the likelihood that the bank's regulatory pressures will soon abate and that its price-to-earnings ratio of 11 times earnings is less than that of other regional banks.
Homebuilding companies represent one sector that the panelists expected to see rebound -- particularly if interest rates rise and consumers who had been sitting on the fence about purchasing make the jump.
"We have had zero threat of mortgage rates going higher for seven years," said Josh Brown, CEO of Ritholtz Wealth Management. "People need to hear the bell ring."
Brown said that interest rate hikes would push renters into the homebuyer category. He added that household demographics show that the number of those 35 to 39 is the largest it's been in more than 20 years -- and that's the age many people buy homes.
As a result, he favors the stocks of homebuilders like Lennar (LEN) - Get Report. Pete Najarian, co-founder of Optionmonster.com, recommended the stock of Toll Brothers (TOL) - Get Report as a buy.
The inventory of available homes to buy is low and new homes' coming on the market would address that need, Najarian said. A hike in the mortgage interest rates, as a result, would prompt renters to become homebuyers. And thus homebuilder companies should benefit.
Other stocks the panelists weighed in on included the following: Brown said he is long on First Solar (FSLR) - Get Report, Lebenthal would stay away from Party City (PRTY) - Get Report, while Terranova would seek protection in Priceline (PCLN) options. Terranova also advised investors to be wary of coal investments, while Najarian suggested investors wait on an Alibaba Group (BABA) - Get Report stock purchase. Lebenthal, however, pointed to Target (TGT) - Get Report, J.C. Penney (JCP) - Get Report and Nordstrom (JWN) - Get Report as stocks he could see going higher.
This article is commentary by an independent contributor. At the time of publication, the author held no positions in the stocks mentioned.