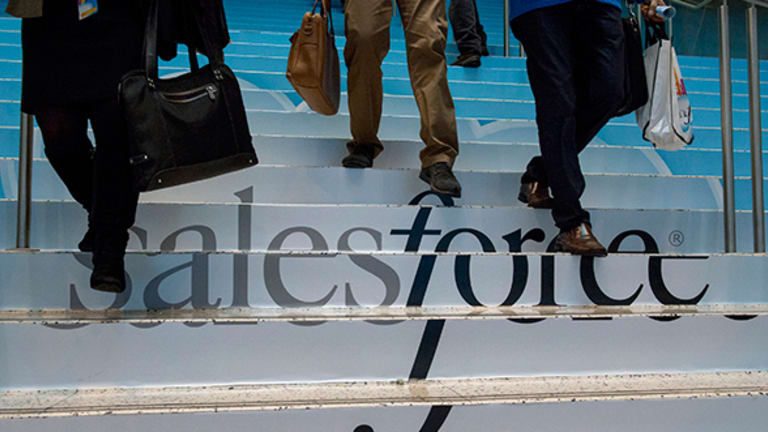 'Fast Money' Recap: Will IBM or Microsoft Buy Salesforce.com?
The trading panel discussed possible mergers in the tech sector and what took Twitter so long to name Jack Dorsey CEO.
NEW YORK (TheStreet) -- The S&P 500 ETF (SPY)  climbed 0.25% Thursday but tech was a bigger focus for the CNBC "Fast Money" traders. A Goldman Sachs analyst issued a bullish research note on the possibility of renewed merger activity within the sector.
This chatter helped push shares of Salesforce.com (CRM) up 5% on rekindled speculation a big tech company could look to acquire it. But which one?
Guy Adami, managing director of stockmonster.com, said Microsoft (MSFT) , SAP (SAP) , IBM (IBM) and Oracle (ORCL)  could all be looking to make the deal, but only Microsoft and IBM seem like they would actually pull the trigger. 
However, Adami is concerned about IBM's ability to make such a large acquisition -- Salesforce has a market cap of $46 billion and the deal would need to be done at a premium to this price. Microsoft, financially speaking, coulddo the deal but management's willingness is not quite as certain, he added. He likes Salesforce on the long side. 
Microsoft wouldn't make a deal like this because it already tried to do a deal near $55 billion, to no avail, according to Dan Nathan, co-founder and editor of riskreversal.com. Buying a company like ServiceNow (NOW) or Workday (WDAY) would make more sense. 
Tim Seymour, managing partner of Triogem Asset Management, said Salesforce is vastly ahead of its competition but the stock valuation for the stock is very high. He thinks the only two companies that could handle such a large acquisition are Google (GOOGL) and Apple (AAPL) , and neither company needs to acquire Salesforce. 
Brian Blair, principal and co-founder at Grays Peak Capital, said it's unlikely for Microsoft to buy Salesforce simply because the deal would be way too big. Even though Microsoft is lagging Salesforce, Oracle and SAP in the cloud market, it would make more sense to enhance its current offerings, rather than paying that much for Salesforce's. 
Instead, the company should buy Advanced Micro Devices (AMD) , which would cost about $2 billion. Microsoft has sold about 15 million Xbox units this year, but pays roughly $100 to AMD per Xbox for its components. An acquisition would allow Microsoft to streamline that process, Blair explained. Furthermore, AMD is a suppler to Sony undefined for its PlayStation, so it would allow Microsoft to pressure its competition. 

Shares of Twitter (TWTR) fell 8.4% as investors reacted to news co-founder and interim CEO Jack Dorsey is likely to become the permanent CEO. 
Nathan, who has been long Twitter for a while now, said it's been a frustrating ride so far. However, given the valuation of private companies like Uber and Airbnb, it seems like Twitter should have an enterprise value much higher than the current $15 billion, especially with its assets and potential. 
Karen Finerman, president of Metropolitan Capital Advisors, questioned why the company is taking so long to name Dorsey as the CEO and wondered if the board was hoping to land someone else. In any regard, a new CEO means management is likely to do its best to lower expectations during its next earnings report, which could hurt the stock price. 
In September sales dataFord (F)  increased sales 23% year over year, it has a low valuation and is trading near support, Seymour said. The current environment for automakers is very lucrative but it's obvious by the way the stocks trade investors don't believe it will continue. 
Focusing on Tesla Motors (TSLA) , Adami said the stock will remain volatile, but so long as shares stay above $225, investors can stay long. The stock looks likely to climb above $290 at some point this year, he added.
Follow TheStreet.com on Twitter and become a fan on Facebook.