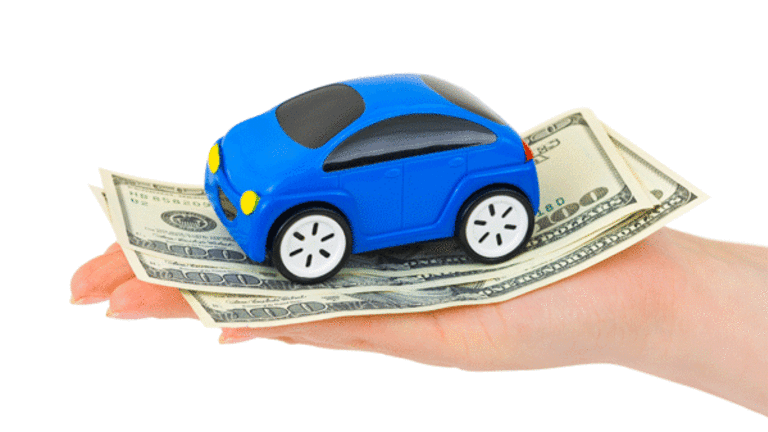 Publish date:
'Fast Money' Recap: What Will a Rising Dollar Do?
The trading panel discussed commodities, J.C. Penney and the latest Apple rumors.
The trading panel discussed commodities, J.C. Penney and the latest Apple rumors.
NEW YORK (TheStreet) -- U.S. equities traded mostly flat Wednesday. On CNBC's "Fast Money" TV show, the trading panel looked what effect a higher U.S. dollar could have on commodities. The dollar was lower Wednesday.
Brian Kelly, founder of Brian Kelly Capital, said the move lower was likely from investors who are beginning to think the European Central Bank may not announce any quantitative easing next week. Disappointed investors could send equities lower. 
Pete Najarian, co-founder of optionmonster.com and trademonster.com, said a strong U.S. dollar could hurt commodities. He pointed out that airline stocks have been doing well, with lower oil costs. He likes service, integrated energy and shale companies in the energy sector. Specifically, he likes Weatherford International (WFT) - Get Report and Baker Hughes (BHI) . 
Jon Najarian, co-founder of optionmonster.com and trademonster.com, said he likes the energy sector too, and argued that a higher U.S. dollar won't necessarily "kill" commodities but will likely have a negative effect. 
Guy Adami, managing director of stockmonster.com, said Alcoa (AA) - Get Report -- which he described as an "under the radar" commodity play -- seems likely to rally into the fall despite a rising dollar.
There are new rumors that Apple (AAPL) - Get Report will unveil some sort of wearable device on Sept. 9. Jon Najarian said that traditionally these types of events tend to be a "sell the news" trade and he believes that to be the case again. 
Kelly said investors should wait for the event to occur, then wait for an intraday reversal in the stock. When that happen they can sell it, he said. Pete Najarian said selling shares of Apple ahead of the event may be premature, but selling the stock after the event seems reasonable. 
Adami said he's still in "take profits mode" on Apple. Garmin (GRMN) - Get Report is attractive on the long side, he added. 
Jon Najarian said GT Advanced Technologies (GTAT) should do well if Apple is using its sapphire product for its iPhone screen. 
Adami said shares of Guess (GES) - Get Report have been a "disaster since 2011" but the stock needs to hold $22.50. He argued that Williams-Sonoma (WSM) - Get Report looks like a buy following the recent selloff. 
Pete Najarian agreed with Adami about WSM, saying he bought some of the stock in the after-hours near $66. Jon Najarian is also a buyer, hoping it declines to $65. 

Pete Najarian said top-line growth at Facebook (FB) - Get Report is likely to decline in 2015, which is why the stock received a downgrade to hold from buy at Janney Montgomery Scott. However, if it can monetize Instagram and/or get into payment services, the stock definitely has upside, Najarian argued. 
Adami pointed out the analyst who downgraded the stock still has a price target of $82.50, which represents attractive upside. "I think that's where it's headed," he said, because the company has reported several strong earnings reports in a row.
Kelly said he is avoiding Facebook for now, but said it has support near $68. 
Jim O'Donnell, CIO of asset management firm Forward, said investors are growing impatient with Amazon (AMZN) - Get Report management's spending habits. CEO Jeff Bezos is building a grand business, he admitted, but  investors are ready for some execution instead. The stock, along with others, may also see some selling pressure ahead of the Alibaba initial public offering as fund managers attempting to free up some cash. 
Pete Najarian disagreed about other stocks declining ahead of the Alibaba IPO. He said investors have enough cash on the sidelines that they're waiting to put to work on this IPO. 
Adami said Yahoo! (YHOO) still seems poised to move higher, possibly to $42 or $45. Pete Najarian agreed.
Jon Najarian argued that Chinese Internet stocks, not U.S. equities, would be the ones to see selling pressure due to the Alibaba IPO. 
Pete Najarian pointed out the bullish options activity in shares of Whole Foods Market (WFM) , specifically in the October $40 and $43 calls. He said is buying in these strikes. 
Jon Najarian pointed out the bullish options activity in shares of TRW Automotive Holdings (TRW) , specifically in the January $100 calls. He reasoned that buying a January $100/$105 bull call spread seems to make sense. 
MobilEye (MBLY) climbed 9% and was the first stock on the show's "Pops & Drops" segment. Following plenty of upgrades, Pete Najarian said the stock looks "very dicey" near current levels and investors should wait for a pullback. 
Yingli Green Energy (YGE) dropped 5%. Jon Najarian said the company missed on revenue and earnings estimates and pointed out that falling fossil fuel prices would not be good for the stock either. 

J.C. Penney (JCP) - Get Report popped 4%. Adami said, "I think the stock goes higher from here," citing its bullish momentum. 
Express (EXPR) - Get Report jumped 13%. Kelly said investors who are long can stay long, while investors who want to buy the stock should wait for a pullback.
Charlie Anderson, senior analyst at Dougherty & Company, said many retailers are likely to want GoPro (GPRO) - Get Report displays in their stores for the holiday, given how much demand there is for the product. The company should also benefit from strong accessory sales. While the company has a large YouTube following for its content, it does not currently have a plan to monetize that content. 
Adami likes shares of GoPro and thinks it will go higher. Pete Najarian called content the company's "wild card." 
Chuck Jeannes, president and CEO of Goldcorp (GG) , said higher equity prices do not necessarily mean downward pressure will be put on gold prices. He argued that some investors are nervous about the rise in equities and are taking some profits and reinvesting it in other assets, such as metals. 
Jeannes remains focused on improving his company's earnings and cash flow, even in the face of low price growth in gold. Usually a strong dollar has a negative effect on gold prices, he said, but it also has positive effects on its international mining costs. He reasoned that consumer demand for gold is strong while investor demand is weak. A stronger domestic economy is hurting gold prices while geopolitical issues are helping, basically resulting a rangebound price action for gold. 
Kelly said gold can go higher. He argued that higher interest rates would be positive for the metal, as would lower interest rates since they are usually accompanied by a faltering economy. 
Mark Cuban, owner of the Dallas Mavericks and founder of a new messaging application called Cyber Dust, was a guest on the show. He called it a simple messaging application where none of the content or conversations are saved. He reasoned that SnapChat does deserve its recent $10 billion valuation because of its large user base and eventual monetization. 
As for tax inversions, Cuban said when many companies make a similar move to lower tax payments to the U.S. government, it lowers everyone's net worth. While the stock price may go higher, the resulting effect could be higher taxes for everyone, which is bad. He is not a supporter of the move. 
For their final trades, Pete Najarian is a buyer of Pfizer (PFE) - Get Report and Jon Najarian is buying Dow Chemical (DOW) - Get Report . Kelly is a buyer of the Market Vectors Gold Miners ETF (GDX) - Get Report and Adami is a buyer of Weatherford International. 

-- Written by Bret Kenwell in Petoskey, Mich.
Follow @BretKenwell
Follow TheStreet.com on Twitter and become a fan on Facebook.
Bret Kenwell currently writes, blogs and also contributes to Robert Weinstein's Weekly Options Newsletter.