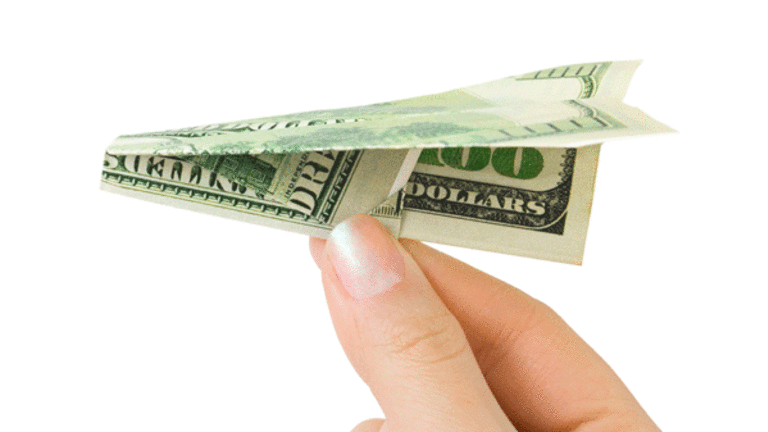 'Fast Money' Recap: Waiting Game
The panel said trading was light as investors waited for a round of big economic reports next week.
NEW YORK (
) -- The markets edged lower Thursday on another light trading day.
The
Dow Jones Industrial Average
fell 15.67, or 0.14%, to 11,569.71, while the
S&P 500
lost 1.90, or 0.15%, to 1,257.88. The
Nasdaq
was down 3.95, or 0.15%, to 2,662.98.
Brian Kelly said on
CNBC
's "Fast Money" TV show that he was surprised the market did not rally after today's strong Chicago PMI and pending home sales numbers. He said investors may be holding back because of next week when several big economic reports, including the ISM and jobless report, come out. "There wasn't a lot of reason to take risk."
Steve Cortes said the market may be affected by overseas news, with China's manufacturing slowing and European risk markets doing poorly. Simon Hobbs, the moderator of the show, said Europe is caught up in a dichotomy in which the European Central Bank is displaying the political will to keep the situation together, while the markets don't believe it can.
Patty Edwards said the markets are moving sideways because they want to take a rest.
Kelly said he was in the bull camp for 2011, with housing being the wildcard. He said a 11% rise in the S&P is achievable if housing turns around.
Todd Gordon said the mutual funds are fully involved in the markets, while Kelly said he expects money from the bond markets will send equities higher.
The panel discussed comments earlier in the day by bearish Peter Schiff who believes housing prices will have to drop another 20% to get the economy moving. Kelly said he doesn't believe there will be a 20% drop but he did say the clearing price for housing hasn't been reached.
Cortes said he finds it disturbing there has been no appreciable demand for mortgage loans despite record low mortgage rates. Edwards said the real culprit has been the failure of banks to provide loans.
Hobbs asked Edwards to comment on the sale by
Gap
(GPS) - Get Report
insider Doris Fisher of $147 million worth of shares. Edwards said it was a "big bang," adding it's difficult to consider the company a takeout candidate with the family owning a 25% stake.
The flip side of the hot copper trade is high input costs for retailers like
Wal-Mart
(WMT) - Get Report
and
Procter & Gamble
(PG) - Get Report
.
Edwards said both stocks closed lower on fears that higher input costs for inhouse manufactured goods. She said high copper prices will hurt a retailer like
Macy's
(M) - Get Report
, which sells proprietary goods, but not
Buckle
(BKE) - Get Report
, which sells third-party items.
Hobbs shifted the discussion to the prospects of a cut in corporate taxes next year. Henrietta Treyz, vice president for Height Analytics, said it's highly unlikely anything will happen. She said companies have too much of a vested interest in tax loopholes. She also said President Obama is unlikely to tackle the matter as a campaign issue until 2012 and Congress is too polarized to deal with the matter.
Hobbs asked Kelly if the U.S. economy is strong enough to survive headwinds coming from China. Kelly reiterated his belief that the U.S. can go it alone because exports account for only 10% of the country's GDP. He said China accounts for only 1% of U.S. exports, with the biggest U.S. trading partners being Canada, Mexico and European Union.
Shifting to European currencies, Todd Gordon sees further strengthening in the Swiss franc. Kelly, though, said the Swiss franc is vulnerable because it is export dependent, adding he would rather be in the U.S. dollar.
Will health care be immune from a dip in 2011? Shubin Stein, an investor and doctor with Spencer Capital Management, believes diagnostics testing is the place to be next year.
He said diagnostics represents 3% of the health care budget but drives 75% of consumer spending in this space. He said his two best diagnostics picks are
Quest Diagnostics
(DGX) - Get Report
and
Labcorp
(LH) - Get Report
.
He liked Quest, the cheaper of the two, although he said Labcorp is more profitable. He also put in a good word for
Myriad Genetics
(MYGN) - Get Report
, which owns the gene test for breast and ovarian cancer.
In the tweeting corner, Edward said there was considerable debate over whether banks are the place to be be. She said there was interest in the ag trade, especially
Potash
(POT)
. She also said there were questions about casual dining, which she soured on because of high input costs and the constrained consumer.
Hobbs showed off a chart of best large cap tech stocks from Citigroup analyst Mark Mahaney. It included
Google
(GOOG) - Get Report
,
Priceline.com
(PCLN)
and
Amazon.com.
(AMZN) - Get Report
. Najarian gave the nod to Google for its Android operating system and mobile search.
In the final trades, Edwards liked
Target
(TGT) - Get Report
. Kelly liked
Morgan Stanley
(MS) - Get Report
, while Cortes preferred
Exelon
(EXC) - Get Report
. Najarian went with
BP
(BP) - Get Report
while Gordon said to watch out for lower levels for the Swiss franc.
--Written by David Tong in San Francisco.
To contact the writer of this article, click here:
David Tong
.
To follow the writer on Twitter, go to
.
To submit a news tip, send an email to:
.
To watch replays of Cramer's video segments, visit the Mad Money page on CNBC
.
Follow TheStreet.com on
Twitter
and become a fan on