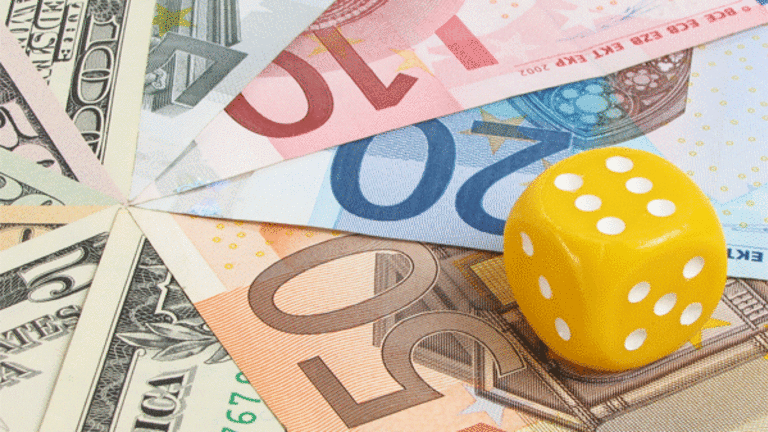 'Fast Money' Recap: Trouble Under the TARP
The trading panel notes that financial stocks were down on the announcement of the plan.
Dylan Ratigan hosted CNBC "Fast Money" show Wednesday night. He started the show with a discussion of the three major issues in the market right now: a lack of confidence, hedge funds and investors remaining on the sidelines, and the fundamentals of the economy continuing to deteriorate. He said that when you put all three together, you get a stock market that continues to sell off.
Pete Najarian pointed out that the financials are yet to participate in this market. He says "the volatility index fell too fast, and that's part of the issue right now." Karen Finerman told viewers she was stopped out of a long position in
Google
(GOOG) - Get Alphabet Inc. Report
after the stock broke below $300 per share. She says "Google is an interesting company, but I don't need to fight the tape."
Ratigan moved the conversation to breaking news that shares of
Intel
(INTC) - Get Intel Corporation Report
were halted in after-hours trading. The chip company said its fourth-quarter revenue will come at $9 billion, which is below Wall Street expectations. Jeff Macke said things continue to deteriorate and the fundamentals are disastrous. He says, "I can't be confident in this market, and I have never had more cash on hand."
Ratigan switched the discussion to the bank sector. He explained that
Wells Fargo
(WFC) - Get Wells Fargo & Company Report
,
JPMorgan
(JPM) - Get JP Morgan Chase & Co. Report
,
Morgan Stanley
(MS) - Get Morgan Stanley Report
,
Citigroup
(C) - Get Citigroup Inc. Report
,
Goldman Sachs Group
(GS) - Get Goldman Sachs Group Inc. (The) Report
,
Merrill Lynch
(MS) - Get Morgan Stanley Report
and
Bank of America
(BAC) - Get Bank of America Corporation Report
are all down significantly from the announcement of the TARP plan.
Najarian said "hats off" to Meredith Whitney, managing director at Oppenheimer, for saying that Citigroup could go into the single digits. He says "the one to keep an eye on is
American Express
(AXP) - Get American Express Company Report
, which is seeing an amazing amount of put options activity."
CNBC's
Jim Goldman joined the traders to discuss the Intel news. He explained that Intel's revenue revision was "substantial." He says "you wonder what other kinds of ripples this could send through the rest of the industry." Goldman mentioned Intel will also reduce its capex spending by $100 million to $2.8 billion. Macke said Intel is behaving like a company that is afraid because nobody is buying anything.
Ratigan brought up the weakness in crude oil and what it might signify about the state of the economy. Finerman said the government would be better off having oil a little bit higher because it's become a full on proxy of fear. She says "I wouldn't take off the oil short trade yet, but the equity side hasn't worked." Najarian said the pullback in natural gas and oil is helping the input costs for someone like
Archer Daniels Midland
(ADM) - Get Archer-Daniels-Midland Company Report
.
Seymour pointed out that
ConocoPhillips
(COP) - Get ConocoPhillips Report
is trading as though oil is at $40 per barrel.
Doug Kass, founder and president of Seabreeze Partners Management, joined the traders to discuss where we are in the cycle of deleveraging. Kass said that the outlook for the next three to five years has been jarred and that our social, economic and political future has materially changed. He says "the scope and duration of the meltdown has placed our economy passed the tipping point." He said we're in a very dangerous environment for both shorts and longs now. He explained that around $600 billion of hedge fund capital is in computer-generated program trading. He told viewers to err on the side of "conservatism."
TARP Effect
CNBC's
Steve Liesman joined the "Fast Money" crew to talk about the TARP bailout plan. He explained that the Treasury plans to get involved in the asset-backed market for consumer loans. He says "the
Fed
will have another facility that will buy bundled credit card loans and bundled auto loans." He mentioned that the Fed will also provide private-equity matching funds. Liesman told viewers that the Treasury, FDIC and the Fed issued a joint policy statement that said they expect banks to start lending and get their dividend policies right. Finerman said the banks should dilute their shareholders instead of using the TARP money to recapitalize.
Oil Depression
The crew spoke with Addison Armstrong of Traditional Energy about the weakness in crude oil. Armstrong said it's all gloom and doom in the oil markets right now. He says "there is nothing that is going to stop crude oil from falling, not even OPEC, as long as there is wholesale selling in every other market." He told viewers he likes natural gas at $6. Najarian said he saw enormous amounts of activity in the November options for the
Energy Select Sector SPDR
(XLE) - Get The Energy Select Sector SPDR Fund Report
. Armstrong said oil could potentially go to $45 a barrel, and that would cause pain for the integrated oil names.
Trader Radar
Shares of
Scotts Miracle-Gro
(SMG) - Get Scotts Miracle-Gro Company (The) Report
were among the most active names on the
NYSE
Wednesday.
Final Trade
Macke said he is going to sell the rest of his
ProShares UltraShort S&P 500
(SDS) - Get ProShares UltraShort S&P500 Report
position. Seymour recommended the
UltraShort MSCI Emerging Markets ProShares
(EEV) - Get ProShares UltraShort MSCI Emerging Markets Report
. Finerman said she is sticking with her short position in
Capital One Financial
(COF) - Get Capital One Financial Corporation Report
. Najarian picked Archer Daniels Midland.
This article was written by a staff member of TheStreet.com.