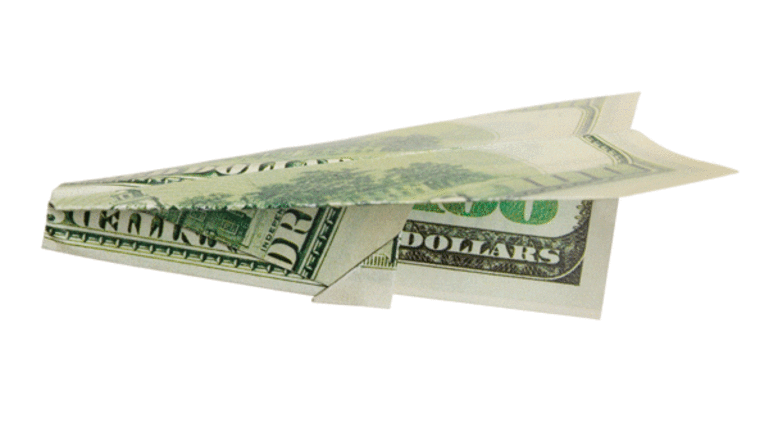 'Fast Money' Recap: Trouble in Disneyland
The trading panel discusses the sharp drops in Thursday's market.
Dylan Ratigan hosted CNBC's "Fast Money" show Thursday night. He started the show with a discussion of the declines in General Motors (GM) - Get General Motors Company Report, Cisco Systems (CSCO) - Get Cisco Systems Inc. Report and Walt Disney (DIS) - Get The Walt Disney Company Report.
Karen Finerman said the global growth story continues to unravel. She says "the
ArcelorMittal
(MT) - Get Arcelor Mittal NY Registry Shares NEW Report
news yesterday was really horrific." Tim Seymour pointed out that we had what were arguably the worst factory orders out of Germany ever. He says "rent, don't own stocks."
The "Chart of the Day" was
Goldman Sachs Group
(GS) - Get Goldman Sachs Group Inc. (The) Report
. Pete Najarian explained that if you want to know which way the market is going to trade, then just watch Goldman Sachs. He said the volatility on Goldman should begin to rise if the stock hangs around $80 per share.
var config = new Array(); config<BRACKET>"videoId"</BRACKET> = 2097171001; config<BRACKET>"playerTag"</BRACKET> = "TSCM Embedded Video Player"; config<BRACKET>"autoStart"</BRACKET> = false; config<BRACKET>"preloadBackColor"</BRACKET> = "#FFFFFF"; config<BRACKET>"useOverlayMenu"</BRACKET> = "false"; config<BRACKET>"width"</BRACKET> = 265; config<BRACKET>"height"</BRACKET> = 255; config<BRACKET>"playerId"</BRACKET> = 1243645856; createExperience(config, 8);
Jeff Macke told viewers that if they want to trade this market, they should either do nothing or pick a few names. He mentioned that he covered his short position in
Toyota Motor
(TM) - Get Toyota Motor Corporation Report
and put back on his long position in
Burlington Northern Santa Fe
(BNI)
. He says "you're getting 12% to 13% moves in two or three days, you have to trade it."
Ratigan brought up the news that President-elect Barack Obama will host a press conference tomorrow afternoon. Some of the people who will be involved in the conference include: Larry Summers, Robert Rubin, Paul Volcker, Warren Buffett and William Donaldson. Najarian said markets don't like stuff they don't know the answer to. He says "the market is wondering how Obama will run the administration."
Finerman said her greatest hope is that they establish credibility. She says "I hope they don't have a 'tax their way out of this problem'-type solution." Seymour said the market doesn't like what it's getting right now, which is terrible data.
CNBC's
auto and airline industry reporter Phil LeBeau joined the traders to discuss the news that the Big Three automakers are meeting with the Speaker of the House Nancy Pelosi. He said the Big Three are asking Congress to appropriate another $25 billion that would be bridge financing to help the United Auto Workers with retiree health care costs.
LeBeau explained that they are also looking for access to the $750 billion from the Treasury Department. He says "we're likely to see statements of support from Nancy Pelosi and Senator Jack Reed."
Post Bail
The traders spoke with Kimberly Rodriguez of Grant Thornton Global Automotive Services about whether President-elect Obama should bail out the automakers. She explained that the cost of General Motors and
Ford Motors
(F) - Get Ford Motor Company Report
isn't from buying them, it's from running them. She says "the cost to restructure these companies is enormous, so does the government or anybody else really want to absorb them?"
Rodriguez said the numbers of job losses in a bankruptcy of any of the Big Three would be untold. Najarian told viewers to look at Toyota Motors. He says "Toyota is struggling because they mimicked exactly what the Americans want, which is the big vehicles." Seymour said Toyota looks like a nice sell here. Macke joked "the government should buy GM and Ford and short Toyota."
Obama Watch
The traders spoke with Rob Cox of Breakingviews.com about what he thinks we will hear out of the Barack Obama press conference set for Friday. He said he wants to hear credibility out of Barack Obama. He says "what we need to see from Obama is that he is realistically going to grapple with these issues." Cox explained that Obama has to show he recognized three main problems: the U.S. has too loose of a monetary policy, we produce too little and consume too much, and we need a reduction in our standard of living.
Disney CEO Interview
The crew spoke with Disney CEO Robert Iger about his outlook for the company and the consumer. Iger said Disney is only seeing a 1% drop in attendance from last year and their bookings for the holiday season are also down 1% at their domestic theme parks. However, he said the long-term bookings are off appreciably from a year ago.
Iger explained the company is responding to this weakness by offering a value proposition for consumer that is similar to what it did on 2001. He mentioned that Disney's management team is very experienced and was around for the last downturn. Iger said that this downturn happened faster than any other economic fall-off that he has ever seen.
Trader Radar
Shares of
Whole Foods
(WFMI)
were among the most active names on the
Nasdaq
on Thursday.
Final Trade
Macke went with Burlington Northern Santa Fe. Seymour said to sell some of the
UltraShort Emerging Markets ProShares
. Najarian recommended put options on
MBIA
.
This article was written by a staff member of TheStreet.com.