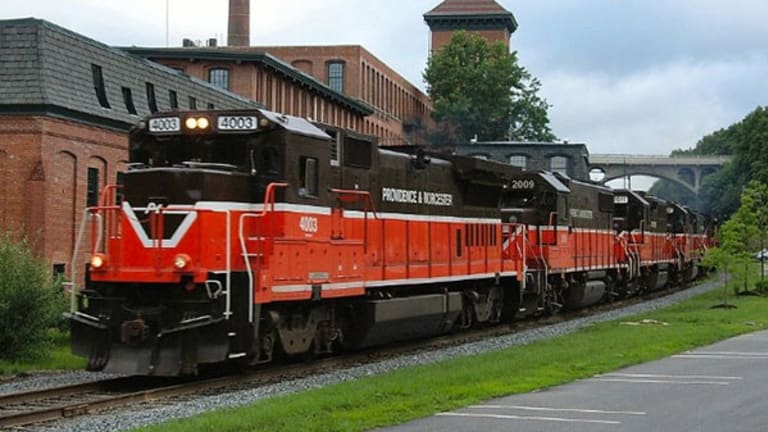 'Fast Money' Recap: Transports Struggle; Where's the Greek Deal?
The trading panel discussed Apple's valuation and whether Yahoo!'s Marissa Mayer is living up to the hype.
The trading panel discussed Apple's valuation and whether Yahoo!'s Marissa Mayer is living up to the hype.
NEW YORK (TheStreet) -- Still no deal on Greece, and investors are growing impatient. The lack of a deal helped push the S&P 500 down nearly 1%Wednesday. 
However, Guy Adami, managing director of stockmonster.com, is optimistic. "I still think the S&P 500 has room to the upside" although he said the iShares Transportation Average ETF (IYT) - Get Report looks likely to decline to $138. 
The transports, particularly railroad and airline stocks, have continued to struggle, said Brian Kelly, founder of Brian Kelly Capital. The recent railroad carload data were lower from last week and year over year, indicating consumer demand isn't as strong as many had hoped. "We have a stagnant economy at best," Kelly said. 
Dan Nathan, co-founder and editor of riskreversal.com, referred to famed-investor Carl Icahn's comments earlier in the day that he is being cautious on the market. Nathan didn't think these comments pulled stocks down but found it notable Icahn is positioning himself defensively. 
Icahn also referred to the high-yield market as a very dangerous investment. Kelly agreed, calling it "a disaster waiting to happen." 
With stocks near all-time highs, revenue growth needs to continue, said David Seaburg, managing director and head of sales trading at Cowen and Company. He has concerns about the high yield market but thinks investors should be invested in stocks. 
Gene Munster, managing director and senior research analyst at Piper Jaffray, explained his bullish research report on Apple (AAPL) - Get Report. He said the current iPhone 6 currently sells for 72% of its retail value 265 days after launch. The previous iPhone 5S only sold for 60% of its retail value 265 days its launch. 
According to Munster, the stronger resale value indicates that demand for the new iPhone remains very strong, which is an important indicator for future iPhone demand. Similar results were found in China as well. He expects the next iPhone - presumable the iPhone 6S - to have higher margins, which will help increase profitability. 
Munster has an overweight rating and $162 price target on Apple.

Although Apple trades at a reasonable valuation, investors shouldn't expect its valuation to climb too much higher over the next year as its growth rate slows, Nathan said.  
"I do think it makes the move to the next level," that being $160, Adami said. However, "I'd get really concerned if it broke below $122," he added. 
Yahoo! (YHOO) hosted its annual shareholder meeting on Wednesday, and Eric Jackson, founder of Ironfire Capital and contributor to TheStreet, said he wasn't very happy with what he heard. The company stillhasn't found a way to increase user engagement and CEO Marissa Mayer hasn't lived up to the hype she brought to the company. 
With that being said, the stock looks attractively priced near $40, with the tax-free spinoff of Alibaba (BABA) - Get Report still being a main focus for management. 
Kelly sold his Alibaba position on Wednesday because the stock has continued to decline since hitting a recent high in mid-May. For now investors should avoid both Yahoo! and Alibaba.
Alibaba has a "massive," 1.4 billion share lockup expiration in September, Nathan said. This has weighed on Alibaba's stock price, which has then weighed on Yahoo!, since the latter owns a stake in the former. 
For their final trades, Kelly is selling the Financial Select Sector SPDR ETF (XLF) - Get Report and Seaburg is a seller of the iShares Nasdaq Biotechnology ETF (IBB) - Get Report. Nathan said to sell Netflix (NFLX) - Get Report and Adami is buying ConAgra Foods (CAG) - Get Report.
Follow TheStreet.com on Twitter and become a fan on Facebook.