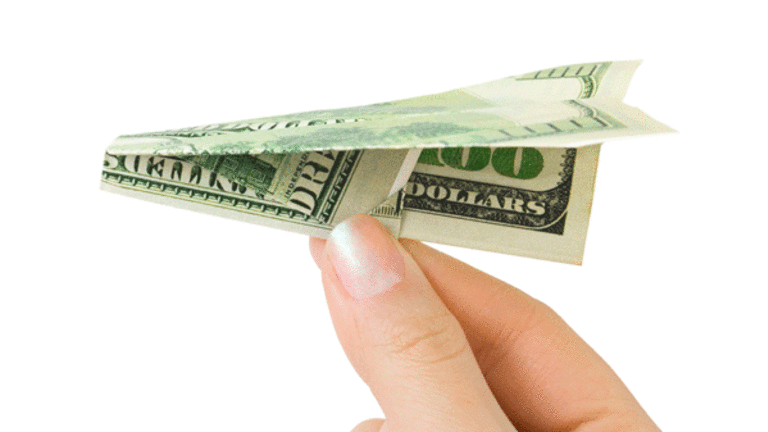 'Fast Money' Recap: Time to Get Healthy
The trading panel says health care stocks offer a way to get back into the market.
Dylan Ratigan hosted CNBC's "Fast Money" Thursday night. He kicked off the show with a discussion about how the most economically sensitive stocks were sold off today. He pointed out that whether we get a bailout or not on Friday, it might not matter.
Ratigan mentioned that borrowing at the
Federal Reserve's
discount window was up 50% from last week at $400 billion. Pete Najarian said it's terrible when you have companies like
General Electric
(GE) - Get Report
and
Goldman Sachs Group
(GS) - Get Report
that are forced to do "sweetheart deals" with Warren Buffett.
Tim Seymour says short-term borrowing is dead. "I don't think GE has huge liquidity issues, but I do think it's a backstop at an amazing cost," he added.
Seymour also mentioned that China had some numbers out this morning that showed the commodity sector has more room to fall. Jeff Macke says cash and the fetal position are the only two things you can get away with right now.
Ratigan said the health care names were strong today. Guy Adami said
Church & Dwight
(CHD) - Get Report
and
Johnson & Johnson
(JNJ) - Get Report
are the names that will get you through it if you need to be in the market right now. He told viewers to look at
Novartis
(NVS) - Get Report
, which was down for a play on valuation.
Najarian says health care names like
Biogen
(BIIB) - Get Report
and
Amgen
(AMGN) - Get Report
continue to work because of the "need basis" and exposure level. "You don't suddenly stop needing your medication," he said.
Ratigan brought up the major declines in commodity names that were the global growth proxy. Seymour pointed out that Merrill Lynch started the fall by downgrading oil and saying crude could fall to $50 by next year. Macke says if you're looking for a bottom on these things, you will be waiting for a long time. "These stocks were ahead of themselves, and the funds are getting liquidated," he said. Adami pointed that gold was down big Wednesday and today, and if you're piling into it for a short-term "safe haven" trade, you're wrong.
The "Chart of the Day" was the
iShares Dow Jones Transport Average
(IYT) - Get Report
. Macke said shorting the IYT is high risk. "The snapback rallies are tougher, because you're dealing with fear and enormous volatility," he said. Najarian said shorting the commodity complex doesn't make sense because it's all about people getting redemptions. "I was getting pinged all day long about coal stocks and oil stocks, but the problem is that everything is getting rolled out of these hedge funds," he added. Seymour says the hedge fund community is getting angry because the rules of the game are changing. "A lot of very smart guys are saying, 'I am out,'" he said.
Ratigan asked the traders, if the bailout plan gets passed on Friday, will it change their sentiment on the markets for more than a day or two? Najarian said we will get a couple of days out of this thing before reality returns. "It won't change anything about the jobs number or home sales numbers," he added.
Seymour says the market has totally looked past this. Adami said he would buy
Bank of America
(BAC) - Get Report
,
JPMorgan Chase
(JPM) - Get Report
,
Wells Fargo
(WFC) - Get Report
and
U.S. Bancorp
(USB) - Get Report
if you can stomach a 5% move like you saw today. Macke says we will get a snapback rally, and he would use that strength to sell down positions.
Fed Window
Tony Crescenzi, a market strategist at Miller Tabak, joined the traders to discuss the 50% jump in borrowing from the Federal Reserve's discount window this week. Tony says that typically the market would see $60 billion accessed at the window, but this week we saw $409 billion. "People say the credit markets are frozen, but it's not an express, it's the real deal," he said.
However, Crescenzi said the government is planning to buy back a large amount of Treasuries and pump more money into the system. "First we have to get through another few months of anxiety," he added.
Trader Radar
Shares of
eBay
(EBAY) - Get Report
were among the most actively traded stocks on the
Nasdaq
today.
Finerman Take
Karen Finerman joined the traders to discuss her views on the day. She said the day was painful, and panic set in. She said it was interesting to see how hard hit the commodity names were. "I think we are likely to get a bailout bill passed, but I don't know if that makes things better. But it should stop things from getting worse," she added.
Finerman said she is looking for companies with the best balance sheets and large cash flows. She likes
Microsoft
(MSFT) - Get Report
and
Philip Morris International
(PM) - Get Report
. Adami said the banking industry will be the big winner out of all of this.
Najarian told viewers to take a look at
Apple
(AAPL) - Get Report
for its large cash position. He also likes
McDonald's
(MCD) - Get Report
, which trades at P/E ratio of 16. Macke said
Wal-Mart
(WMT) - Get Report
is a good place to hide in this tough market.
Final Trade
Adami picked
Oracle
(ORCL) - Get Report
. Najarian went with
Burger King Holdings
(BKC)
. Seymour says to buy
Embraer
(ERJ) - Get Report
because its cash flow positive.
This article was written by a staff member of TheStreet.com.