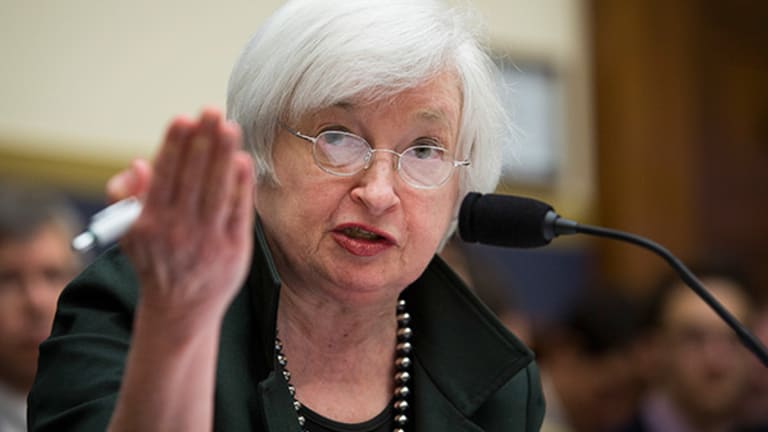 'Fast Money' Recap: This Stock Has Risen Every Summer for the Past Decade
The trading panel today discussed interest rates, quantitative investing and the stock that has risen every summer for the past 10 years.
NEW YORK (TheStreet) -- Summer is approaching, but stocks don't take a vacation.
In fact, the CNBC 'Fast Money Halftime' panel learned of a stock that has risen every summer for the past 10 years. Interest rates were also a topic of discussion by  the panel in the hour before Federal Reserve Chairwoman Janet Yellen was scheduled to speak in Rhode Island.
With the expectation that the Fed will raise interest rates this year, Dan Greenhaus, chief global strategist with BTIG, advised investors to look at past history on how the stock market has reacted in response. He noted that investors tend to believe stocks will be hit before a rate hike is issued, but he pointed out historically that is  not necessarily the case.
Posting a chart of the S&P 500's performance throughout 2004, Greenhaus said, "Over the last couple of rate hikes, the market has traded rather poorly....it's not that bad in front of (the rate hike) but subsequent to the rate hike the S&P falls or does so in conjunction to it a couple of days before falling about 7% or so. In the big scheme of things, whether (the rate hikes happen) in September or December, it doesn't matter. But if you are a short term trader, it does matter."
Josh Brown questioned why investors are getting anxious over pending rate hikes. He said it's ok if rates go up and a rational person will let the chips fall where ever they may. "Let people who are over leveraged get a spanking," he said.
Stephen Weiss, managing partner with Short Hills Capital Partners, advised investors to pick their poison. "There will be a knee jerk reaction in the stocks. That is why you want to keep cash because you want to buy when that happens. Bonds are where eggs will be broken because we have been in a 30- to 50-year bond market bubble," Weiss said. 
Wes Gray, founder of Alpha Architect, said his firm picked stocks by using a quantitative value approach that relies heavily on running data through algorithm trading. After identifying the universe of stocks and avoiding companies that are on the verge of bankruptcy, his firm looks for "trash" stocks based on operating income over an enterprise value, rather than the more traditional trailing PE ratios or book-to- market figures.
"We like to invest like private equity investors," Gray said. "Value investing is best when you think about it like the business guys."
Alpha Architect in February went heavily into oil, putting 25% of its portfolio into these stocks after its algorithm suggested this move. Two weeks ago, data showed that Alpha should move into consumer discretionary stocks, which it did. However, the company still holds a 15% stake in energy stocks, Gray said.
When it comes to S&P 500 stocks, the panel pinpointed one that has held up in the summer months and risen every year for the past decade with a 20% average return.
The summer blockbuster winner is Alexion (ALXN) - Get Report, a pharmaceutical company that produces such products as Soliris, which treats a rare, life-threatening blood disorder. The summer season is defined as the Memorial Day holiday to Labor Day.
Greenhaus and Weiss both said they are fans of the healthcare industry. Weiss said he would stick with large cap biotech stocks, while Greenhaus favors the Health Care Select SPDR EFT (XLV) - Get Report.
Other stocks that the panel weighed in on included Foot Locker (FL) - Get Report, which Brown favors, while Weiss prefers Finish Line (FINL) .
This article is commentary by an independent contributor. At the time of publication, the author held no positions in the stocks mentioned.