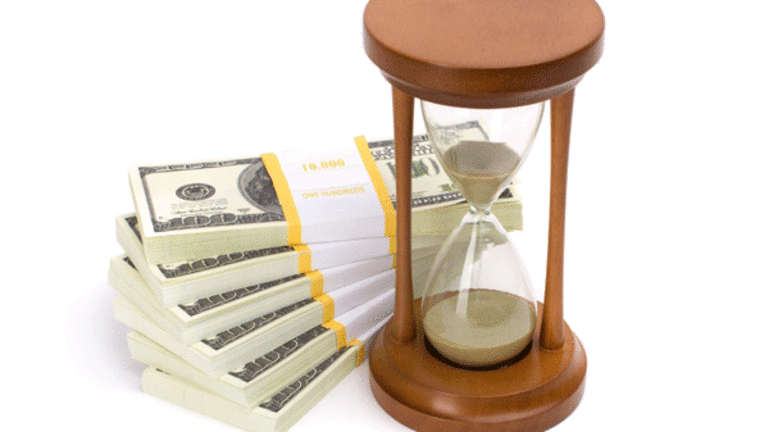 'Fast Money' Recap: The Streak Continues
The trading panel sees positive signs in the market's sixth consecutive week on the upside.
The markets edged up on Friday marking the sixth consecutive week of gains.
The
Dow Jones Industrial Average
was up 5.90, or 0.07%, to 8,131.33, while the
rose 4.30, or 0.50%, to 869.60. The
Nasdaq
rose 2.63, or 0.16%, to 1,673.07.
Joe Terranova said on
CNBC
's "Fast Money" TV show there is still a sentiment of disbelief in the rally despite technical signs that show "there's no reason to get out."
Pete Najarian said the volatility index dropped 5% today to 33.94, with 22 million options traded today - "one of the top 10 days of all time." "It tells me people are getting into the markets. They are a little less fearful than they were," he said.
Zachary Karabell said that all that was was needed for the financials to stop going down. He said that has happened as credit markets have stabilized. "Some of the money to shore up the dam in the credit markets can move to the equities," he said.
Tim Seymour said everyone that needed to give the markets leadership did, including
Intel
(GE)
,
Google
(GOOG)
and
Citigroup
(C)
.
Melissa Lee, the moderator of the show, said the S&P is just 4% away from positive territory for the year. "This has been a tremendous year for the S&P," she said.
With
Morgan Stanley
(MS)
slated to report earnings Wednesday, Terranova said the assumption is that the company will earn a lot from its trading activity as other financial peers have.
Najarian commented on the big moves among the regional banks, including
BB&T
(BBT)
, which was up 11% today on net interest income numbers that were "phenomenal."
Karabell said
Google
(GOOG)
and other tech stocks like
Netflix
(NFLX)
and
Priceline
undefined
are doing well because they follow a powerful theme of companies moving away from the brick and mortar to the Internet.
Seymour, though, said he sees other signs, especially from Taiwan, of a break in the tech rally.
The commodities markets have not participated in the rally. Seymour noted some selling of copper names like
Freeport McMoRan
(FCX)
because of falling demand. Karabell, though, said that could change with a pick up in demand in the summer and fall.
Is the rally for real? Barton Biggs, managing partner for Traxis Partners, called the rally a "cyclical bull market" that could take us to 1,050 to 1,100.
He said only retail sales and housing can spoil that scenario. He said it's clear that the angle of descent of the global economy has leveled off. He said the question now is whether there will be a recovery or whether the economy will move sideways for a while.
Lee brought in Jim Goldman,
CNBC
's Silicon Valley bureau chief, to comment on the raft of big tech name earnings next week.
Goldman expects good news from
IBM
(IBM)
, bad news from
Yahoo!
(YHOO)
, very good news from
Apple
(AAPL)
, and perhaps some surprisingly good news from
Microsoft
(MSFT)
if its outlook is good.
"The outlook for the rest of 2009 is going to be the key for all of them," he said.
Goldman expressed concern about
Broadcom
undefined
because its run-up has been much more than other tech stocks.
Goldman said IBM's earnings will hinge on its "services story." Big Blue could surprise the market if it can show signs of stability in its services business. If that's the case, "we'll see that stock off to the races," he said.
Karabell said to watch out for
Fair Isaac
undefined
, which moved up 5% today. He said the stock will start to do well as credit activity picks up.
Lee shifted the discussion to some favorite picks of the panel. Terranova said he likes
McDonald's
(MCD)
which, he said, continues to grow and take market share even in the economic downturn.
Karabell said
Yum! Brands
(YUM)
has an "incredible" franchise in China, where it gets 20% of its growth.
Seymour said
Caterpillar
(CAT)
also relies heavily on its business in China, which shows signs of stabilizing. He said Caterpillar's problems are in the Middle East and Europe were business is off 30% to 35%.
Najarian said
Merck
(MRK)
and
Eli Lilly
(LLY)
are likely to be in line in their earnings. He expressed concerns about Eli Lilly's acquisition mode, saying he hopes it stays small and doesn't go big.
From a chartist view, Dan Fitzpatrick, president of stockmarketmentor.com, sees a move to the upside for IBM because the company has moved above $100 and is trading in a tight range.
He said Yahoo! encompasses such volatility that any move higher can lead to a potential explosion to the upside.
Fitzpatrick also expects
Morgan Stanley
(MS)
, which is trading below its 200-moving-day average, to go higher.
In the final trades, Terranova liked
ConocoPhillips
(COP)
. Seymour said to sell
Southern Copper
(PCU)
. Karabell liked Fair Isaac, and Najarian was for McDonald's.
"Check out
"'Fast Money'Portfolios of the Week" on Stockpickr every Thursday.