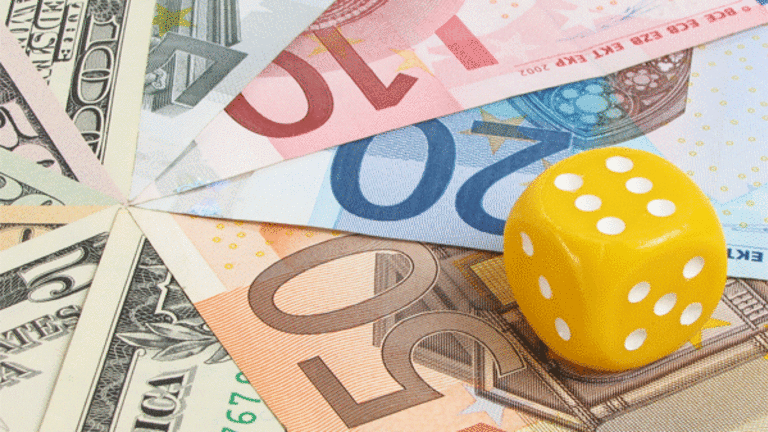 'Fast Money' Recap: The Rally Continues
The trading panel said encouraging manufacturing data helped extend the rally another day.
The trading panel said encouraging manufacturing data helped extend the rally another day.
NEW YORK (
) -- The market extended its rally Thursday on some encouraging economic data.
The
Dow Jones Industrial Average
jumped 70.89, or 0.76%, to 9350.05, and the
S&P 500
rose 10.91, or 1.09%, to 1007.37. The
Nasdaq
added 19.98, or 1.01%, to 1989.22.
Tim Seymour said on
CNBC
's "Fast Money" TV show that the market, on light volume, moved up on some positive news from the leading economic indicator index that offset a report showing a rise in jobless claims.
Guy Adami said it was difficult to short the market when volatility is low and the S&P is so high. He still feels some "bad things" are on the way.
For a breakout of some stocks from a recent "Fast Money" TV show,check out Dan Fitzpatrick's "3 Stocks I Saw on TV."
3 Stocks I Saw onTV
varconfig = new Array(); config<BRACKET>"videoId"</BRACKET> = 34766757001;config<BRACKET>"playerTag"</BRACKET> = "TSCM Embedded Video Player";config<BRACKET>"autoStart"</BRACKET> = false; config<BRACKET>"preloadBackColor"</BRACKET> = "#FFFFFF";config<BRACKET>"useOverlayMenu"</BRACKET> = "false"; config<BRACKET>"width"</BRACKET> = 265;config<BRACKET>"height"</BRACKET> = 255; config<BRACKET>"playerId"</BRACKET> = 1243645856;createExperience(config, 8);
Seymour said the pullbacks were shallow because there were very few people who wanted to sell when the market is trading "so soft."
Melissa Lee, the moderator of the show, noted that
AIG
(AIG) - Get Report
was up 21% on heavy volume. She asked the panel whether investors are betting that the management changes might help turn things around.
Karen finerman said the jump in the stock probably had more to do with a short squeeze, with 24 million of 56 million shares short. Seymour said the job of selling AIG's assets should be handled by the government and not the senior managers who ran the company into the ground.
Google
(GOOG) - Get Report
shares were up today after Goldman Sachs put it on the conviction buy list. Seymour said Google has been trying to monetize YouTube and is doing better in its European operations.
Lee noted the Shanghai Composite Index rebounded, surging 4.5%. Seymour attributed the turnaround to a strong earnings report by Industrial China Bank as well as the government making known its concerns about the market.
Adami said he would play China by investing in
Yum! Brands
(YUM) - Get Report
.
On the eve of the Fed's annual symposium in Jackson Hole, Wyo.,
CNBC
reporter Steve Liesman was asked what he thought
Fed
Chairman Ben Bernanke would talk about.
Liesman said there's a lot less panic this year than the same time last year when the Fed was struggling with the takeover of
Fannie Mae
( FNM)and
Freddie Mac
( FRE).
He expects the topic of an exit strategy from a policy of easy money to come up. He said the Fed's options include raising interest rates on Fed programs, raising interest rates on reserves, letting the balace sheet run off or hiking the funds rate.
He said Bernanke, in his speech, will be less concerned about his job than he is in defending what he has done in the bailout.
Seymour commented on sugar, which is up 92% this year. He said the high price reflects serious shortages due to heavy weather conditions in the top three producing nations: Brazil, India and Pakistan. He said the shortages will have repercussions for finished goods producers.
In this trade, he likes
Cosan
(CZZ) - Get Report
and
Corn Products International
( CPO), which produces corn sweetners, an alternative to sugar.
Lee brought in Ed Stack, CEO of
Dick's Sporting Goods
(DKS) - Get Report
, which was up 7% on better-than-expected results.
He said the consumer is still cautious but is encouraged by the sequential improvements his company has made between the first and second quarters. He said golf-related sales are "a bit of a challenge" but that gun and ammunition sales are doing well.
In answer to a question from Adami, he said his company is also benefiting from the closing of stores by competitors
In a segment on clean technology, Steven Milunovich, a clean tech strategist for Bank of America Merrill Lynch, said the shift to this technology, which he called the sixth tech revolution, is just the start of a 30- to 50-year wave.
He said clean technology is turning into a global business, with governments heavily involved.
He said solar is the most promising alternative but the most expensive. His favorite solar stock is
First Solar
(FSLR) - Get Report
with he called a very profitable company with a strong return on capital.
He said some large cap tech companies are also involved in this space, including
IBM
(IBM) - Get Report
,
General Electric
(GE) - Get Report
and
Cisco
(CSCO) - Get Report
.
With natural gas prices getting clobbered, Karen Finerman said she likes the natural gas over the long term because it is so plentiful and because it's an alternative to oil. She mentioned
Anadarko Petroleum
(APC) - Get Report
and
Hercules Offshore
(HERO)
as two stocks she liked.
Seymour mentioned two other picks:
Chesapeake
(CHK) - Get Report
and
XTO Energy
( XTO).
John Madden, retired broadcaster and pro football legend, appeared on the show and talked briefly about Madden 2010, the latest edition of the highly successful video game he started two decades ago. He said one reason for its success is that he and
Electronic Arts
( ERTS) got a huge start ahead of the competition.
Seymour said the biggest threat to Madden is in China where
Giant Interactive Group
(GA)
is developing multiple-player video games.
In the final trades, Seymour liked
Nokia
(NOK) - Get Report
. Adami said to take profits on
GAP
(GPS) - Get Report
. Finerman liked
Aeropostale
(ARO)
while Najarian liked
Cemex
(CX) - Get Report
-- Written by David Tong in San Francisco