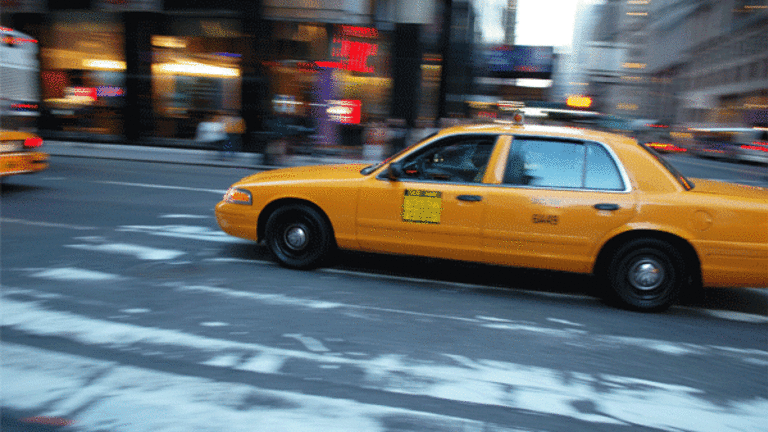 'Fast Money' Recap: The New Reality
The trading panel discusses the new world in which the U.S. government is a hedge fund.
Dylan Ratigan hosted CNBC's "Fast Money" Friday night. He started the show with a discussion of the government's decision to put a half trillion dollars at risk to bail out the banking system. Jeff Macke said the market is a lot "weirder" than it was last Friday. "The government took a sledge hammer to everyone who was against the market," he added. Macke says he has no idea where to put his money and said the market is like a carnival game.
Pete Najarian says the volatility index shows that many investors still have major concerns. "Look at how those banks opened on their highs and weren't able to hold those highs," he said. Guy Adami says the government bailout could end up being the greatest trade in the history of trading. "The U.S. government has now become the biggest hedge fund on the planet," he said.
Karen Finerman told viewers that she is shorting index ETFs such as
SPDR Trust
(SPY)
and
iShares Russell 2000
(IWM)
against her long positions. She disclosed that she is still short
BB&T
(BBT)
and said she didn't cover the position, despite the stock being on the banned list of financial shorts.
Najarian says the government did what it had to do under the circumstances. "If they hadn't done it, we would be having a lot different conversation on what would have happened to
Goldman Sachs
(GS)
and
Morgan Stanley
(MS)
," he explained.
Adami pointed out that not all banks were involved in the financial crisis. He highlighted
U.S. Bancorp
(USB)
, which hit an all-time high today. Adami says don't jump in now but wait for a dip. "Buy it when it's scary, sell it when their giddy," Macke added.
Ratigan asked the traders what they plan to do next week when the market opens. Finerman said she is going back to value and looking for good companies with great market positions and good balance sheets. She told viewers she bought
Washington Mutual
(WM)
today because she believes the company will be taken over. "We will look back at $3.50 and say it was a fantastic price on WM," she said.
Adami says the money will rotate back into retailers like
Wal-Mart
(WMT)
and
Target
(TGT)
. He also told viewers to look at
Lockheed Martin
(LMT)
.
Najarian said the global system had a recovery today. He said to look at some of the coal stocks and steel stocks like
Arch Coal
(ACI)
,
Nucor
(NUE)
and
Tenaris
(TS)
.
What Now?
Joe Terranova joined the traders to discuss who the new winners will be on Wall Street. Terranova says the new Wall Street will need to bring the unregulated insurance market to a regulated exchange. He says the winners will be
CME Group
(CME)
,
Nasdaq OMX
undefined
and
NYSE Euronext
(NYX)
. Adami says
Jefferies
(JEF)
Greenhill
(GHL)
and
Lazard
(LAZ)
will be the new winners on Wall Street, but he said he wouldn't race out and buy the stocks now.
Hitting the Boards
Legendary investor Carl Icahn joined the traders to discuss the historic week on Wall Street. Icahn said the boards of many companies in America are "completely" and "totally" out of it. He says there is no accountability in corporate America at the CEO level. "For the most part, CEOs are inept," he said. "What's amazing to me is that Lehman Brothers CEO Dick Fuld made $17,000 an hour last year." He says it's time to see the laws changed in America so that corporate boards are held more accountable.
CNBC's
Steve Liesman joined the traders to discuss breaking news on the bad-debt fund. Liesman said hedge funds will not have access to the fund and only U.S.-based companies will be allowed to put securities into the fund. He says the Treasury will have the authority to buy these securities for over a two-year period. "Home loans, collateral debt obligations and mortgage-backed securities will be eligible for the fund," he added. He says the plan should be outlined by Sunday night, and Congress should be ready to vote on it by Wednesday.
Tim Seymour joined the traders to talk about the future role of the government bailout. Seymour joked that the
Fed
will insure good weather this weekend and personal happiness. He says that as a manager, you have to evaluate where there's been a real policy shift or a quick reassessment of fundamentals that may not have changed. "What we have seen over the past few days is that there are policies in place that provide a different type of backstop," he added.
He said he has turned to getting more net long, out of fear of short-covering. Icahn said he doesn't understand why the government has to come in to be the buyer of last resort in the CDO market. Macke said we become Pakistan this week, because it outlawed short-selling last June. However, since that time, the Pakistan stock market has fallen even lower.
Ratigan moved the discussion to the
Yahoo!
(YHOO)
board meeting that's coming up. Icahn says Yahoo! is a great company but said that eventually it has to do something with
Microsoft
(MSFT)
, or
Google
(GOOG)
is going to kill them.
This article was written by a staff member of TheStreet.com.