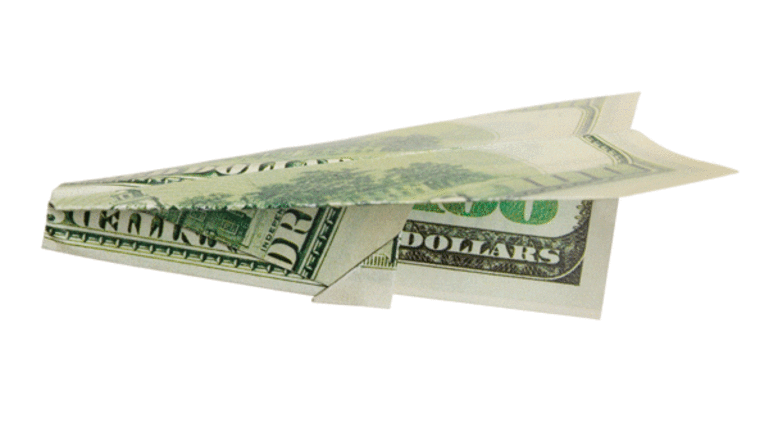 'Fast Money' Recap: The Market's Healthy Glow
The trading panel was impressed with the strength of today's rally.
The trading panel was impressed with the strength of today's rally.
The
Nasdaq
moved into positive territory for this year as the markets surged higher again on Thursday.
The
Dow Jones Industrial Average
tacked on 174.75, or 2.25%, to 7,924.56, while the
S&P 500
added 18.98, or 2.33%, to 832.86. The Nasdaq added 58.05, or 3.8%, to 1,587.
Dylan Ratigan, the moderator of
CNBC
's "Fast Money" TV show, said, the market is looking "pretty darn good."
Jeff Macke added, "Bernanke is dropping dollars from the skies and giving us money to spend."
Pete Najarian said everyone participated in the rally except for the financials. He particularly noted the performance of the utilities, industrials and semiconductors.
Karen Finerman was impressed with the "astounding" performance of the technology stocks, with the Nasdaq moving into positive territory this year.
Tim Seymour said investors should be getting on board this rally, after the VIX broke through its 200-day moving average. He was especially encouraged by the move up in the Dow transportation index and in such stalwarts
Federal Express
(FDX) - Get Report
and
United Parcel Service
(UPS) - Get Report
.
Ratigan asked the panel to comment on the 12.6% jump in
Best Buy
(BBY) - Get Report
after it reported better-than-expected earnings report. Macke said the jump in the stock surprised him.
He said he bought some
Wal-Mart
(WMT) - Get Report
because he thinks investors can go long on consumer stocks in an environment where expectations have been low.
Finerman thought Best Buy could have been the beneficiary of Circuit City's liquidation. Seymour noted some other consumer stocks worth getting into, including
Autozone
(AZO) - Get Report
and
ConAgra Foods
(CAG) - Get Report
.
Najarian remained excited about the ag names, especially
Mosaic
(MOS) - Get Report
and
Potash
(POT)
, whose stock price and options activity have risen sharply.
Macke said he's long on Potash and buying it on a hint of a dip. "It's absurdly strong," he said.
Ratigan touched on the growing outrage directed at
Goldman Sachs
(GS) - Get Report
for buying unsecured credit default swaps from
AIG
(AIG) - Get Report
and now standing to get paid in full for those claims at U.S. taxpayer expense.
Ratigan invited Richard Repetto, an analyst for Sandler O'Neill, to talk about the surge in retail trading. Repetto said retail investors indeed are returning to the market, with trading up 15% to 20% in March.
He said online brokers like
Charles Schwab
(SCHW) - Get Report
and
Ameritrade
(AMTD) - Get Report
appear to be benefiting from the turmoil that has engulfed the large investment banks.
Najarian echoed Repetto's comments, saying options contracts are averaging 17 million contracts a day and went as high as 28 million contracts one day last week.
Ed Yardeni, president of Yardeni Research, said the market is in the "midst of a powerful relief rally."
He said the rally has gained strength from a little upside in some leading economic indicators and the one federal program that's working: the
Fed
's 0% federal funds rate, which is pumping money into the system.
"Don't fight the Fed. It's going to double its balance sheet from $2 trillion to $4 trillion probably by the middle to the year," he said.
He said the enormous sums the Fed will spend buying government securities will drive mortgage rates lower and bring life into the housing industry.
"A lot of institutional institutional investors are fully invested so they are happy to see the market turning up," he said.
Yardeni said the Financial Accounting Standards Board could provide the next "big event" for the market when it suspends or relax market-to-market accounting rules.
He went so far to say the current rally has the feel of a "kind of powerful bull market" that is quite broad based.
He said the only risk he sees is in the Treasury's $300 billion plan to buy government securities. "That worries me. I don't know how it will play out," he said. "It could create another wave of problems for the financials. I wish they would forget about it"
Ratigan brought on Joe Terranova to talk about the overlooked but relevant China stimulus. Terranova said China's stimulus has been the "global stabilizer" and was behind the rise in commodity prices in January and February.
He said copper is up 30% this year with much of that due to Chinese demand. "The government of China is the largest hedge fund manager in the world."
He expressed concerned about the inflationary impact of China's recent moves to purchase short-term Treasurys instead of the long-term Treasurys it usually buys.
Karen Finerman analyzed crumbling commercial real estate market. She attributed the demise to a number of factors, including lower operating income from a combination of lower rents and higher vacancies.
She said cap rates are rising while asset prices are heading lower, and she said the refinancing of debt is getting increasing expensive and extremely difficult to find.
Furthermore, investors are grumbling about the cuts and elimination of dividends, while commercial mortgage-baced securities are trading at a lower valuation than the equity in a lot of REITs, she said.
In a segment on smart technology trends, Finerman highlighted a company called
Itron
(ITRI) - Get Report
, which she said makes automatic meters that send and receive information about usage rates and provides software applications.
In the final trades, Macke was for
Wal-Mart
(WMT) - Get Report
, Seymour for
iShares MSCI Emerging Markets Index
(EEM) - Get Report
, Finerman for Itron and Najarian for
Ashland
(ASH) - Get Report
.
"Check out
"'Fast Money'Portfolios of the Week" on Stockpickr every Thursday.