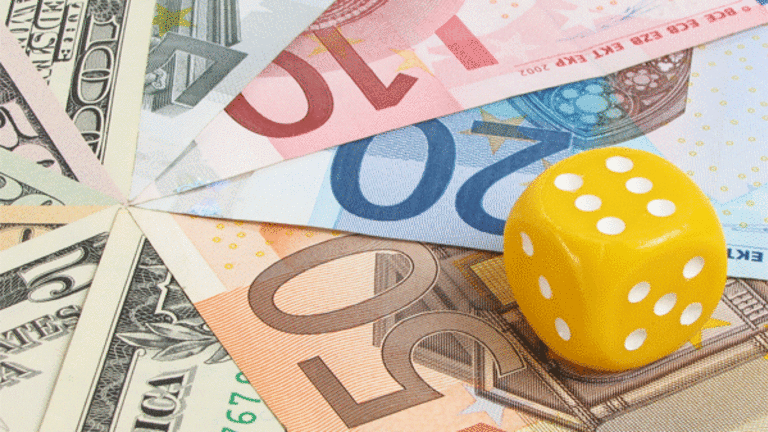 'Fast Money' Recap: The Market Rides Geithner's Plan
The trading panel analyzed the plan and its impact on the markets.
The trading panel analyzed the plan and its impact on the markets.
The markets surged Monday in response to the Treasury's plan to deal with toxic assets.
The
Dow Jones
Industrial jumped 497.48, or 6.48%, to 7,777.86, while the
S&P 500
rose 54.38, or 7.08%, to 822.92. The
Nasdaq
leapt 98.50, or 6.76%, to 1,555.77.
Dylan Ratigan, the moderator of
CNBC
's "Fast Money" TV show, asked the panel for their reaction to the rally, and the response was mixed.
Karen Finerman was skeptical, saying it was "the flip side of fear." "It's just people on the sidelines saying 'I can't miss the boat,' " she said. "I find it a very difficult market to trade."
Pete Najarian agreed, although he found the rally "exhilarating" and "broad-based."
Jeff Macke, though, disagreed with both of them, saying it was a "7% rally" and they should "enjoy" it. "Once we broke through 805 (in the S&P), it was off to the races," he said. "It's a good trader's market."
Guy Adami said today's action sets up nicely for a move to 900. He said the market might go sideways Tuesday but he reminded the panel that the internals of the 300-point rally last Tuesday were the best he's seen in a year. He believes the S&P will hit 900 by the end of the week or early next week.
Najarian said he still thinks it's a trader's market until the VIX dips below 40 for an extended period. The volatility index ended today at 43.
Ratigan asked Finerman whether Treasury Secretary Timothy Geithner's plan will encourage more credit lending. She said it would depend on how the public-private partnership plays out. Finerman, who bought some preferred shares today in
Bank of America
(BAC) - Get Report
and
Wells Fargo
(WB) - Get Report
, said bank stocks could rise if the banks can issue equity and rebuild their balance sheet.
Macke said under Geithner's plan, the banks will wind up giving away their assets at "ridiculously" cheap prices. Finerman disagreed, saying, "We don't know what the prices are yet." "It may not necessarly be cheap," she said.
Macke, though, said assets in the early going will be offered at low rates to get things started before the free market takes care of the rest.
Ratigan brought in William Seidman, former FDIC chairman, for his assessment of Geither's plan. Seidman liked the plan, saying "it was what they had to do." "They had to have a big subsidy to get anyone to buy these things," he said. "The government is putting up a lot of money to get the private sector to buy the assets from the banks."
Seidman said he think the banks will function better as a result, though "no one really knows for sure." He said the banks are hoping that the private sector bids high enough so that the assets are sold at book value so it won't hurt their capital
Seidman said PIMCO says it will start buying and managing the assets in two to three weeks, but he said it will take about six months before it's possible to say whether the plan is working.
The former FDIC chairman said the banks have $1 trillion in assets and need to sell half of that amount before their operations can return to normal. "This is a sweet enough plan so that people can make money with it."
Ratigan shifted to other highlights of today's trading session, including a 7% jump in the Nasdaq. Najarian noted that the
Semiconductor HOLDRs
(SMH) - Get Report
was on the upside along with heavyweights such as
Apple
(AAPL) - Get Report
.
Adami liked
HP
(HPQ) - Get Report
, which he believes is heading to $34.
Finerman said it must have been a "powerful" tech rally because even
Microsoft
(MSFT) - Get Report
was up.
Adami provided a quick overview of the commodities action. He said the China stimulus is taking hold. He said copper is up some 30% this year and that crude oil is moving to the upper end of its price level. He added gold had a "lousy" day and is "no man's land."
Finerman said there's a lot of interest in
Oil Services HOLDRs
(OIH) - Get Report
and can see it going higher.
Macke was impressed with the broad-based action in the retail stocks, especially
Tiffany
(TIF) - Get Report
. Adami said Tiffany's jump was due to short interest, which was about 21%, and heavy trading that saw 8.2 million shares change hands compared to a normal range of 1.5 million to 2 million. "You should be taking some profits from this trade," he said.
Finerman said that if asset-backed securities do come back to life, it will bring back credit card and auto loan activity.
Ratigan brought in Joe Terranova to provide some context to today's rally. Terranova said hedge funds started buying equities two weeks ago, something he hasn't seen in the past 22 weeks.
He said the big question now is whether retail investors will come back and whether the hedge funds wil sell to them. He said the S&P may gravitate toward 900 but he said there might a bit of a rollback to test 740. "What the
Fed
and Treasury have done is to cap the downside," he said.
Jim Suva, Citigroup's director of investment research, appeared on the show to talk about the large-cap tech names. He said these stocks are doing well because "expectations are low, and we see certain sectors outperforming."
He singled out
Corning
(GLW) - Get Report
as an example. He said the company has taken 52% of its production offline and seen its supply chain work out inventory. Furthermore he expects Taiwan and Korea to ramp up demand for glass and LCD panels. "They need GLW," he said.
He said Corning is in the early innings of a multi-quarter increase in production that will be highly accretive to its margins and EPS.
In the Rising Star segment, Najarian spoke effusively about
Palm
(PALM)
and its "Pre."
He said the company, which has seen its stock move up from $1.14 on Dec. 2 to around $8, has seen its fortunes turned around by the Pre. "It has a competitive OS that can go up against
Research In Motion
(RIMM)
and Apple.
In the final trades, Macke recommendating take profits for Goldman Sachs. Adami was for Corning, Finerman for
Axsys Technologies
(AXYS)
, and Najarian for
Allergan
(AGN) - Get Report
.
"Check out
"'Fast Money'Portfolios of the Week" on Stockpickr every Thursday.