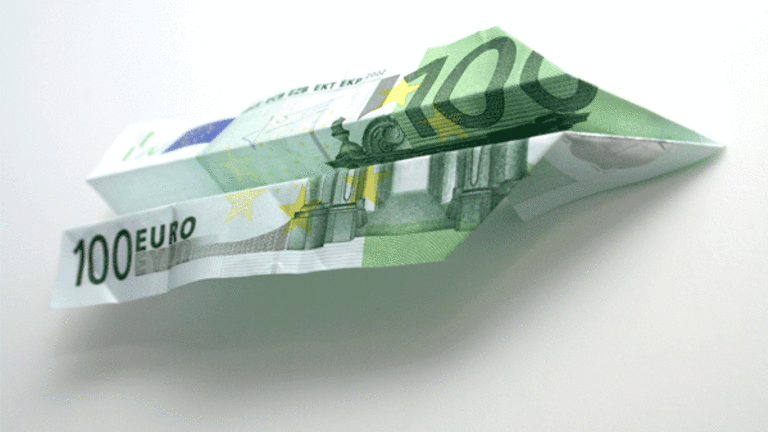 'Fast Money' Recap: The Market Free Fall
The trading panel analyzed the causes for today's market plunge.
The trading panel analyzed the causes for today's market plunge.
The markets plunged Thursday after China's stimulus failed to materialize and the financial sector continued to unravel.
The
Dow Jones Industrial Average
fell 281.40, or 4.09%, to 6,594.44, while the
S&P 500
lost 30.32, or 4.25, to 682.55. The
Nasdaq
dropped 54.15, or 4%, to 1,299.59.
Dylan Ratigan, the moderator of
CNBC
's "Fast Money" TV show, said the materials names rolled over when no word of a stimulus came from China. He also said the market was setting up for a disastrous jobs report on Friday.
Pete Najarian, looking for some hopeful signs in the market, saw some stability in
General Electric
(GE) - Get Report
from the comments of its chief finance officer who defended the much maligned GE Capital unit, saying it will be profitable in the first quarter and full year.
Ratigan, though, was concerned about what he called the "deterioration" of the working assets of
JPMorgan Chase
(JPM) - Get Report
and GE.
Karen Finerman said the market is telling investors GE is far more vulnerable of the two companies. She said GE Capital has a credibility problem in its attempts to convince the market that it has the wherewithal to survive.
Jeff Macke said GE should do a better job of communicating to the public by focusing on what he called its "internal metrics of survival" such as its cash on hand, expenses rate and deficits.
Guy Adami intoned a familiar theme of Ratigan's that the market won't stabilize until Wall Street differentiates between those banks that played by the rules and those that didn't. Macke added that the credit rating agencies were an integral part of the problem and need to be abolished.
Finerman said it would be "bad for everyone" if
Citigroup
(C) - Get Report
went under.
One of the major stories of the day was
General Motors
(GM) - Get Report
whose accountant expressed concerns about its viability. Macke took that as "good" news in the sense that it means GM will finally go into bankruptcy, restructure and emerge a stronger company.
Crude oil fell 4% today but Adami said he sees a huge commodity rally on its way once "we see some clarity in the equity markets." He also said copper prices have held up as inventories of the metal have been dwindling.
Ratigan turned to Finerman to talk about the distressed commercial lending markets. She warned of a "monumental rise" in the spreads on commercial mortgage-backed securities in February and March. "It's absolutely awful. I don't see anything in the short term to turn it around," she said.
As a result, Finerman warned valuations are coming down, refinancing is getting riskier and the underlying value of cash flow is shrinking.
Ratigan asked Joe Terranova to talk a little about what trading strategy he would take in this market. He said he's accepted the fact that the down market is going to be around for awhile and is looking for some quality companies to invest in such as
Exxon Mobil
(XOM) - Get Report
,
Intel
(INTC) - Get Report
,
Broadcom
(BRCM)
,
Dell
(DELL) - Get Report
and
Freeport McMoRan
(FCX) - Get Report
.
Ratigan noted that
Berkshire Hathaway
has fallen on hard times, hitting a 51/2-year low today. Najarian said Berkshire is suffering from too much exposure to financial stocks, while Adami pointed out that Berkshire's stake in
Burlington Northern
(BNI)
is getting "crushed."
Macke, who compared Berkshire to an oil tanker in rough seas, said the company is just too big and doesn't have enough flexibility to get and out of the markets.
Ratigan brought in Robert Barro, an economics professor at Harvard University, who predicted in today's
Wall Street Journal
that the odds of a depression are 20%. He told the panel that the odds are actually higher at 30% based upon 2009 market data.
Barro said the government has focused in the right areas to correct the problems: housing and banking. But he said recent government policy moves, including the Obama stimulus and other recent programs, are ineffective. He particularly criticized the tax hikes and increase costs of pollution controls.
He said he would like to see the government move away from programs with long-term payoffs and toward pro-market policies.
Joe Lavorgna, chief U.S. economist for Deutsche Bank, said his firm and the market expect the federal government to report Friday a jobless figure of 750,000 and an unemployment rate near 8%.
He said the market is not so much fixed on the report as where it believes the jobless figure will peak in the second half of the year. He said the unemployment situation won't turn around until the dismissal rate of temporary workers slows, factory work stabilizes and job growth shows up somewhere in the economy.
Joe Duran, CEO of United Capital Financial Partners, had some advice for holders of 401K plans, who have seen their portfolios hit hard.
Duran said they need to assess the damage and rethink their assumptions about retirement including asking themselves whether they need to delay their retirement and work a few years.
He stressed the need for a rational plan and not an emotional one such as moving everything into cash. He said he would look for fixed income with significant yields and potential equity upside. He said the debt markets are the place to be in now, noting some ETF's are very diversified.
In the final trades, Macke said to stay in cash. Adami liked
Oracle
(ORCL) - Get Report
, while Finerman liked
Oil Services HOLDRs
(OIH) - Get Report
. Najarian liked
Visa
(V) - Get Report
.
"Check out
"'Fast Money'Portfolios of the Week" on Stockpickr every Thursday.