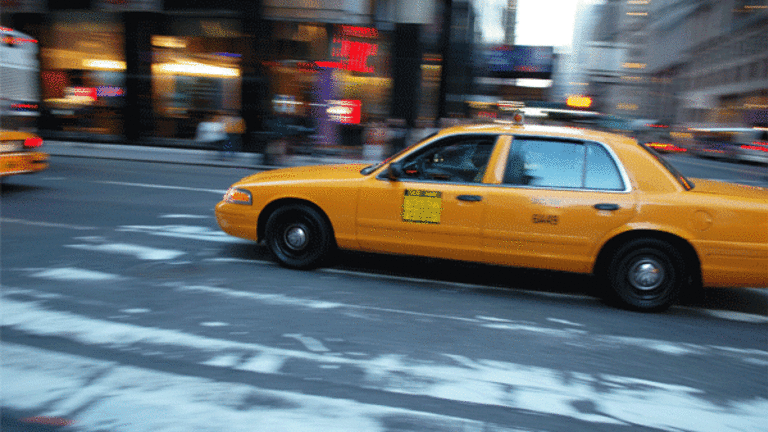 'Fast Money' Recap: The Geithner Factor
News of his impending appointment as treasury secretary sent the market soaring.
Melissa Lee hosted
CNBC
"Fast Money" show Friday night. She began the show with a discussion of how the
S&P 500
rallied off 11-year lows following the news that President-elect Barrack Obama would name Tim Geithner as the next Treasury secretary and that he will roll-out the rest of his "economic team" on Monday.
Jeff Macke said the news on Geithner wasn't anything new if you've been watching "Fast Money" lately. Karen Finerman said the market was so oversold that anything could have set it off to the upside.
Guy Adami told viewers that Pete Fisher will be named next to head the
New York Federal Reserve
. Zacharay Karabell explained that the rally was really due to Bill Richardson being named the next secretary of commerce.
Lee wondered who else would be named to Obama's economic team to continue the rally on Monday. Finerman said Lawrence Summers and Paul Volcker could be bullish for the markets. She also mentioned that
Citigroup
(C) - Get Citigroup Inc. Report
is a proxy for the U.S. financial system, and that if it opens weak on Monday it will show we need more work done.
Macke said Citigroup not imploding Monday morning would be good for the market. Karabell said Obama is moving very quickly to name his full economic team.
Lee shifted the discussion to some of the big gainers in the market such as
Alcoa
(AA) - Get Alcoa Corporation Report
,
Disney
(DIS) - Get The Walt Disney Company Report
and
Microsoft
(MSFT) - Get Microsoft Corporation Report
.
Adami mentioned he thought we would see a 6-handle on the
Dow
today. "The fact that we rallied without a washout makes me concerned," he said. Karabell pointed out that the global markets stabilized today.
Macke said it was too easy on the short side and this rally was overdue. Adami told viewers to look at
Target
(TGT) - Get Target Corporation Report
. He said "it closed the day unchanged in a pretty decent tape; the move was yesterday."
He also noted that
Gap Stores
(GPS) - Get Gap Inc. (The) Report
soared 27% today. "Gap looks okay, and Target for a long-term trade looks okay," he said. Macke said
Dell
(DELL) - Get Dell Technologies Inc. Class C Report
looked miserable again.
Lee switched the conversation to Citigroup. She mentioned that some people in the market are saying that come Monday, Citigroup might not exist like we know it today.
Macke said whatever is going on at Citigroup isn't good for shareholders. Karabell told viewers that he bought more Citigroup at $3.40 a share. Finerman said she thinks the government will not let Citigroup go under. "They could merge with
Goldman Sachs Group
(GS) - Get Goldman Sachs Group Inc. (The) Report
," she said.
The "Chart of the Day" was the 3-month Treasury bill. Adami said there was a flight to quality today in gold, but he doesn't trust the move. Macke said he would rather be long the dollar than gold.
Joe Terranova, chief alternative strategist for Virtus Investment Partners, joined the traders to discuss why the market rallied off Obama's economic team appointments. He explained that the market wants certainty and leadership.
Terranova said the next move in the leadership change will be for the SEC chairman. He pointed out that three key fundamental reversals are occuring for energy prices, the dollar and interest rates that will take hold as we head into 2009.
Adami said Eric Dinallo will get the job next as SEC chairman. Terranova told viewers that Disney is a tremendous opportunity for the longer term.
Next For Citi
CNBC's
Charlie Gasparino joined the traders to discuss the fate of Citigroup. Gasparino said Citigroup could merge with
Morgan Stanley
(MS) - Get Morgan Stanley Report
or Goldman Sachs Group.
"Their options are very limited and sources inside the company are telling me they don't know what to do," he said. Gasparino mentioned that there are very limited choices for replacing Citigroup CEO Vikram Pandit. He says "the problem here is that Citigroup has been a slow moving train wreck for over two years."
The Choice of Geithner
The traders spoke with
CNBC's
senior economics reporter Steve Liesman about Obama's choice for Treasury secretary. Liesman said Geithner will provide continuity and he when he doesn't know something, he won't say anything.
He mentioned that Geithner was very clear about the inflation concern last year. He said, "Geithner thought the Fed didn't need to be raising rates, but instead needed to be focused on the troubles in the financial markets."
Liesman said Geithner had been involved in other government bailouts like the Long Term Capital Management crisis. "He knows how to go in, do the job and get out," he explained.
Cheap Values
The crew talked about whether some blue chip stocks under $10 per share are value trades or traps.
Karabell said
Nvidia
(NVDA) - Get NVIDIA Corporation Report
,
Corning
(GLW) - Get Corning Incorporated Report
and
Broadcom
undefined
are all value trades. Adami told viewers that Broadcom is a "raging buy" here off of Obama's plans for Internet infrastructure spending.
Finerman said Nvidia seems remarkably cheap. She said, "I do own some
Cisco Systems
(CSCO) - Get Cisco Systems Inc. Report
and Microsoft, which also have large cash positions."
Adami said
Intel
(INTC) - Get Intel Corporation Report
is another company with a great balance sheet and large cash position. Finerman pointed out that Dell is trading below $9 per share and has $2 to $3 of cash per share. Karabell said an energy value name is
Weatherford International
(WFT) - Get Weatherford International plc Report
.
Chart Answers
The gang talked with Greg Trocolli, director of technical research at Opalesque, about the technical picture for the markets. Trocolli said if the S&P 500 can close above 770 this month then, we could get some constructive price action going.
He told viewers he likes Goldman Sachs Group because it's taking proactive steps to be the leader on Wall Street. Macke said Goldman could go lower and the downside risk is to zero.
Karabell agreed with Trocolli's bullish view on
IBM
(IBM) - Get International Business Machines Corporation Report
.
Trader Radar
Shares of
Sotheby's
were among the most active names on the
NYSE
Friday.
This article was written by a staff member of TheStreet.com.