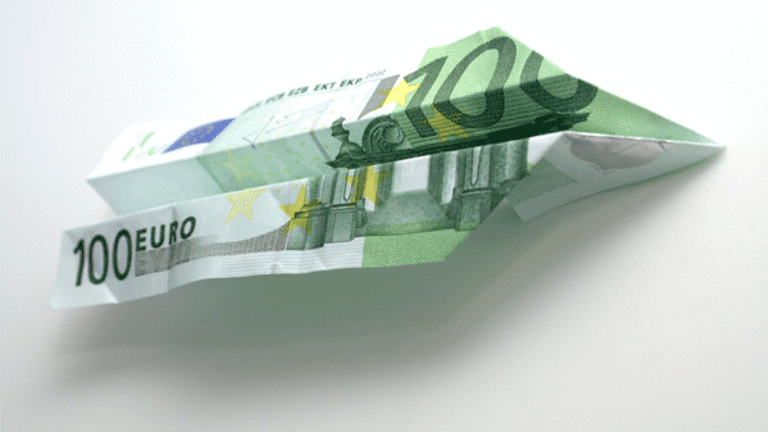 'Fast Money' Recap: The Consumer Is Not Dead
The trading panel discussed the resurgent retail sector.
NEW YORK (TheStreet) -- The consumer is not dead, with Abercrombie & Fitch (ANF) - Get Free Report, Target (TGT) - Get Free Report and Macy's (M) - Get Free Report posting big gains on Wednesday. Despite the weather, people have been shopping.
On CNBC's "Fast Money" TV show, Karen Finerman, president of Metropolitan Capital Advisors, saw a holdover from Tuesday's retail strength, with strong results from Macy's and acceptable quarterly numbers from Target. Target management set the bar low and delivered enough.
Target's quarter wasn't great, said Guy Adami, managing director of stockmonster.com, though margins seem to be contracting and the stock has been discounted enough that the stock can still go higher from Wednesday's close at $60.49 a share.
Steve Grasso, director of institutional sales at Stuart Frankel & Company, said that he got long on Abercrombie against its $30 support. "Everyone threw this name out, everyone thought it was over," Grasso said. He was buying it on the chances of an LBO and on technicals. He's still long Abercrombie after it closed at $40.04 per share Wednesday and thinks it goes higher.
The price action in Home Depot (HD) - Get Free Report was notable, as it hit all-time highs today, said Dan Nathan, co-founder and editor of riskreversal.com. Sentiment in the retail space got really bad, and heading into these quarterly reports in the sector the companies had not confirmed the new highs in the S&P 500 we've seen this week.
Grasso warned that despite testing highs, he doesn't think the market is breaking out here. Too many investors are scared of buying at the peak and looking stupid.

Jerry Storch, CEO of Storch Advisors and former vice chairman of Target, sees today's gains as stock-specific rather than an indicator that the consumer is out there spending. Abercrombie, Target and Macy's are stocks that have all been hammered and are now coming back, having exceeded low expectations, Storch said.
Storch said Target remains a top-of-class stock. He noted he last appeared on Fast Money following Target's highly publicized security breach. It's a one-time event, he said at that time. It's a rich company that could pay for any fines, and what we saw on Wednesday was the company moving beyond it, he said during this more recent appearance.
Target has lagged others on the Internet, Storch said. They have a lot of work to do in that area. There's also a real focus on value. As we saw last week, Storch said, even Wal-Mart (WMT) - Get Free Report isn't value enough for today's consumer, which is why the dollar stores are doing well.
Finerman asked Storch whether a beauty products company like Ulta Beauty (ULTA) - Get Free Report is less susceptible to the online threat. Nobody's immune, Storch said. The winning retailers of the future have to have great websites and do omnichannel retailing. Macy's is off to a pretty good start.
Finerman said that while J.C. Penney (JCP) - Get Free Report began jumping in after-hours trading on Wednesday, it had such a low bar to clear and she still thinks it's expensive.
Nathan coined the phrase "Triangle of Death" in reference to a chart of Whole Foods' (WFM) stock price movement from April 2013 to Wednesday's close. The stock is sitting on a massive support level right above the gap level of $50 last year. If that breaks, a 10% decline could occur very quickly.
Nathan said Starbucks (SBUX) - Get Free Report could also be approaching the Triangle of Death very soon, another stock that is a poster child for consumer discretionary spending.

Tesla Motors (TSLA) - Get Free Report rose 2.02% after announcing a $1.6 billion notes offering to grow the business and build its own battery factory, or Gigafactory. Ben Kallow, an analyst at R.W. Baird, says the factory will become the cheapest lithium battery factor out there, and Tesla will own the majority of it. Kallow said the stock still has room to grow.
Grasso said he'd be locking up Tesla profits here around $260 a share. He'd be a buyer at that range once he sees a little bit of support in the stock.
Does it matter that Credit Suisse (CS) - Get Free Report has helped U.S. clients hide billions from the IRS, as recent reports show? Finerman pointed to all of the recent JPMorgan Chase (JPM) - Get Free Report settlements as evidence that investors really don't care. Nathan disagreed, calling JPMorgan and Bank of America (BAC) - Get Free Report dead money right now.
Adami said financials haven't participated in the recent rally. Goldman Sachs (GS) - Get Free Report put in its high on the first day of January and has not traded well since.
Ed Morse, global head of commodities at Citi (C) - Get Free Report, said that recent explosions during rail oil deliveries could impact crude oil prices down the line, but supply is not threatened for now.
LinkedIn (LNKD) popped 1.41% but Nathan thinks momentum seems broken.
First Solar (FSLR) - Get Free Report dropped 9.12% and Grasso said that if you believe Tesla is going to sell off, First Solar sells in lockstep so be careful.
Anheuser-Busch Inbev (BUD) - Get Free Report jumped 1.6% to close at $103.75 on a big fourth quarter and shouldn't be as volatile as it is, Adami said. If it fails to level above $107 a share, the rally will not continue and it will drop to $94.
Finerman looked at North Atlantic Drillingundefined, which rose 2% to close at $9.13 a share. With oil prices where they are, ultra-deepwater drillers like NADL and Pacific Drilling (PACD) - Get Free Report are way too cheap. 
Replying to a question sent via Twitter, Grasso said that there is some support in Coca Cola (KO) - Get Free Report but he'd keep it on a short leash with a $37 stop.
For their final trades, Nathan is buying General Motors (GM) - Get Free Report and Grasso is buying VeriFone (PAY) . Finerman is selling SPDR S&P Biotech (XBI) - Get Free Report calls and Adami is buying Chicago Bridge & Iron (CBI) .
-- Written by Chris Sahl in Boston.
Follow TheStreet.com on Twitter and become a fan on Facebook.