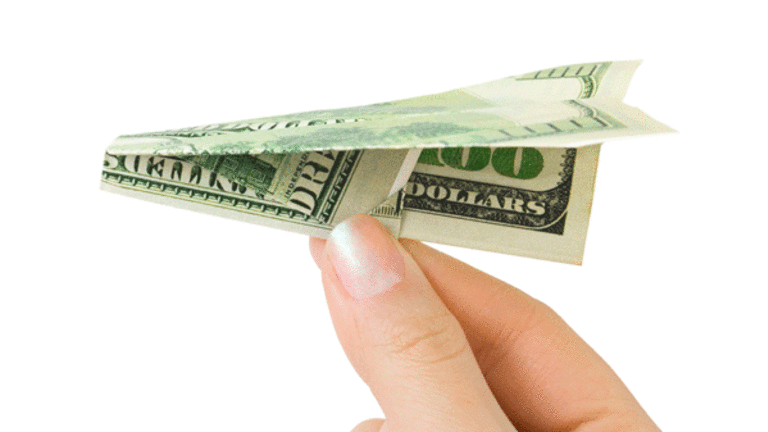 'Fast Money' Recap: The China Rebuild
The trading panel says infrastructure stocks have fallen to attractive prices.
Melissa Lee hosted CNBC "Fast Money" show Monday night. She kicked off the show with a discussion of China's $586 billion stimulus plan. Tim Seymour said he got the sense that China was pre-buying the news on Friday afternoon. He says, "It was a strange day, and there was light trading."
Jeff Macke said good economies don't need any stimulating, and he said he would sell any government intervention of this size. Pete Najarian said the interesting thing about China was that the country called it a "stimulus package" when everyone else in the world calls it a "bailout." He says "financials were weak from the beginning," and
Goldman Sachs Group
(GS) - Get Goldman Sachs Group Inc. (The) Report
led the charge down.
Lee moved that consumer stocks were very weak today. Guy Adami said
Circuit City
(CC) - Get Chemours Company (The) Report
going belly-up isn't exactly good news for
Best Buy
(BBY) - Get Best Buy Co. Inc. Report
. Macke told viewers he shorted some Best Buy because the stock was up on the Circuit City news.
Seymour mentioned that everyone is talking about infrastructure, whether it's Obama or the Chinese. He told viewers to look at cement stocks such as
Cemex
(CX) - Get Cemex S.A.B. de C.V. Sponsored ADR Report
and
Lafarge
(LFRGY)
, which are very beaten-up.
Moving back to China, Seymour said the China's announcement wasn't a big deal, because 90% of the stimulus measures were things that were already announced weeks ago. Najarian told viewers to look at the numbers that
Sohu.com
(SOHU) - Get Sohu.com Limited Report
reported recently. He said he expects
SINA
(SINA) - Get SINA Corp. Report
and
NetEase.com
(NTES) - Get NetEase Inc. 網易 Report
to report "staggering numbers" later this week.
Lee asked the traders if
General Motors
(GM) - Get General Motors Company Report
is heading to zero. Adami said yes. He criticized
Barron's
, which had a cover story back in May that said General Motors was going to $30 or $45 per share. He says "if you want to trade stocks, trade something else." Macke said from a "free-market perspective" he would love if we let General Motors die. Since we don't, he says "I vote we socialize it and downsize it ourselves."
Lee asked the traders if they would buy any of the auto parts makers. Adami likes
BorgWarner
(BWA) - Get BorgWarner Inc. Report
. Najarian said
Toyota Motors
(TM) - Get Toyota Motor Corporation Report
has more room to the downside.
The "Chart of the Day" was Goldman Sachs Group. Shares of Goldman are now near levels last seen when the company issued its IPO back in 1999. Seymour says "there are a lot of concerns about Goldman's credit default swap (CDS) exposure." Najarian explained that markets hate "unknowns," and that is the problem with Goldman Sachs.
Lee brought up the news that
McDonald's
(MCD) - Get McDonald's Corporation Report
surged today after the company topped analyst estimates. Macke said lower gas works for McDonald's, plus it's the best run company in America. He says "McDonald's is one of the few consumer names, beside
Wal-Mart
(WMT) - Get Walmart Inc. Report
, that continues to work as a trade." Adami mentioned he likes McDonalds for a play on Asia.
Seymour pointed out that
Yum Brands
(YUM) - Get Yum! Brands Inc. Report
continues to grow, with 1,200 new stores opened up in China. Najarian said McDonald's is eating
Starbucks
(SBUX) - Get Starbucks Corporation Report
alive in the coffee segment.
Lee moved the conversation to Starbucks, which was trading down 3% in after hours off a weak earnings report. Najarian said its profits are down 97% year over year this quarter. He says "they have done nothing right." Macke said Starbucks just isn't turning it around, and the stock price reflects that.
Nat Gas En Vogue
Joe Terranova joined the traders to talk about why China's stimulus announcement didn't move oil up today. He said oil will rally on one of three things: geopolitical tensions, a significant selloff in the U.S. dollar or the return of speculative index fund money. He says "geopolitical concerns aren't out there right now, and I don't see a significant selloff coming for the dollar."
Terranova explained that the "cost of carry" on oil futures is keeping the speculative money out of the market. He told viewers it might be time to get back into natural gas, because it doesn't need any of three elements oil needs.
Seymour said the technicals on a lot of the natural gas stocks look bullish. Terranvoa said he likes
Untied States Natural Gas Fund
(UNG) - Get United States Natural Gas Fund Report
and
Apache
(APA) - Get APA Corporation Report
, but not
Chesapeake Energy
(CHK) - Get Chesapeake Energy Corporation Report
, for plays on natural gas.
Retail Plays
The traders discussed how to trade the retail sector now that Circuit City has filed for bankruptcy. Macke said today's gift was the fact that Best Buy was really on the news of Circuit City is going bankrupt. He says "Best Buy is going to have a dark Christmas."
Seymour said he wouldn't go near
AU Optronics
(AUO)
or
Taiwan Semiconductor
(TSM) - Get Taiwan Semiconductor Manufacturing Company Ltd. Report
. Adami said to play the REITs like
Simon Property
(SPG) - Get Simon Property Group Inc. Report
on the back of this. Najarian mentioned that he has seen nothing but put option activity in the last few weeks on Best Buy and
RadioShack
(RSH)
. Macke said the only retailer he likes is Wal-Mart.
Biotech Bounce
CNBC's
Mike Huckman joined the traders to discuss a study that showed
AstraZeneca's
(AZN) - Get AstraZeneca PLC Report
Crestor drug cuts the risk of a heart attack in half. Najarian said the news is "unbelievable" for AstraZeneca, because the study had 18,000 patients. He also said keep an eye on
Johnson & Johnson
(JNJ) - Get Johnson & Johnson Report
,
Novartis
(NVS) - Get Novartis AG Report
and
Myriad Genetics
(MYGN) - Get Myriad Genetics Inc. Report
. Adami said
Celegene's
(CELG) - Get Celgene Corporation Report
Revlimid drug could be a blockbuster.
Sherpa Stocks
Carter Worth, chief market technician at Oppenheimer, joined the crew to talk about some "sherpa stocks." Worth said if
Microsoft
(MSFT) - Get Microsoft Corporation Report
can hold above its low from Oct. 10, the market will also hold its lows. He says "it takes a lot of selling pressure to force a stock at a low to make a new low."
He pointed out a similar pattern in
Google
(GOOG) - Get Alphabet Inc. Report
,
Bank Of America
(BAC) - Get Bank of America Corporation Report
and
News Corp
(NWS) - Get News Corporation Report
. He says "these names will break if the market breaks and will hold if the market holds."
Trader Radar
Shares of
Tyson Foods
(TSN) - Get Tyson Foods Inc. Report
were among the most active names on the
NYSE
Monday.
Final Trade
Macke recommended
Burlington Northern Santa Fe
( BNI) with a stop at $75. Adami picked McDonald's. Seymour said jump into the big boys in natural gas like
Devon Energy
(DVN) - Get Devon Energy Corporation Report
and Apache. Najarian selected SINA and NetEase.com.
This article was written by a staff member of TheStreet.com.