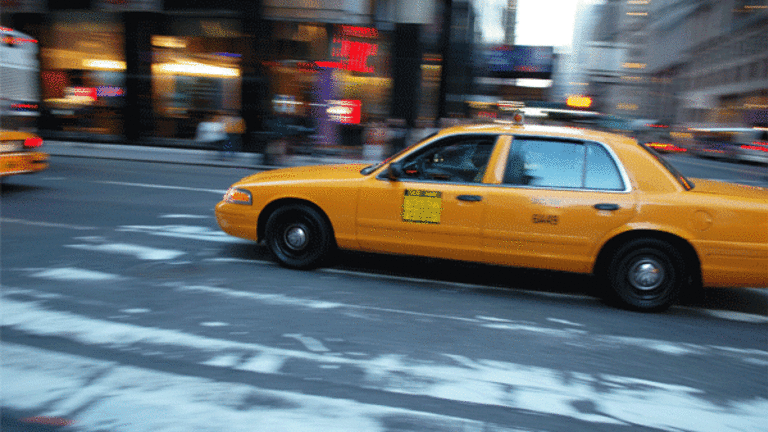 'Fast Money' Recap: Taking Profits on Goldman
The trading panel said it may be time to take profits after a huge run since December.
Led by
Goldman Sacks
(GS)
, the financials staged a late rally Monday in a mixed day of trading.
The
Dow Jones Industrial Average
dropped 25.57, or 0.32%, to 8,057.81, but the
added 2.17, or 0.25%, to 858.73. The
Nasdaq
nudged up 0.77, or 0.55%, to 1,653.31.
Melissa Lee, the moderator for
CNBC
's "Fast Money" TV show, devoted a lengthy opening segment to Goldman, which blew past the Street's estimates and announced a $5 billion stock offering that will be used to pay back TARP.
Jeff Macke said Goldman has returned to the price level where it was in December, adding it's time to start "dumping" stock after the 50% rally.
Tim Seymour said the company's confidence that it will be allowed to pay back TARP might be misplaced. "It's amazing to me that the government would let them out when everything is so good."
But Karen Finerman said she couldn't imagine Goldman going through with the secondary offering if it didn't have more of an inkling that the government would allow them to it.
Pete Najarian took issue over Macke's use of the word, "dumping," saying Goldman is trying to use the offering to demonstrate its strength.
Finerman said Goldman wants to give back the TARP money because it can't live with the compensation restrictions.
Seymour attributed the rise in Goldman's shares to the performance of its investment banking business, sales and trading and asset management division.
Najarian cited the sharp growth in options activity in the financials. For instance, he said 2.2 million contracts in
Citibank
(C)
traded today compared to 900,000 on a normal day while there was more than 1 million contracts in
Bank of America
(BAC)
, twice the normal flow, with a 2-to1 bias toward calls.
Jeffrey Harte, director of equity research for Sandler O'Neill, said Goldman, with $164 million in cash, is using the secondary offering to raise capital at an opportune time. "You need all the capital you can have in this recession," he said.
However, he said he wouldn't be jumping into Goldman at this point. He said he would take some profits on the stock at $130 and wait to get back it in again in the future.
He doesn't think
Morgan Stanley
(MS)
is as good a trade as Goldman's for two reasons: it's not as able to pay back TARP as Goldman and it doesn't seem as if it will have a good first quarter because of its exposure to commercial real estate and reports that it is not participating as much in the trading environment.
He said he would look to get back into Morgan in the teens as opposed to the $20's.
Shifting to the commodities, Lee noted another rise today in copper to a 5-month high. Najarian said copper is well over $2 in an incredibly fast run. He said the move is due to restocking. He told viewers to look at
Southern Copper
(PCU)
and
Freeport McMoRan
(FCX)
as plays.
Seymour added the additional stimulus from China is having an effect on the markets. He still is long
Teck Cominco
(TCK)
and likes
BHP Billiton
(BHP)
.
Seymour said he will probably get out of gold after it goes up a few more bucks. Najarian said gold works for diversification but not as a trade.
Lee noted
Yahoo!
(YHOO)
hit a 6-month high today on a
Wall Street Journal
report about an ad partnership in the works between the Internet search giant and
Microsoft
(MSFT)
.
Finerman said she didn't see Microsoft buying Yahoo!
In the big pharma space, Lee noted
Express Scripts
(ESRX)
spending $4.7 billion to buy the pharmaceutical benefit management operations of
Wellpoint
(WLP)
.
Finerman said the deal affected
Aetna
(AET)
, which was up today, on the thinking that Aetna might fetch as much as Wellpoint for its unit.
Lee shifted the discussion to trades this week on some big technology names that will be reporting their earnings this week. First up:
Intel
(INTC)
, which reports its earnings Tuesday.
Craig Berger, analyst with FBR Capital Markets, said the chipmaker might see some selling pressures because investors know that they are going to beat and raise their numbers.
Berger said netbooks is an emerging category for Intel but it will be problematic because it offers less profits per chip than regular systems.
Berger told Finerman that he thinks the company will offer guidance although he sees a thawing of demand for PCs. He said he sees more upside in stocks like
Qualcomm
(QCOM)
and
Marvell Technology
(MRVL)
.
Najarian noted unsually strong options activity in
Marriott
(MAR)
despite the fact the stock's been down.
In the "Rising Star" segment, Seymour highlighted
Stillwater Mining
(SWC)
, which has a lock in the production of platinum and palladium outside of Russian and South Africa. He said the trade works on the assumption that global auto trade is still intact.
As for opinions on trading on
Google
(GOOG)
, which reports its earnings later in the week, several panelists were thumbs down. Finerman said she was not a buyer and Macke saying he was a seller. Seymour said he was more interested in the Chinese Internet stocks.
Moving on to currency plays, Lee brought in Rebecca Patterson, head of global currencies for JP Morgan Private Bank. On the assumption that the bottom for stocks is still not clear, Patterson likes these currency plays: buying the Australian dollar against the yen and playing the yen on the short side.
Bill Brodsky, CEO for the Chicago Board Options Exchange, appeared on the show to talk about the phenomenal growth in options activity with both retail and institutional investors showing growing interest. He said March was the best month in history, with an average of 15.7million contracts a day.
Brodsky said education will be the key to further growth. "People need to understand what they are doing before they do it," he said.
In the final trades, Macke was for selling Goldman. Finerman was long on
Dynegy
(DYN)
and Najarian liked Southern Copper.
"Check out
"'Fast Money'Portfolios of the Week" on Stockpickr every Thursday.