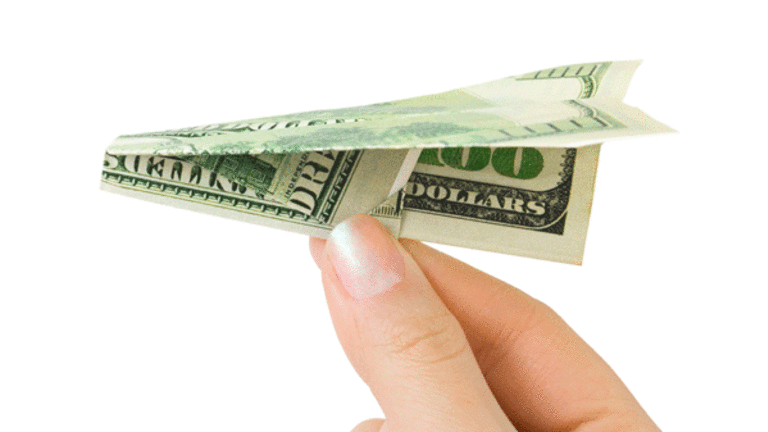 'Fast Money' Recap: Surveying the Wreckage
The trading panel looks at what may be next in the ongoing crisis in financials.
Dylan Ratigan hosted CNBC's "Fast Money" Monday night. He started the show off with a discussion over the news that Wall Street investment bank Lehman Brothersundefined had filed for Chapter 11 bankruptcy. Pete Najarian said that initially the market digested the bad news, but later in the day, when we didn't get more clarity from American International Group (AIG) , the Financial Select Sector SPDR (XLF) tipped over.
Jeff Macke explained that uncertainly is death on Wall Street, and that is making it impossible to own any financial stocks into the close. Guy Adami said, "For me, it's an extraordinarily sad day, but the market will recover from Lehman Brothers."
Joe Terranova explained that a market bottom will be set by the psychology of those who are trading it. He says we are entering the final stage: the stage of "capitulation."
Ratigan moved the discussion to
Goldman Sachs Group
(GS)
which is set to release earnings on Tuesday. Adami said the AIG news is a "game changer," but he says earnings have been taken down to a level where Goldman will beat expectations. Najarian said that "counterparty risk" is what dragged Goldman down today in front of its earnings.
He also pointed out that Goldman called for $149 oil, and now crude is trading under $95. Terranova said that tomorrow we will get a glimpse into how Goldman traded commodities themselves. Najarian mentioned that 100 puts on Goldman traded 4 times the open interest, and the 95 puts also traded above open interest. He said that that shows traders believe Goldman could trade much lower.
Ratigan asked the traders what will happen to the American consumer now that less money is available for borrowing. Macke said it will depend on a lot of different things, but as long as people have jobs, institutions will issue them debt. He mentioned that he is more worried about the employment number and the drop in oil.
CNBC's
Steve Liesman joined the "Fast Money" traders to discuss the
Federal Reserve's
rate decision set for tomorrow. Liesman said he will be very surprised if the Fed cuts rates. He pointed out that the fed funds rate is beginning to bake in a rate cut for the future. He also pointed out that financial credit has risen to $3 trillion on Wall Street, and he said Lehman is just the beginning of the process of deleveraging that excess credit.
Market Opportunity
The traders discussed some great opportunities in some non-financial stocks that were unfairly beaten-up on Monday's massive market plunge. Adami said to look at
McDonald's
(MCD)
because it's "bulletproof." He also likes
Church & Dwight
(CHD)
, which made an all-time high today. Terranova advised viewers to get diversified into consumer staples, health care, commodities and real estate.
Najarian said to stick with the pharma plays like
Amgen
(AMGN)
,
Johnson & Johnson
(JNJ)
and
Novartis
(NVS)
. He said that if you want to stick to financials, look at
Northern Trust
(NTRS)
,
State Street
(STT)
and
USB
(USB)
. He pointed out that NTRS hit a 52-week high today. Macke advised viewers to have an exit point on any stock, and they buy right now.
Commodity Prices With Gartman
Strategic investor Dennis Gartman, author of the
Gartman Letter
, joined the show to discuss the commodity complex. "The endowment funds, the pension funds that got involved in the commodity market are probably wondering what they got talked into," Gartman said.
He explained that those funds bought the highs in a number of commodities. Gartman explained that for the first time in a long time he is concerned about how the whole financial crisis seems to be imploding. He says the rating agencies are the problem here, and they were late to the game with informing investors of the problems in the mortgage market and in the financial majors' balance sheets. Gartman said the only trade he has on right now is a large position McDonald's.
Dr. Gloom
Bill Fleckenstein of Fleckenstein Capital joined the traders to discuss the credit crisis. Fleckenstein said the U.S. will most likely have a difficult recession. He says that will mean that companies won't earn as much as before and some will get hurt. "It's going to take a while to fix all of this," he added. Fleckenstein says investors would be better off holding more cash. However, he feels the U.S. dollar is vulnerable to inflation and the policies of the Fed. "I think were in the early stages in figuring out just much the credit crisis has put the U.S. economy at risk," he said.
Financial Trades
The crew gave out ways to trade the battered financial sector. Adami said to keep an eye on
Jefferies
(JEF)
because they're hiring people while the rest of Wall Street is firing. Terranova says American International Group is too big to fail because they touch Main Street. Najarian said to buy puts on
Wachovia
(WB)
. He said the bank has more trouble coming.
Final Trade
Macke said do nothing. Adami likes Johnson & Johnson. Terranova picked
Alcoa
(AA)
. Najarian went with
Lowe's
(LOW)
This article was written by a staff member of TheStreet.com.