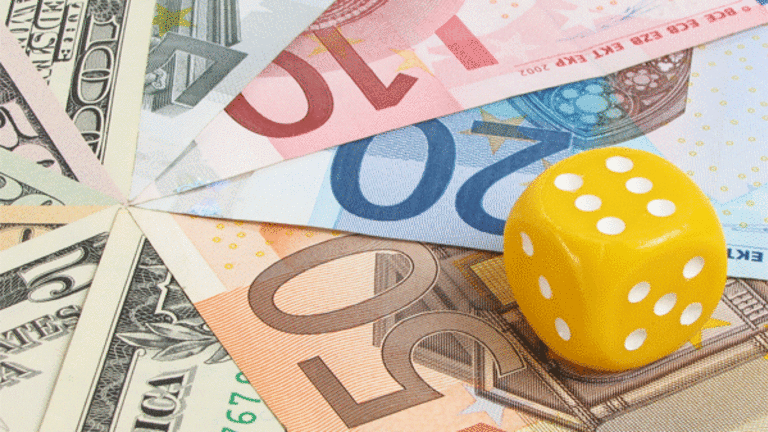 'Fast Money' Recap: Starting With a Thud
The trading panel looks at the fear and volatility that crushed stocks late Monday.
Erin Burnett hosted CNBC's "Fast Money" show Monday night. She kicked off the show with a discussion of the 230-point drop in the Dow in the final 10 minutes of trading, due to global recession fears.
Pete Najarian mentioned that when the volatility index gets up near 80, that is usually when the risk-takers come back into the market and sell premium. He says "there is still more liquidation going on, which could be bad news for hedge funds." Jeff Macke said we were negative because there is no reason to hold stocks overnight.
Guy Adami said the 7800 level on the
Dow
better hold or we will see a "6-handle." He says "investors should trade the 7800 to 9500 range on the Dow."
Najarian said that overall options volume was very light today, with only 10.3 million contracts traded. He explained the
SPDR Trust
(SPY)
traded only half of its normal 20-day moving average -- 1.1 million contracts, vs. normal 2.1 million contracts. He said don't read too much into the 200-point drop in the Dow. Macke mentioned that
Arch Coal
(ACI)
was liquidated on light volume. He says "the chart of Arch Coal is frightening."
Burnett said that crude oil is at its lowest level since May 2007. Adami said
Exxon Mobil
(XOM)
is a valuation play in the low $70s. He says "crude at these levels will be a tax credit to the American population." Najarian told viewers not to get "fooled" on the price-to-earnings ratios of the oil names, because the sector isn't trading on fundamentals right now.
It's Just Talk
Burnett moved the discussion to market rumors that
Goldman Sachs
(GS)
might have approached
Citigroup
(C)
back in September to discuss a potential takeover. Karen Finerman said we didn't learn a lot from hearing that the two banks were talking.
Adami said investors shouldn't run into
Zions Bancorpation
(ZION)
because the stock could be a "take under" candidate due to its high valuation. Najarian mentioned that
Morgan Stanley
(MS)
was down 17% today. He says "Morgan saw unbelievable put options activity last week."
Burnett noted that
General Motors
(GM)
is the worst Dow performer this year. Adami explained that one out of 10 jobs is linked to the auto industry in the U.S. He says "as much as I hate to say it, something has to be done for GM."
Burnett pointed out that
Verizon Communications
(VZ)
had its best day in eight years. Najarian said that if you like Verizon, than you have to like some of the big networkers like
Cisco Systems
(CSCO)
and
Juniper Networks
(JNPR)
. He also mentioned that
Intel
(INTC)
saw huge volume in the December 15 call options.
The "Chart of the Day" was Japan's Nikkei 225, which hit a new 28-year low.
Strategic investor Dennis Gartman, author of
The Gartman Letter
, joined the crew to discuss whether the current bear market in the U.S. could follow the Nikkei's track. He said it's possible that it could happen. He explained that Japan's stock market never recovered from their banking crisis. Gartman says "the problem in the U.S. is that baby boomers are retiring and will be selling every rally in the stock market."
He said the only good thing is that our monetary authorities have been injecting liquidity into the market. Gartman mentioned he is fearful that the next administration is going to do the "wrong things," such as cut military spending, raise taxes and put limits on immigration. He says "the trade is to sell rallies, because we are still in a bear market."
Takeover Talk
Jon Najarian joined the crew to discuss if the latest financial storm could lead to a wave of bank mergers. He explained many of the weak U.S. regional banks could end up being "take unders" just like what happened to
National City
( NCC). He told viewers that
UBS
(UBS)
could be a takeover candidate with the stock down 76% on the year.
He also likes
Credit Suisse Group
(CS)
. Najarian mentioned that
Suncor Energy
(SU)
could be a takeover play. He says, "I did pick up some Suncor call options."
Fundamental Comeback
The traders talked about when they believe fundamentals will return to the market. Adami said fundamentals won't matter until we see an end to the hedge fund redemptions. He says, "We're a lot closer than we were a few weeks ago."
He told viewers to take a look at
Flowserve
(FLS)
which is trading at seven times trailing and five times forward earnings. Finerman said we won't see a return to fundamentals until January when tax-loss selling and hedge fund selling will end.
Chart Look
The gang spoke with Marc Pado, U.S. strategist at Cantor Fitzgerald, to find out of if the market is hitting capitulatory lows. Pado said we did on the big selloff day when the Dow hit 7800. He explained that the chart of the
is showing a similar pattern of the bottom that we saw in the market in January of 1987.
He says "the U.S. won't be Japan because the global central banks have made a commitment to make this work." Pado mentioned the chart of Goldman Sachs is showing less and less volume on every spike down. He says "this is giving us an area where Goldman is an attractive stock."
This article was written by a staff member of TheStreet.com.