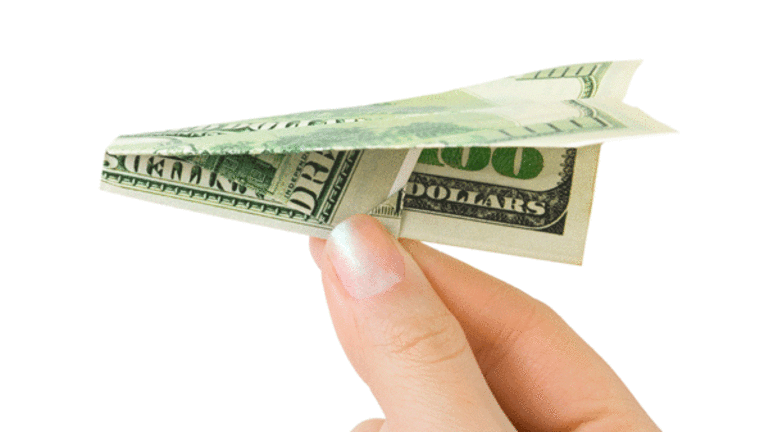 'Fast Money' Recap: Soured on Apple
The trading panel discussed institutional investors' flight from Apple.
NEW YORK (TheStreet) -- A new report from Morgan Stanley (MS) - Get Free Report shows that institutional investors are getting out of Apple (AAPL) - Get Free Report, especially relative to the S&P 500, which closed at a record high Thursday.
On CNBC's "Fast Money" TV show, Brian Kelly, founder of Brian Kelly Capital, said with Apple closing at $527 Thursday, you can use $515 as your stop and you'll be happy.
Apple is not a broken company, said Tim Seymour, managing partner at Triogem Asset Management. This is a stalled growth stock. The company's loyal customers are there, just waiting for a new product that will drive revenue. From here, there's probably a 10% range you're trading this stock in.
Pete Najarian, co-founder of optionmonster.com and trademonster.com, said he's owned Apple for years. Would he buy it now? He'd start adding to his position if it pushed back to the $495 area, but doesn't know that we'll see that kind of drop.
"I think you have a decent floor" to trade against with Apple, said Guy Adami, managing director of stockmonster.com. You're not going to get crushed, especially if you have the risk parameters in place.
Gene Munster, senior research analyst at Piper Jaffray, joined the panel to preview Friday's Apple shareholder meeting. Typically there's not a lot of news out of these investor meetings, Munster said. He expects it to be primarily a forum for small investors to air their grievances, likely about innovation (or lack thereof).
In the next six to 12 months, Munster said, he expects the stock to add about 10%. There is not much visibility on the longer-term growth story, he said, at least until questions on innovation are addressed.

Institutional investors fleeing Apple only start to matter if the growth starts to inch up, because then buy-side investors need to overweight, Munster said. The tone among investors he's talked to has been that they're underweight and don't want to get caught if Apple starts to take off. There is money on the sidelines for Apple, waiting for optimistic signs.
Google (GOOG) - Get Free Report is fairly valued at $1,219, where it closed Thursday, Seymour said. It's one of the greatest companies in the world, and he'd love to own it at $200 cheaper but not when it's trading at 30-times earnings.
The downside in trading Apple is probably $15 to $20 max, Adami said. You know the company will be out there buying back stock, and Carl Icahn or George Soros could throw a headline out there at any time to get the stock moving, he added.  Catalysts are positive.
It's time for Apple to use its cash for more than buying back shares, said Najarian. It's time to make some meaningful supply chain acquisitions. 
Najarian said he's baffled as to why the guidance has been so poor on Deckers Outdoor (DECK) - Get Free Report, which dropped after-hours upon the release of first-quarter guidance. This is a company that has been absolutely killing it.
Best Buy (BBY) - Get Free Report had an EPS beat and a revenue miss in the fourth quarter, a strange brew, said Adami. You can own Best Buy here at $25.50, trade it at $25, and after Thursday's huge volume day, a lot of people have been flushed out.
J.C. Penney (JCP) - Get Free Report, on the other hand, is still on a very defined downtrend, Adami said. It had a monster day Thursday, up 25% to close at $7.47, but the downtrend needs to break through $8.50 before it's a buy.

Seymour said Best Buy is hitting all of its mandates with its cost savings. You have to measure your risks to play this.
When you look at what's going on with General Motor's (GM) - Get Free Report revenue vis a vis margins, Seymour said, the company has set the bar so low that it is well supported at $35. In terms of valuation there is so much wiggle room for a company that is improving on the margins.
Najarian prefers Ford (F) - Get Free Report to GM, but overproduction is a problem with both companies and he's not buying either at this point. They just aren't selling enough vehicles.
Financials are very interesting, Kelly said. Investment banks Goldman Sachs (GS) - Get Free Report and Morgan Stanley both had great days Thursday. A lot of merger activity and activism is going on, and everybody that he is talking to thinks that if financials can lead the market, the S&P 500 will probably continue higher.
Youku.com (YOKU) , China's YouTube, is unbelievably interesting, Seymour said. Fifty percent of its traffic is mobile. The next 12-24 months are going to be fantastic for this company.
An astounding number of people are watching Youku, Kelly said. As a longer-term slow-money trade, he loves where it's trading right now at $32 a share. Youku puts up phenomenal numbers, Najarian said, but it doesn't make money.
eBay (EBAY) - Get Free Report hit a 52-week high Thursday, closing at $58.34. Najarian said he added eBay.
Noodles & Company (NDLS) - Get Free Report dropped 2%, but if you like this company you can buy it here, Kelly said.
Mylan (MYL) - Get Free Report popped 9% to close at $56.27. Adami said it's hard to chase it up almost 10%, but you probably still must.
Wendy's (WEN) - Get Free Report dropped 2%, but Najarian thinks the stock's going higher.
For their final trades, Seymour is selling half of his position in Tata Motors (TTM) - Get Free Report and Najarian is buying eBay.  Kelly is buying the SPDR S&P 500 ETF (SPY) - Get Free Report and Adami is buying Teva Pharmaceuticals (TEVA) - Get Free Report.  
-- Written by Chris Sahl in Boston.
Follow TheStreet.com on Twitter and become a fan on Facebook.