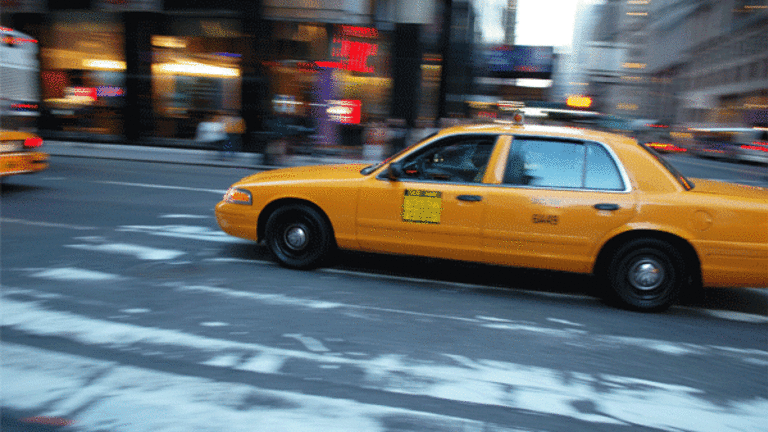 'Fast Money' Recap: Softie as a Value Play
The trading panel says that Microsoft is a cheap, mature company.
Dylan Ratigan hosted CNBC's "Fast Money" show Thursday night. He started the show with a discussion of Microsoft (MSFT) . He explained that the tech giant beat earnings by a penny but issued weaker guidance, driving the stock down in after-hours trading.
Jeff Macke joked that "America's lust for the Microsoft Zune will not abate." He pointed out that Microsoft has $40 billion in cash. Guy Adami said it's a "valuation play" at 11 times earnings. Tim Seymour said Microsoft is very cheap and their business is diversified.
Pete Najarian explained that Microsoft has been cheap the entire year. He says "Microsoft is a mature company that needs to show growth." Najarian said he loves
Yahoo!
(YHOO)
at this level and he hopes Microsoft goes after it.
Ratigan mentioned that the market saw a push back up in crude oil today in anticipation of an OPEC meeting set for Austria on Friday. Adami said oil has to bounce at some point, especially ahead of the meeting. He says "the
Exxon Mobil
(XOM)
move shows that value guys are getting into the sector at these levels."
Najarian said that if you want to play oil, look at the airlines names like
Continental
(CAL)
. He explained that Continental is leveraged to oil with almost no hedges.
Adami said railroads will benefit the most from the drop in energy prices. He pointed out that
Burlington Northern Santa Fe
(BNI)
and
Norfolk Southern
(NSC)
reported huge numbers this week. Najarian says, "If you decide to go into the rails, make sure you have some protection." He also pointed out that Warren Buffett has been selling the 75 puts on BNI, which is another way of saying he would be willing to own the stock at a lower price.
Ratigan moved the discussion to the possibility that 25% to 35% of all hedge funds in America could be gone by the end of this year. He asked the traders for a name that they think is cheap because of the artificial selling pressure from hedge funds. Adami said to look at
Gap
(GPS)
, because its valuation is "ridiculous."
Macke says, "If you have to play this game, look at
Starbucks
(SBUX)
. Seymour picked
Vale
(RIO)
, which he says "trades at around 3 times next year's earnings." Najarian told viewers to go with
Chesapeake Energy
(CHK)
.
Ratigan brought up how the stress of the credit crisis has caused systemic failure in Pakistan and Argentina. Seymour said he's very concerned that Argentina will have a run on the banks which will cause a "crisis of confidence." He says "Argentina is going to nationalize the pensions, which is socially unpopular." He mentioned that a lot of hedge funds around the world are trapped in the "Argentina trade."
Microsoft Analysis
Heather Bellini, a software analyst at UBS, joined the crew to discuss Microsoft's earnings report. She said the street was looking for earnings-per-share guidance to come in between $2.00 to $2.08. She says "Microsoft isn't immune to what's going on in the economy, but they should be able to perform better than others." She told viewers to expect estimates and profits to come down. Bellini mentioned that Microsoft will have margin pressure at the low end. She mentioned their mini-computer "net books" could cannibalize their Windows revenues.
OPEC Bailout
Addison Armstrong of Tradition Energy joined the crew to discuss OPEC's meeting set for Friday. He said that if OPEC cuts too much, it could spike oil up and prolong the recession, and if it doesn't cut enough, we could see a supply glut going into next year. He says "tomorrow will be one of the biggest tests OPEC has faced in the past 10 years." Macke told viewers that OPEC means nothing just follow the trend in oil.
Fight the Bear
The traders discussed ways to batter the bear market. Ratigan mentioned the strength today in drug and biotech names like
Amgen
(AMGN)
,
Celgene
(CELG)
and
Eli Lilly
(LLY)
. Najarian said Amgen put up a huge numbers and beat by 15 cents per share. He said Celgene is building itself into a mega-type Genentech-type company. Adami said Celgene should be trading with a 68-handle, but don't buy the stock up 9%.
Final Trade
Adam recommenced
Potash
(POT)
. Seymour picked
iShares MSCI South Korea Index
(EWY)
. Najarian selected Continental Airlines.
This article was written by a staff member of TheStreet.com.