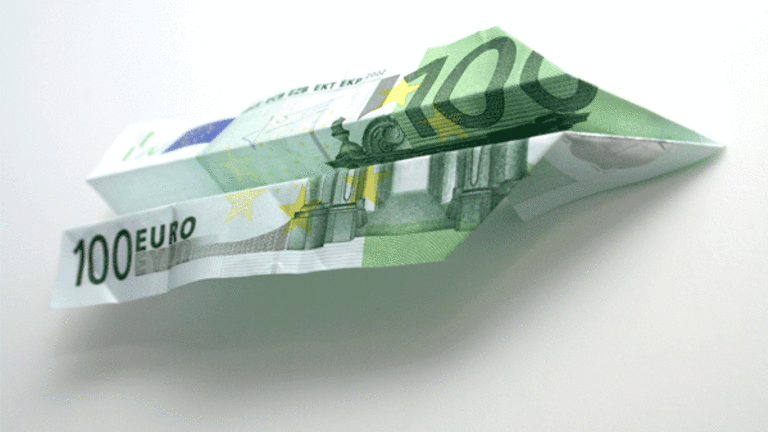 'Fast Money' Recap: Sinking Fast
The trading panel found few bright spots on a day when the Dow fell below 8,000.
Melissa Lee hosted
CNBC
"Fast Money" show Wednesday. She started the show with a discussion of how the market has hit levels not seen before during the current global financial crisis.
Jeff Macke said he thinks that
General Motors
(GM) - Get Free Report
CEO Rick Wagoner had no plans for the possibility of bankruptcy. "He had no plans for an economic downturn, no plans for high oil prices and he had no plans for the recession that we are in today," he said.
Pete Najarian said since the bailout package was introduced, the financials have done nothing but go lower. "There is a big bear in front of us right, and we need to get this thing turned," he said. Guy Adami told viewers that if the
Dow Jones Industrial Average
trades to 7800 tomorrow, it will not stop next time. "We could easily now see a six-handle on the Dow," he said.
Lee moved the conversation towards the financial sector. She pointed out that
Citigroup
(C) - Get Free Report
hit its lowest level in over 13 years.
Adami noted even good financial stocks such as
JPMorgan Chase
(JPM) - Get Free Report
and
U.S. Bancorp
(USB) - Get Free Report
are being sold.
The "Chart of the Day" was
Goldman Sachs Group
(GS) - Get Free Report
, which broke the $60-level.
Adami said he would love to defend Goldman but can't. He said, "The stock is telling you something bad is going on."
Najarian told viewers that
Merrill Lynch
(MER)
had some incredible put activity today. "They were buying the November $10 puts and the December $10 and $7 puts," he said.
Finerman mentioned that
BB&T
(BBT) - Get Free Report
, which she is short, received $3.1 billion of TARP money and paid $1 billion in dividends last year. "That's ridiculous, that the only string on the TARP money is that they can't raise the dividend," she said.
Lee switched the discussion to the big three automakers. Macke said the testimony of the big three in front of the House of Representatives was embarrassing. He said he's short
Toyota Motors
(TM) - Get Free Report
which has "some meat left on the bone."
Najarian also noted the $40 billion annually the automakers spend on advertising. He pointed out that
Google
(GOOG) - Get Free Report
hit a new low and it could be because market is anticipating a major cutback in online ad spending from the Big Three.
Lee said that consumer names took a major beating today. Adami said if you're looking for a capitulation day, you might have seen it with shares of
Target
(TGT) - Get Free Report
.
Macke said if you think that Target is going to be broken up into a "real estate play," than just look at the chart of
Sears Holdings
(SHLD)
.
Najarian mentioned that
Best Buy
(BBY) - Get Free Report
saw an enormous amount of put activity today. Adami pointed out that
Church & Dwight
(CHD) - Get Free Report
traded up in the weak tape.
Lee moved the conversation to
Microsoft
(MSFT) - Get Free Report
, which hit a 10-year low and
Yahoo!
(YHOO)
, which hit a 5-year low. Macke mentioned that everyone with a brain at Yahoo left to go to Google. Najarian said the slowdown online is hitting Yahoo faster than anyone had anticipated.
Strategic investor Dennis Gartman, author of
The Gartman Letter
joined the traders to discuss the economy.
He said we have to be careful about deflation, because we don't know how far it can go down, plus once it starts everybody's net worth diminishes. "We can throw as much money at it as we want, but that hasn't been working," he said.
Gartman told viewers that people are going to start saving more which will create inflation and depression type circumstances. He said, "Gold has had every reason to go up, but it's not rallying." He also mentioned the Forex market is seeing moves in just a few hours that it use to take years to make.
Commercial Crisis
The traders discussed the growing fears that defaults might spike for commercial mortgaged-backed securities.
Finerman said the commercial real estate problem is not over by a long-shot. She says "anything that has commercial real estate exposure such as
Simon Property Group
(SPG) - Get Free Report
,
Vornado Realty Trust
(VNO) - Get Free Report
, BB&T and
HCP
(HCP) - Get Free Report
sold off a lot and that's part of the reason Citigroup sold off."
She told viewers she didn't cover any of her shorts in the sector.
Adami told viewers that commercial-lighting fixture makers such as
Philips Electronics
(PHG) - Get Free Report
and
Acuity Brands
(AYI) - Get Free Report
might have more room on the downside.
Najarian mentioned that traders bought lots of January $23 puts on the
iShares Dow Jones US Real Estate ETF
(IYR) - Get Free Report
. He says "the bottom has yet to be found."
Lame Duck Game Plan
Joe Terranova, of Virtus Investment Partners, joined the traders to lay out his game plan for the rest of the lame duck administration.
He said right now the market looks like it's going to fall through 7800. However, Terranvoa sees some fundamental stories that could be winners.
He said
Exxon Mobil
(XOM) - Get Free Report
and
Chevron
(CVX) - Get Free Report
are hanging in and trading at levels attractive levels.
He also likes names such as
Burlington Northern Santa Fe
(BNI)
and
Walt Disney
(DIS) - Get Free Report
.
Terranova told viewers he doesn't want to trade crude oil futures right now. "The problem with
ConocoPhillips
(COP) - Get Free Report
is that it has a touch of oil refinery exposure and natural gas exposure," he said. He says "for whatever reason, Exxon Mobil just isn't going down."
Trader Radar
Shares of
Royal Caribbean
(RCL) - Get Free Report
were among the most active names on the
NYSE
Wednesday.
Final Trade
Adami picked
McDonald's
(MCD) - Get Free Report
. Finerman said cover some shorts on the
SPDR Trust
(SPY) - Get Free Report
. Najarian said
Home Depot
(HD) - Get Free Report
and
Lowe's
(LOW) - Get Free Report
have an opportunity to the upside.
This article was written by a staff member of TheStreet.com.