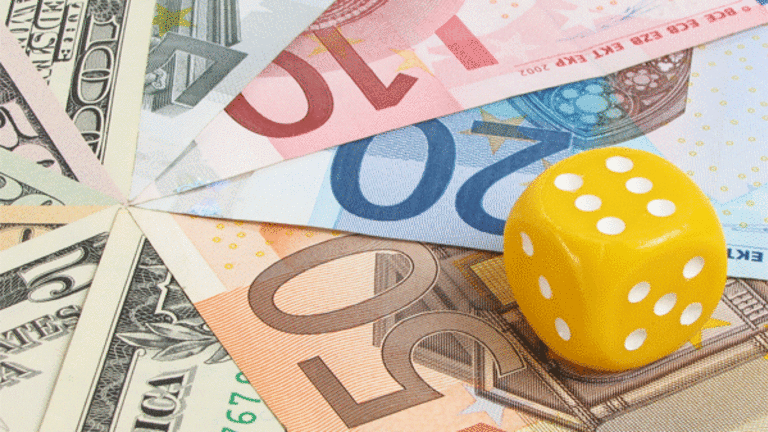 'Fast Money' Recap: RIM's Disappointing Outlook
The trading panel said that outlook could impact Apple, which is releasing a new iPhone.
The trading panel said that outlook could impact Apple, which is releasing a new iPhone.
The markets stabilized Thursday on some encouraging economic data.
The
Dow Jones Industrial Average
added 58.42, or 0.69%, to 8,555.60, while the
S&P 500
rose 7.66, or 0.84%, to 918.37. The
Nasdaq
fell 0.34, or 0.02%, to 1,807.72.
Erin Burnett, the moderator of
CNBC
's "Fast Money" TV show, noted that shares of
Research In Motion
( RIMM)were falling in after-hours trading over a disappointing guidance.
Joe Terranova said the stock fell because its unit shipments were south of the 8 million projected. Terranova, who is long on the stock, said it's "where you have to buy it."
Guy Adami said he wouldn't rush in to buy the stock because he sees it heading as far down as a $60-handle. He also said
Apple
(AAPL) - Get Report
, which releases its new iPhone Friday, could roll over if the tape rolls over on RIM.
Jim Goldman, a
CNBC
reporter who was on the RIM conference call, said the stock declined because of disappointing second-quarter guidance for shipments and new subscriptions that were below analysts' estimates. Still, he said the company is doing well in its space and is worthy of a recent $100 price target placed on its stock.
Burnett brought in Mike Gurka, a global asset strategist with Empower Global Funds, to talk about investing opportunities overseas. He said he liked South America and one company in particular:
Chemical and Mining Company of Chile
(SQM) - Get Report
for its work in fertilizers, iodine and lithium. He said the company operates in 100 countries and sports an attractive dividend.
Rip Coburn, founder and CEO of Coburn Ventures, said he was short
Best Buy
(BBY) - Get Report
because he thinks big box consumer electronics outfits are on the wane. He said consumers are much smarter about shopping around for products.
Guy Adami said the gold trade is in no man's land now after seeing a double top on the charts. On the other hand, Tim Seymour sees the strength of the dollar giving way to gold.
Burnett brought in Bill Brodsky, chairman and CEO of the Chicago Board Options Exchange, to comment on Obama's plans to regulate the derivatives markets. Brodsky called the plans a realistic, pragmatic approach that would create the kind of transparency that will benefit the trading of OTC derivatives.
In the final trades, Seymour was long
Market Vectors Russia ETF
(RSX) - Get Report
. Adami was for
Amgen
(AMGN) - Get Report
while Jared Levy recommended selling a July-75 put on
Monsanto
(MON)
. Terranova liked
Peabody Energy
(BTU) - Get Report
.
"Check out
"'Fast Money'Portfolios of the Week" on Stockpickr every Thursday.