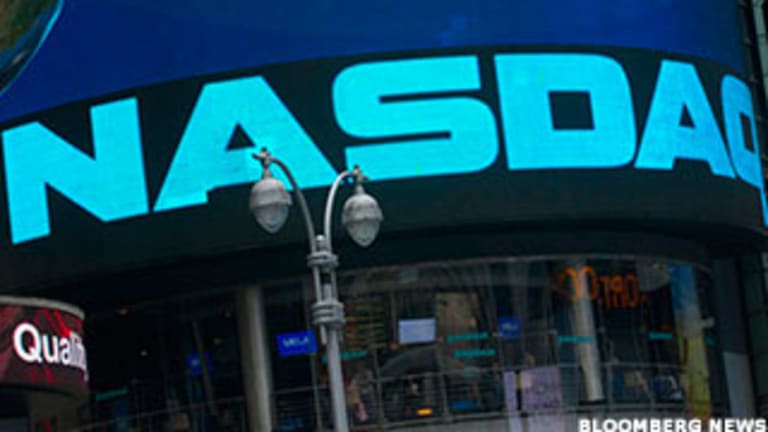 'Fast Money' Recap: Raging Nasdaq, Stripped Down Kors, Small Appetite for McDonald's
The Fast Money panel saw opportunities in the white-hot semiconductor industry and also considered the struggling casino industry -- in Macau and abroad.
NEW YORK (TheStreet) -- The Nasdaq soared to an all-time high Wednesday, fueled by a furious tech rally. That got the CNBC "Fast Money" panel thinking about semiconductor stocks. 
There has been a flurry of rumors of potential mergers that could send company valuations soaring. The latest news: Avago (AVGO) - Get Free Report is in advanced discussions to acquireBroadcomundefined. This follows an announcement that Intel (INTC) - Get Free Report is in discussions to buy Altera Corp (ALTR) - Get Free Report. 
The Galaxy Macau opened the first casinos in China since 2012. Macau casino revenue has plummeted nearly 40%, a byproduct of a slowing Chinese economy and an anti-corruption campaign by the Chinese government. This combination has led to a decrease in the number of high rollers venturing to the city. Gambling revenue in the U.S. have also fallen, as the industry looks for new ways to draw customers. 
Yet, Sheldon Adelson, CEO of the Las Vegas SandsCorp. (LVS) - Get Free Report, took a contrarian view when he said that "supply" would "create demand." 
Guest Jason Ader, an investor in gaming companies and board member of the Las Vegas Sands, said that "over time, that might mostly be the case." Regarding Macau, Ader said casinos would have to lure back high-rollers but that would take time, too, as would an overall sector rebound. "As an investor my expectations are fairly low," he said, although he added that "the good thing for Macau is that it's the only game in town for the entire region. As the the market recovers, it will, too."
Ader said that fantasy sports and online games were now "the hottest part of the gaming industry." Millennials, who are making up a bigger part of the gaming industry's clientele, are seeking on-the-go alternatives to slot machines and traditional games. He said fantasy sports and related types of activities "have the "potential to be as big as Macau." 
Adami was wary of investing in gaming companies. "It doesn't feel like we've seen bottom for some of these names," he said. 
At this year's Re/Code conference in Ranchos Palos Verdes, Calif., Google Chief Business Officer Omid Kordestani said the company would soon be featuring a buy button that would allow consumers to make purchases directly via shopping ads on the Google Web site. "There's going to be a buy button. It's going to be imminent," Kordestani said.

The initiative would put Google in more direct competition with Amazon, and underlines its efforts to expand beyond its core search engine service. 
Nathan and Finerman are long Google. "At this valuation, you're not paying a lot of it," she said. 
In an interview, Brian Chesky, the CEO of the controversial hospitality site Airbnb said he was not yet ready to take his company public. Airbnb has created an online network in 34,000 cities where travelers can book accommodations in private homes and apartments. Critics have questioned the quality of the places that are offered on the website. But its growth has raised speculation about a future IPO. 
Chesky, who was also a speaker at the Re/Code Conference Wednesday, said he was particularly pleased by the company's growth in India, China and Japan. But he said that he would need two years to prepare for a public offering, and that he wanted to continue to operate as a private entity for the time being.
"You better make sure that people know what your long-term vision is," he said. "I want to make sure that we take the risk while we're still a private company."
For final trades, Adami said to buy Exact Sciences (EXAS) - Get Free Report, Nathan was long on Marvell Technology, Najarian said to buy Coca-Cola (KO) - Get Free Report and Finerman "liked the valuation" of Micron (MU) - Get Free Report. 
Follow TheStreet.com on Twitter and become a fan on Facebook.
This article is commentary by an independent contributor. At the time of publication, the author held no positions in the stocks mentioned.