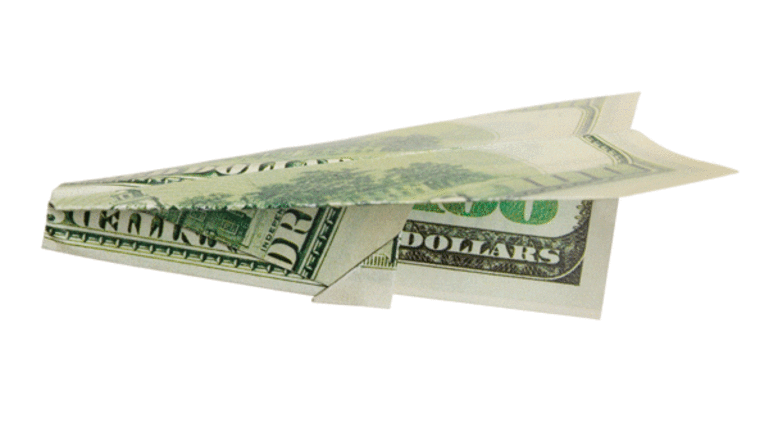 'Fast Money' Recap: No-Man's Land
The trading panel discussed what's next for the market after a huge down day.
The markets sank Monday on lingering worries about the health of the financials.
The
Dow Jones Industrial Average
dropped 289.60, or 3.56%, to 7,841.73, while the
S&P 500
lost 37.21, or 4.28%, to 832.29. The
Nasdaq
fell 64.29, or 3.88%, to 1,608.21.
Melissa Lee, the moderator of
CNBC
's "Fast Money" TV show, asked the panel whether the market is heading toward a dive or whether this was just profit-taking.
Guy Adami said the market is in sort of a "no-man's land." He said he expected the profit taking to begin at 900. Instead the S&P retreated past his 840 benchmark to 830, where he says he wants to take some time to reevaluate the situation.
Joe Terranova said the market was playing defense all day after remarks from White House economic adviser Larry Summers about the conversion of preferred stock in bank stocks to common equity. Still, he maintained this is not the end of the bear market rally, adding there is underlying support for the market.
Karen Finerman said the government talked itself into a corner with its handling of the bank stress tests and comments about converting preferred into common.
Pete Najarian expressed concerns for the volatility index which made a big move up toward 40.
Lee shifted the discussion to
IBM
(IBM) - Get International Business Machines Corporation Report
, which was lower in after-hours trading after its sales came up short.
Still, Adami said he was impressed with Big Blue's report, saying the earnings were fine along with its EPS of $9.20 for 2009 and $10 to $11 for 2010. With a 12 to 12.5 multiple, he sees the stock moving to $112 to $120.
Terranova said he would buy IBM on a pullback. "If it moves above $105, people are going to start chasing it. This is a $120 stock by the end of the year," he said.
Adami said
Oracle
(ORCL) - Get Oracle Corporation Report
, which announced plans today to buy
Sun Microsystems
( JAVA) for $7.4 billion, has moved back to levels where it's interesting and worth a buy on a pullback.
Jim Goldman, a
CNBC
business reporter who listened in on the conference call for IBM, said the company believes it can even top the $10 to $11 guidance. "If that's the case, it's a $120 to $130 stock," he said.
Goldman said losing Sun Microsystems hurt but he believes Big Blue has plenty of cash to go after other companies such as
NetApp
(NTAP) - Get NetApp, Inc. Report
.
Goldman said the earnings report for
Texas Instruments
(TXN) - Get Texas Instruments Incorporated Report
was even more surprising than IBM's because the former reported a 7-cent gain instead of losing 3 cents in addition to a top-line beat and raised guidance. He said the outlook for the leader in wireless and analog chipsets looks good for the second half of this year.
Shifting to the commodities, which fell today as the dollar strengthened, Adami said he sees copper going through a little retracement before it heads back up again. He said most of the move in copper has been on the supply-side and expects the demand-side to come into play in the second half of this year.
Finerman said she would be a buyer of
Oil Services HOLDRS
(OIH) - Get VanEck Oil Services ETF Report
if "we had another day like today."
Bull market or B.S? That's the question Lee posed to Jason Trennart, of Strategas Research Partners, who said there needs to be more improvement in the credit markets before the market moves up. He said the "good news" is that the systemic problems have been removed from the table and that it's now a "ground war to get good returns for stocks."
Trennart sees the S&P moving in the 750-to-950 range for the next couple of years, which, he said, should make a lot of money for traders.
Mark Mahaney, an Internet analyst for Citigroup, appeared on the show to talk about
Yahoo!
(YHOO)
, which reports its earnings Tuesday. He said Carol Bartz, the CEO of Yahoo!, has set the bar so low that the company should beat expectations. He told the panel not to expect any signs of a fundamental shift, such as a partnership with
Microsoft
(MSFT) - Get Microsoft Corporation Report
in the conference call. He told the panel they will see the "ugliest" display advertising numbers the company has ever reported.
Mike Huckman,
CNBC
's biotech beat reporter, said cutting costs will be the theme when big pharma companies report their earnings. He noted
Merck
(MRK) - Get Merck & Co., Inc. Report
and
Schering-Plough
(SPG) - Get Simon Property Group, Inc. Report
, which are about to merge, report earnings on Tuesday. They will be followed later in the month by
Bristol Myers Squibb
(BMY) - Get Bristol-Myers Squibb Company Report
and
Pfizer
(PFE) - Get Pfizer Inc. Report
.
Najarian liked
GlaxoSmithKline
(GSK) - Get GlaxoSmithKline Plc Report
for going out and buying closely held Stiefel Laboratories for $3.4 billion, including debt. He also likes
Teva
(TEVA) - Get Teva Pharmaceutical Industries Ltd. Report
in the generic drug space.
Finerman liked
Pharamaceutical HOLDRS
(PPH) - Get VanEck Pharmaceutical ETF Report
, an ETF, for its valuations which she said are "compelling" whenever there is a good bear market story in play.
In a segment called "Year of the Trader," the panel shared some trading tips. Terranova said it's important for investors to understand how the crowd is positioned so that you don't get caught. In the case of
Dell
(DELL) - Get Dell Technologies Inc Class C Report
, the company had set such a low bar that all the shorts had to come in to cover, he said.
Adami said it's important for traders to realize when a window of opportunity is at hand and move. He said that happened recently with
Harley-Davidson
(HOG) - Get Harley-Davidson, Inc. Report
, when a short position set up nicely as the company moved into earnings.
Finerman said investors should sell calls when things are really "ripping."
In the Rising Star segment, Terranova touted
Natco Group
(NTG) - Get Tortoise Midstream Energy Fund Inc. Report
, a company that provides high-tech equipment for oil companies.
He said the company, which hit a low in November, has international exposure after signing a deal with
Petrobras
(PZE)
and came up with an earnings surprise on Feb. 7. He said investors should look into getting into the stock on a pullback.
In the final trades, Terranova was for
Exxon Mobil
(XOM) - Get Exxon Mobil Corporation Report
, Adami for
Abbot Labs
(ABT) - Get Abbott Laboratories Report
, Finerman for
Cisco
(CSCO) - Get Cisco Systems, Inc. Report
and Najarian for
iShares Biotechnology Index
(IBB) - Get iShares Biotechnology ETF Report
.
"Check out
"'Fast Money'Portfolios of the Week" on Stockpickr every Thursday.