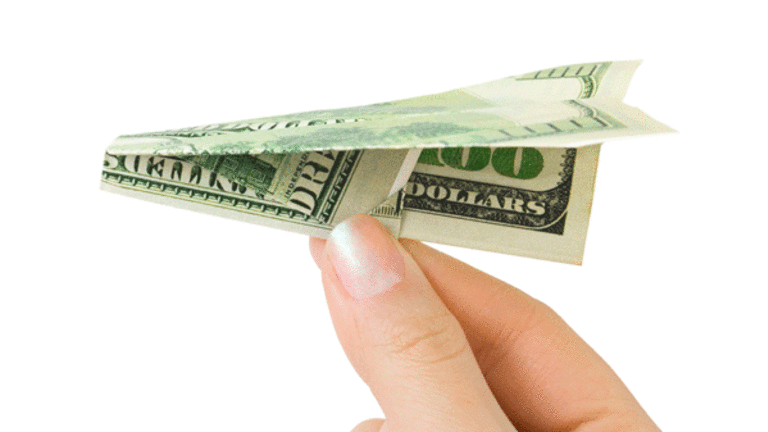 'Fast Money' Recap: Nike Scores
There was nothing but praise for the sneaker concern on Tuesday's show.
There was nothing but praise for the sneaker concern on Tuesday's show.
NEW YORK (TheStreet) --Mixed economic data weighed on stocks during Tuesday's session.
The
Dow Jones Industrial Average
declined 47.16, or 0.48%, to 9,742.20, while the
S&P 500
slipped 2.37, or 0.22%, to 1,060.61. The
Nasdaq
, meanwhile, lost 6.70, or 0.31%, to 2,124.04.
The panelists on
CNBC's
"Fast Money" TV show started the session off by discussing
Nike
(NKE) - Get Report
, which topped analysts' expectations with its quarterly earnings after the bell Tuesday.
There was nothing but praise for the sneaker concern. Karen Finerman mentioned Nike's improving gross margins. Pete Najarian noted the bullish activity in Nike options of late, while Joe Terranova said Nike's earnings represented "a good story going forward for the market," and Steve Grasso added, "You just gotta buy Nike."
For a breakout of some stocks from a recent "Fast Money" TV show,check out Dan Fitzpatrick's "3 Stocks I Saw on TV."
3 Stocks I Saw onTV
varconfig = new Array(); config<BRACKET>"videoId"</BRACKET> = 40696854001;config<BRACKET>"playerTag"</BRACKET> = "TSCM Embedded Video Player";config<BRACKET>"autoStart"</BRACKET> = false;config<BRACKET>"preloadBackColor"</BRACKET> = "#FFFFFF";config<BRACKET>"useOverlayMenu"</BRACKET> = "false";config<BRACKET>"width"</BRACKET> = 265;config<BRACKET>"height"</BRACKET> = 255;config<BRACKET>"playerId"</BRACKET> = 1243645856;createExperience(config, 8);
High-end department store
Saks
(SKS)
also issued news after Tuesday's close, announcing a $100 million stock offering. Finerman, noting the company's high debt levels, suggested that any move to clean up the company's balance sheet will help, while Steve Grasso countered that the offering at this moment is nothing but a sign of weakness.
Moving to the day's economic data, Steve Grasso addressed the disappointing consumer confidence figures issued by the Conference Board Tuesday morning. "The concern that's still out there is jobs," he said.
Karen Finerman doesn't put much stock in the consumer confidence metric as a real indicator. "Of all the economic data we see," she said, "it's the least interesting," adding that whenever the market rises or falls on this particular report, she's doesn't take much away from it.
As for the day's housing data -- the Standard & Poor's/Case Shiller index showed that home prices declined to a lesser extent in June than analysts were expecting -- Steve Grasso held a contrarian view, saying that no one he knows on the trading floor believes that housing has found a bottom.
Though homebuilding stocks saw a bounce on the data Tuesday, Terranova said he'd avoid buying and holding among these names. On the other hand, Finerman noted, with interest rates at historic lows, it can only help the housing sector.
Crude prices settled lower Tuesday as traders, including Joe Terranova, are expecting bearish inventory reports Tuesday night and Wednesday morning. But, he added, October is generally a good buying month for the black stuff; he thinks oil prices will trend higher.
Pete Najarian said
ConocoPhilips
(COP) - Get Report
looks like a good play in this market, even though he himself doesn't own any shares of the big integrated energy concern. He likes the company's natural gas exposure and its dividend yield. Along the same lines, he added that
BP
(BP) - Get Report
also intrigued him.
New rules put forth by the
Federal Reserve
Tuesday could, among other things, ban credit-card issuers from providing plastic to anyone under 21. Pete Najarian, who said the rule "made absolutely no sense," agreed that the proposed regulations would hurt names like
Capital One
(COF) - Get Report
and
American Express
(AXP) - Get Report
.
Elsewhere among financials, boutique advisory shops such as
Greenhill
(GHL) - Get Report
,
Jefferies
(JEF) - Get Report
and
Lazard
(LAZ) - Get Report
saw their stocks reach new highs, perhaps on the back of a seeming binge of fresh M&A activity. Steve Grasso appeared to caution investors, though, saying that he'd sit back and "see where the bodies lie." Others in the group mentioned Lazard and Greenhill in particular as good stocks with which to play any renewal of M&A deal flow in the wake of the credit crisis.
"Fast Money" guest Gary Kaminsky, the former managing director at Neuberger Berman, offered a few pointers on how to pick good investment opportunities out of the junk of a list of the worst-performing stocks in the
S&P 500
. Two of his favorites?
Vulcan Materials
(VMC) - Get Report
and
SunTrust
(STI) - Get Report
, two housing-market-related companies with big exposure to downtrodden Florida.
Despite that seemingly frightening fact, Kaminsky said that tax-loss selling by mutual funds have pushed these two stocks lower than their relatively strong fundamentals should have allowed. He expects Vulcan and SunTrust to be outperformers from October through the end of the year.
The uptick in M&A activity has also spurred options trading action in biotech names, and Pete Najarian said he likes
Biogen Idec
(BIIB) - Get Report
, the Cambridge, Mass., company that's been attempting to ward off Carl Icahn for what seems like years. Recent options moves in Biogen indicate that the smart money might be making an Icahn takeout bet. Najarian said that he has participated in such trades himself, but not just because of buyout rumors. Najarian says he likes Biogen fundamentally as a "standalone stock."
A taste test of
Starbucks'
(SBUX) - Get Report
new Via line of instant coffee, unveiled Tuesday, led Joe Terranova to caution investors on buying shares of the coffee-shop chain at current levels. From a valuation standpoint, "it's time to move to the sidelines on Starbucks," he said, noting that the stock now trades at a P/E ratio of about 31.
In the Slow Money segment of the program, Najarian gave his buy-and-hold pick: California utility
PG&E
(PCG) - Get Report
. He especially likes the growth the company stands to gain in the production of solar energy, which now amounts to just 1% of the juice it puts out.
Reacting to the day's biggest winners, Karen Finerman gave props to the pop in shares of
Boeing
(BA) - Get Report
, which announced new government contracts. Investors, meanwhile, apparently kept hope alive that the 787 would receive a test flight soon.
Steve Grasso said
Walgreen
(WAG)
stock is a good buy even as its stock jumped on a sanguine earnings report; Terranova said "everything's coming together for
Palm
( PALM);" and Najarian mentioned
Polo Ralph Lauren
(RL) - Get Report
, which got a ratings boost from Goldman Sachs on the company's potential for growth in Asia and in the multi-billion-dollar handbag market.
In the last portion of the show,
Allscripts
(MDRX) - Get Report
CEO Glen Tullman discussed his company's prospects for growth. The company, which topped Wall Street expectations with its quarterly earnings report Tuesday after the close, will benefit along with its peers from a $38 billion stimulus injection from the federal government, Tullman said. He added, "Any way you slice it, we're talking about a multi-billion-dollar opportunity for Allscripts."
The "Fast Money" participants agreed. "I hate subsidies, I hate stimulus," said Steve Grasso, before adding that Allscripts, along with the medical-software sector, is a place that investors ought to put their money to work.
-- Written by Scott Eden in New York
To watch replays of Cramer's video segments, visit the Mad Money page onCNBC
.
"Check out
"'Fast Money'Portfolios of the Week" on Stockpickr every Thursday.
Follow TheStreet.com on
Twitter
and become a fan on
Scott Eden has covered business -- both large and small -- for more than a decade. Prior to joining TheStreet.com, he worked as a features reporter for Dealmaker and Trader Monthly magazines. Before that, he wrote for the Chicago Reader, that city's weekly paper. Early in his career, he was a staff reporter at the Dow Jones News Service. His reporting has appeared in The Wall Street Journal, Men's Journal, the St. Petersburg (Fla.) Times, and the Believer magazine, among other publications. He's also the author of Touchdown Jesus (Simon & Schuster, 2005), a nonfiction book about Notre Dame football fans and the business and politics of big-time college sports. He has degrees from Notre Dame and Washington University in St. Louis.