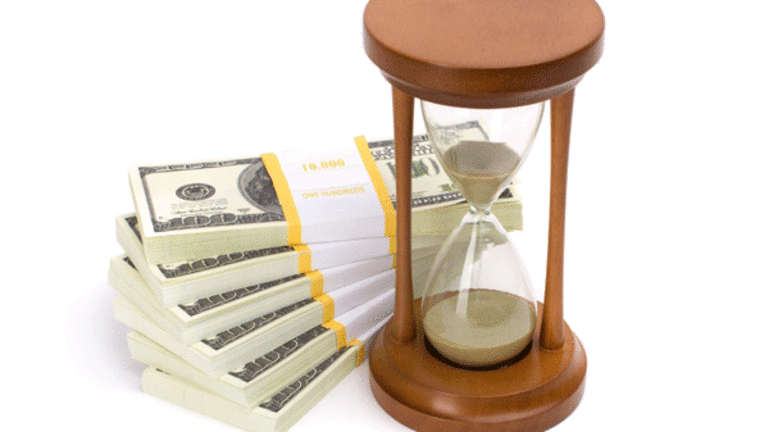 'Fast Money' Recap: Next Week's Market
The trading panel debated the next move for the market after today's drop.
NEW YORK (
) -- The markets tumbled Friday despite some strong tech earnings and encouraging existing home sales figures.
The
Dow Jones Industrial Average
fell 109.13, or 1.08%, to 9,972.18 while the
S&P 500
dropped 13.31, or 1.22% to 1,079.60. The
Nasdaq
lost 10.82, or 0.50%, to 2,154.47.
Steve Grasso said on
CNBC
's "Fast Money" TV show that it felt on the floor that "people still wanted to buy but they were spooked." However, he felt the market is headed to 1,150 and 1,200 despite today's action.
For a breakout of some stocks from a recent "Fast Money" TV show,check out Dan Fitzpatrick's "3 Stocks I Saw on TV."
3 Stocks I Saw onTV
varconfig = new Array(); config<BRACKET>"videoId"</BRACKET> = 46020125001;config<BRACKET>"playerTag"</BRACKET> = "TSCM Embedded Video Player";config<BRACKET>"autoStart"</BRACKET> = false;config<BRACKET>"preloadBackColor"</BRACKET> = "#FFFFFF";config<BRACKET>"useOverlayMenu"</BRACKET> = "false";config<BRACKET>"width"</BRACKET> = 265;config<BRACKET>"height"</BRACKET> = 255;config<BRACKET>"playerId"</BRACKET> = 1243645856;createExperience(config, 8);
Joe Terranova wasn't so optimistic. He said the market is having a difficult time getting above 1,100 on the S&P. He said the price action was "horrible" despite good earnings and economic news this week.
Karen Finerman agreed with Grasso that the markets are headed higher for two reasons: companies showing bottom-line improvement and money on the sidelines.
Gary Kaminsky said the momentum that will continue to drive the market higher will be money managers wanting to stay invested and the chase for performance until year's end.
Terranova speculated that the one thing that could reverse the market will be an improvement in the jobless rate report that comes out in the first week of November. That prompted a look of disbelief from Melissa Lee, the moderator of the show, who wondered what impact "a tick higher" would have on the market.
Grasso said a better unemployment number could trigger inflation and hurt the market.
Finerman said a better jobless figure would be good because it will signal strength in consumer spending, something the economy needs.
Lee pulled up a chart showing a disturbing trend of companies beating earnings estimates but lagging when it comes to revenue beats.
Kaminsky said the markets have relied on earnings beats to move higher in September and October, but that it will take "real economic growth" to move higher from this point on.
Lee shifted to technology stocks and the strong results from
Microsoft
(MSFT) - Get Microsoft Corporation Report
,
Apple
(AAPL) - Get Apple Inc. Report
and
Amazon.com
(AMZN) - Get Amazon.com, Inc. Report
.
Kaminsky said the results show that the consumer is alive and spending. Grasso said younger people can afford to spend because they didn't take the hit the adults did on their 401ks.
Kaminsky said money managers are in a bind now because they are wondering how they can participate in stocks like Amazon when they are up so high. Terranova said there is more room for Amazon to go higher because $150 billion ecommerce industry is growing.
Kaminsky reached back to his past and picked out a freight-forwarding stock that he thinks will work even if there were a correction for stocks like Amazon and Apple. That stock is
Expeditors International
(EXPD) - Get Expeditors International of Washington, Inc. Report
, which he likes because it's not asset heavy, it has a well-managed balance sheet and it can lease space if volume declines.
Lee brought in Dennis Gartman, noted commodity expert, to comment on the continuing slide in the dollar while crude climbs. Gartman said the dollar is ripe for a correction with so many people shorting it.
He also said he is long gold, which he said has become the new reserve currency as investors desert the dollar, euro and yen.
Lee brought in Rep. Paul Ryan (R., Wis.) to talk about the fate of the health care bills in the Senate and House. He said the bills will reach the floors of both houses in the first week of November.
He said both sides are looking for a tax increase to cover a $200 billion spending gap.
He said the real agenda behind the bills is the nationalization of the health care sector with the government winding up running it. He said competition will be reduced to a few players, which will become something like public utilities.
Terranova said he liked
Cigna
(CI) - Get Cigna Corporation Report
in this new world order because less than 5 percent of its business is exposed to whatever legislation makes it through Congress. Kaminsky added PPMs like
Allscripts
(MDRX) - Get Allscripts Healthcare Solutions, Inc. Report
should alos fare well.
Lee brought in Stacey Gilbert, a senior options trader for Susquehanna International, to talk about the significance of the low volatility in the markets.
Gilbert said investors make the mistake of thinking 20 as a "magic" number, whenever the Vix is discussed. She said it's more important focus on the fundamentals of the stock, the story behind the company and the implied volatility.
She said
Massey Energy
( MEE) is a stock that fits that bill. She said she recently bought the Nov. 31 strike call for $2.30 because she thought the stock had a surprising upside and an attractive volatility.
Terranova agreed with that assessment and threw in a stock he liked for similar reasons:
Alpha Natural Resources
(ANR)
.
Lee broke in with news that Carl Icahn had announced his resignation from the board of
Yahoo!
(YHOO)
. Finerman interpreted that to mean that he's looking to get out of the stock, adding the announcement should send the story down.
In the final trades, Terranova said to get out of
Joy Global
( JOYG). Finerman liked
St. Jude Medical
(STJ)
. Grasso sees Apple going higher. Kaminsky did not have a pick.
-- Written by David Tong in San Francisco
To watch replays of Cramer's video segments, visit the Mad Money page onCNBC
.
"Check out
"'Fast Money'Portfolios of the Week" on Stockpickr every Thursday.
Follow TheStreet.com on
Twitter
and become a fan on