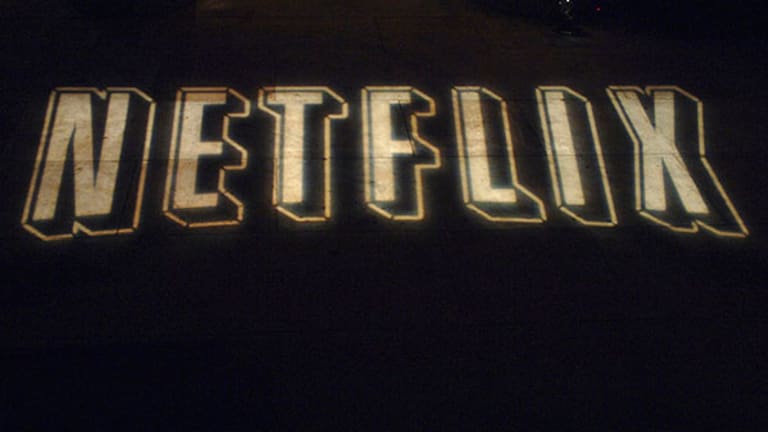 'Fast Money' Recap: Netflix Might Be Too Rich for Your Budget
The trading panel discussed Netflix' stock split, its high valuation and whether you should invest. The traders also talked to Boeing's incoming and outgoing CEO.
The trading panel discussed Netflix' stock split, its high valuation and whether you should invest. The traders also talked to Boeing's incoming and outgoing CEO.
NEW YORK (TheStreet) -- Shares of Netflix (NFLX) - Get Report have jumped an incredible 99% for the year to date as of Tuesday's close. However, in the after-hours session, the stock climbed another 3.5% on news of a 7-for-1 stock split. That got the CNBC "Fast Money" traders' attention. 
Bob Peck, managing director at SunTrust Robinson Humphrey, has a hold rating and $550 price target on Netflix stock but said he loves the company. It has a disruptive technology and its international expansion is impressive. However, its valuation isn't quite as pretty. 
Netflix trades at 100 times 2015 estimates of earnings before interest, taxes, depreciation and amortization, 75 times 2016 Ebitda estimates and 40 times 2017 Ebitda estimates, Peck explained. So while revenue growth remains impressive, it's just too hard to buy at current prices. The company has stumbled before, resulting in a pullback of more than 30% not that long ago. With current valuations, a similar situation could repeat, he said. 
Growth investors will still pay a higher valuation for growth stocks said, David Seaburg, managing director and head of sales trading at Cowen and Company. He made the case that Netflix is headed to $1,400 or $1,500 (pre-split) within the next five years, based on the company's success rate in the U.S. and because of its international expansion. 
Guy Adami, managing director of stockmonster.com, has been bullish on Netflix for a while now, despite the fact that it trades at a very high valuation. However, he doesn't believe that valuation is a problem for Netflix -- at least not yet -- because no other competitor has created as good a product. 
The stock might be amazing five years from now, but Brian Kelly, founder of Brian Kelly Capital, took a different approach: Imagine you didn't know the name of the stock but just the facts. 
The facts include a stock that has appreciated more than 900% over the past three years, trades at a very high valuation and just announced a stock split that will bring in more mom and pop investors. That's not an enticing combo and investors should consider taking profits, he said. 
The conversation turned to Boeing (BA) - Get Report, which announced CEO Jim McNerney will step down, effective July 1. He will remain chairman of the company when Dennis Muilenburg, the company's chief operating officer, takes over as CEO. Both phoned into Fast Money. 

McNerney, widely viewed by investors as an all-star CEO, explained his reasoning behind stepping down as CEO. The business tends to take place over long cycles and, at the age of 65,  he said it's best to let someone younger take the torch. The business is on a firm base and the future looks bright as long as management continues to execute, he said. 
More specifically, Muilenburg said the company's commercial aircraft business remains strong while the defense business is still challenging. However, the defense business is starting to benefit from international growth. The company will still invest in innovation and productivity. 
This is not a "stock-moving transition," Seaburg said. Investors were ready for the move and shouldn't be too surprised. Kelly agreed, adding there's "nothing game-changing about this." If anything, investors should look to buy the stock if it sells off on this news. 
Steve Grasso, director of institutional sales at Stuart Frankel, looked at the recent durable goods orders and pointed out that aircraft orders were weak. As a result, he would rather buy airline stocks, specifically JetBlue Airways (JBLU) - Get Report. 
Investors can buy Boeing but should use a stop-loss of $140, Adami said. Although the Paris Air Show was kind of a "dud," the valuation is somewhat compelling. 
For their final trades, Grasso is buying Wendy's (WEN) - Get Report and Kelly is a buyer of BlackBerry . Seaburg said to take profits in the iShares Nasdaq Biotechnology ETF (IBB) - Get Report and Adami is buying ConAgra Foods (CAG) - Get Report.
Follow TheStreet.com on Twitter and become a fan on Facebook.