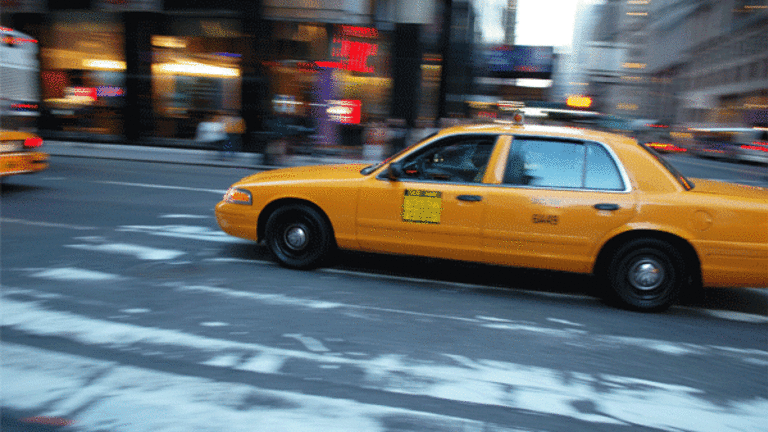 'Fast Money' Recap: Natural Gas Glows
The trading panel says that compared with oil, nat gas is a buy.
On
CNBC's
"Fast Money," Melissa Lee started the program by mentioning the "there was a jump in crude oil today as a result of the Hurricane Gustav." Many investors are speculating the hurricane will hit the Gulf Coast. Lee asked the panelist whether this move is sustainable.
Guy Adami said he was not sure if the move was sustainable but instead mentioned about how traders can take advantage of
Exxon Mobil
(XOM) - Get Exxon Mobil Corporation Report
. He said "every time Exxon Mobil goes to $78-$79, it becomes a value play." He said to sell it as it goes to $82-$83 and to buy back again if it drops to the $78-$79 range.
Jon Najarian said the "the durable goods numbers was fantastic, which is why the market was up nicely."
The Chart of the Day showed natural gas vs. crude oil
Joe Terranova said "it is all about supply and all about investment" that is moving crude oil and natural gas. He said this is why the chart shows how crude oil has held up nicely compared with natural gas.
Najarian said he would be a buyer of natural gas. He mentions a ratio between the prices of crude oil and those of natural gas. He said the ratio is typically about 9.2 but is now about 14, which he feels makes natural gas a buy.
Quint Tatro said it was nice the markets was up today but said the "volume is pitiful." Since the markets has been trading in relatively low levels, he said it makes it hard for him to be bullish.
Lee brought up an announcement released after the market closed from
Fannie Mae
( FNM) stating some management changes -- the firm is replacing its CFO. She mentioned that the stock remained relatively flat on the news.
Adami ignored the Fannie Mae news and simply said that
Johnson & Johnson
(JNJ) - Get Johnson & Johnson Report
will continue to go higher.
Najarian said he wouldn't want to trade either Fannie or Freddie. He said he "feels both stocks have death written on them."
Adami said
U.S. Bancorp
(USB) - Get U.S. Bancorp Report
is doing everything right, but "you have to trade it." The stock has moved up since he has been recommending it and he now suggests "it's time to take money off the table."
Lee mentioned that there are some rumors that new products might be coming out in the second half of 2008 from
Apple
(AAPL) - Get Apple Inc. Report
Terranova said "when the markets turn, technology is going to move to the upside." As a result, he remains bullish with Apple and
Research In Motion
( RIMM).
Adami brought up how airliners are "just trading vehicles." He said "if you think oil is going down, you buy airlines," and vice versa.
Najarian said someone out there believes
Aflac
(AFL) - Get Aflac Incorporated Report
is being "shopped around" or could possibly be bought out -- this belief came to be when he noticed strong call option activity with $65 strike price.
Hard Numbers
Joe Lavorgna Chief U.S. Economist of Deutsche Bank, joined the program and said the "durable-goods number released today were great." However, while he likes the durable-goods data and feels that the possible upward revision in GDP bodes well for the economy, he feels the market at best will trade sideways -- he does not feel it is a good time to buy equities just yet.
Lee noted that
Dell
(DELL) - Get Dell Technologies Inc Class C Report
, which is performing the best in the technology sector, reports earnings tomorrow
Clay Sumner, senior analyst of FBR Capital Markets, said believes Dell will report strong earnings. In addition, he feels the company is "not getting enough credit in the Street" regarding the strides it has taken and will possibly make this year that are not reflected in the estimates. He reiterated his firm's stance on the company by saying Dell will continue to benefit from the emerging markets such as India and China. He believes the stock can go to $30.
However, Sumner's bullish stance on Dell could not change Najarian's mind. Najarian said he does not like Dell and believes Lenovo is better. He thinks Dell is "going back down to $22."
Hammer and Nails
Lee mentioned how homebuilders has over-performed the market this past month.
Tatro said if investors want to get a piece of the homebuilder action, they should take a look at
Homebuilders ETF
(XHB) - Get SPDR S&P Homebuilders ETF Report
, rather than a particular homebuilder. He said "I like the XHB," but if you buy it, protect yourself with a stop loss.
Lee mentioned a note that was released today from Goldman Sachs stating a trade investors can benefit from if Obama wins the election. The thesis is that if more people become insured as a result of Obama, hospitals stand to benefit.
Tatro said for investors to take a look at
TLC Vision Corp
(TLC) - Get Taiwan Liposome Co. Ltd. Report
if they want to do the "Obama" trade.
David Schick, retail analyst of Stifel Nicolaus, said the best indicator on the future for many retailers is the back-to-school season. According to his research, back-to-school season does not look well. Therefore he suggested picking retailers that are not depending on the back-to-school or Christmas season.
Terranova disagreed a bit, stating that
Urban Outfitters
(URBN) - Get Urban Outfitters, Inc. Report
"has been performing well and will not change."
Final Trade:
Adami said he likes
EMC
(EMC)
.
Tatro favors
UltraShort Basic Materials
(SMN) - Get ProShares UltraShort Basic Materials Report
.
Terranova picked
Excel Maritime Carriers
(EXM)
.
Najarian likes
NetApp AG
(NTAP) - Get NetApp, Inc. Report
.
Peter Garcia is a finance major at Seton Hall. He provides invaluable research support as an intern at TheStreet.com.