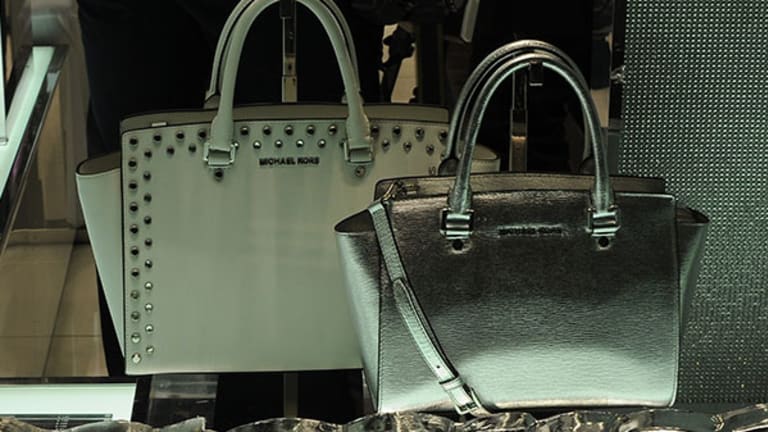 'Fast Money' Recap: Michael Kors Gets Sized Up, Oil Still a Slippery Bet
The trading panel dived into assessing Michael Kors Holding and other retailers, as well as addressing energy and where oil is headed.
NEW YORK ( TheStreet) -- Michael Kors (KORS) got a taste of savvy window shoppers Friday when the CNBC "Fast Money" panel evaluated the embattled luxury fashion retailer and weighed in whether it was still a buy or sell opportunity for investors, as the stock hit a new 52-week low.
Other topics on tap for the panel included the direction of oil and housing prices, as well as whether the markets are in for a June swoon or summer sizzle.
In addressing the markets, the panel was divided on whether June will be a swoon or sizzle. "I think June will be a swoon, but it won't be so bad," said Josh Brown, CEO and co-founder of Ritholtz Wealth Management.  Keith Banks, president of Bank of America's (BAC) - Get Free Report private wealth management arm U.S. Trust, said he anticipates a sizzle but wouldn't be surprised by a swoon.
For Jon Najarian, co-founder of optionmonster.com, he largely expects a swoon in June, given his expectations that the price of oil will continue to trade down and the Euro will continue to weaken. However, he noted the outcome of Greece's looming and massive debt negotiations will have a great affect on the markets performance.
Greece currently owes the International Monetary Fund 1.6 billion euros, with payments scheduled for June. According to a report in the Wall Street Journal, the first payment is due June 5 of which Greece has said it has enough to cover but the remaining payments in mid-June remain debatable without aid. There is talk that Greece will default on its debts and exit the eurozone, if a bailout deal is not struck, according to the Wall Street Journal. And if Greece exits the eurozone, many expect that to lead to a credit crunch.
If Greek exits the eurozone, Najarian said he plans to throw money back into the markets. The reasoning is that efforts will be made by the International Monetary Fund to stabilize the situation by flooding the markets with liquidity.
"It won't be just a one month burst. I think the sizzle could really happen over a period," Najarian said.
Meanwhile, the panel largely expressed optimism that high-end fashion designer Kors can turn things around after a difficult quarter and 7% decline in same store sales. Jim Lebenthal, CFO and CIO of Lebenthal & Co., said, "After a 50% drop in a year, unless Kors goes out of business, you gotta buy it." Najarian also likes Kors and Kate Moore, chief investment strategist for JP Morgan Private Bank, said she is sticking with investing in consumer discretionary related stocks.
Guest speaker Allen Questrom, former CEO of J.C. Penney (JCP) - Get Free Report, said the challenge that Kors faced was failing to manage its oversupply of inventory, a problem that it created for itself. He noted it was the same problem that Gucci Group (GUCG) faced. Additionally, the company is struggling to come up with something fresh and new, a critical issue when serving a largely female client base. 
However, Questrom is optimistic the company's founder Michael Kors can overcome this issue, given that Kors is a designer himself and will have the ability to come up with a fix for a fresh new look. 
As for his former digs at J.C. Penney, Questrom was more skeptical. With the company two years into its turnaround, he noted it dropped a third of its business and only managed to pick up one-sixth of what it lost. "It's much more difficult when you've thrown the customer out the door and tried to then get them back," he said. 
Energy, specifically oil, was also one of the topics the panel addressed, in light of the OPEC meeting that is scheduled for next week. Najarian said the meeting may serve as a catalyst to push oil prices higher. 
That said, Moore does not plan to "touch energy stocks" until there has been a decline in oil inventory. 
Moore and Brown, however, held a similar view that stocks related to the housing market are poised to run higher. 
This article is commentary by an independent contributor. At the time of publication, the author held no positions in the stocks mentioned.