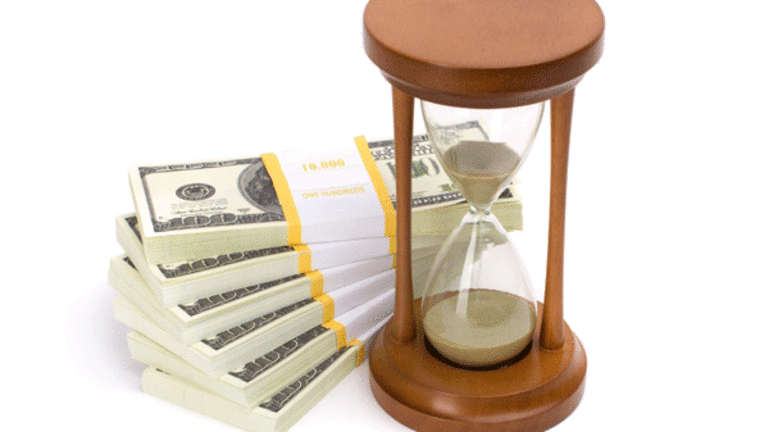 'Fast Money' Recap: Markets Not so Weak
The trading panel says that amid the ongoing volatility triggered by the European Union and euro depreciation, there are plays for investors, including copper and oil.
The trading panel says that amid the ongoing volatility triggered by the European Union and euro depreciation, there are plays for investors, including copper and oil.
NEW YORK (
) -- The
Fast Money
crowd says that an investor doesn't need to be a bull or a bear amid the current market volatility. The general message was that investors need to pick their spots carefully and focus on points of reference for trades, said Guy Adami.
said that given the drop in the Chinese markets and the drop in crude oil prices, the fact that the markets were not weaker should be a silver lining for investors.
Peter Najarian says it looks like at least technology, for example, seems to be a favorite amid the carnage from Europe, as there has been positive movement in the Technology SPDR exchange-traded fund since Friday.
For a breakout of some stocks from a recent "Fast Money" TV show,check out Dan Fitzpatrick's "3 Stocks I Saw on TV."
3 Stocks I Saw onTV
varconfig = new Array(); config<BRACKET>"videoId"</BRACKET> = 86025897001;config<BRACKET>"playerTag"</BRACKET> = "TSCM Embedded Video Player";config<BRACKET>"autoStart"</BRACKET> = false;config<BRACKET>"preloadBackColor"</BRACKET> = "#FFFFFF";config<BRACKET>"useOverlayMenu"</BRACKET> = "false";config<BRACKET>"width"</BRACKET> = 265;config<BRACKET>"height"</BRACKET> = 255;config<BRACKET>"playerId"</BRACKET> = 1243645856;createExperience(config, 8);
Karen Finerman was impressed by the way the market held, especially after the morning looked as if it was setting up Monday to be another big losing day. One trade, in particular, that could be at a low was copper, which was beaten down to what she said could be a level of support.
Joe Terranova said he's still looking for the point of reference to go long on copper, but he doesn't think we are there yet. Terranova says it's time to be thinking about going long oil after crude slid below $70.
Karen Finerman said the real value is still to be found in the really big cap names, like
Wal-Mart
. She said that she had added to
JPMorgan Chase
through options, too, and was staying away from the Russell 2000 names.
There were $7 billion in mergers and acquisitions deals on Monday, even though the markets were volatile. Gary Kaminsky said that it was hard to understand why the market was not stronger on Monday given the M&A activity.
Warren Buffett's quarterly holdings
were also revealed during
Fast Money
after the market close on Monday, and
Berkshire Hathaway
(BRK.B) - Get Report
was bullish on
Becton Dickinson
(BDX) - Get Report
and
Iron Mountain
(IRM) - Get Report
, already a Buffett favorite. Buffett continued to sell shares in
Gannett
(GCI) - Get Report
, and notably sold shares of
Kraft
( KFT), a long time Berkshire Hathaway favorite that came under fire from Buffett for its purchase of
Cadbury
. Overall, it was an expected heavy-selling quarter for Berkshire Hathaway, as Buffett continues to raise funds related to his mega-acquisition of Burlington Northern.
Steve Cortes described the gold prices as a mania and said he was short gold and silver. "The wise men wouldn't be bringing Baby Jesus gold at today's price," Cortes said. The gold trade is way too crowded and when he told investors to short gold last Friday he has never received as much blowback. Echoing the Fast Money theme of points of reference for oil and copper, Cortes pointed to copper and crude specifically as being good replacements for investors who have been using gold as a safe haven. Oil should be rallying and is undervalued, Cortes said.
In other notable "13F quarterly institutional manager filings from hedge fund managers,"
cut his
Citigroup
(C) - Get Report
stake down to a minor 10,000 shares, and
raised his existing stake in
Bank of America
(BAC) - Get Report
by 11%.
Paulson also took a big position in
MGM Mirage
(MGM) - Get Report
in the most recent quarter, which the
Fast Money
crowd said looked like a new position for Paulson.
Famed bank analyst Meredith Whitney was bearish again about banks on Monday and told investors to avoid financials at all costs. John Tabacco of
Locatestock.com
agreed, joining the
Fast Money
gang to say that the heavy shorting in financials that he first noticed earlier this month will continue, and between regulatory reform, unemployment and the bank fundamentals, he had to agree with Whitney's assessment of the financial stocks.
Solar energy stocks have been getting killed by the euro depreciation, but Tabacco said he didn't think it was a perfect storm for solar stocks specifically, as much as it was part of investors finding the sectors that had been overvalued and cutting back. However, Barclays Capital was out with a research report on Monday saying that Chinese solar energy stock,
Suntech Power
(STP)
, could see its earnings drop by as much as 80% based on the depreciation of the euro.
Sector analysts are saying it is shaping up to be a V-shaped recovery, and Paul Hickey of Bespoke Investment Group joined
Fast Money
to say it is time to buy American again, with U.S. companies focused on overseas sales not performing up to the level of more domestically focused stocks, and probably headed for negative earnings revisions. He gave
Coca-Cola
(KO) - Get Report
, with two-thirds of its revenues outside the U.S., as an example when compared to
Dr Pepper Snapple Group
(DPS)
, which has 90% of its revenues in the U.S.
The Bespoke official said it's a theme that plays out across many industries, and has been in evidence since March, with domestically oriented companies up while internationally focused companies lag. Another example is in tobacco, where
Phillip Morris International
has underperformed
Altria
(MO) - Get Report
.
Tuesday earnings plays. Brean Murray analyst Ananda Baruah joined the show to talk about his bold buy call, one day ahead of the
Hewlett-Packard
(HPQ) - Get Report
report. H-P will report after the market close on Tuesday.
The Brean Murray analyst said that H-P has significant exposure to Europe, where it derives 40% of its revenues. However, even adjusting for sales in the euro at $1.23 (where the euro slipped to on Monday), H-P still should not have any problems meeting street estimates. The Brean Murray analyst said investors should also expect more talk from Hewlett-Packard management about mergers and acquisitions following the deal for
Palm
( PALM). Baruah isn't too focused on the Palm deal in his buy call on H-P, saying that the Palm deal is a nice option on the smartphone market, but as it represents less than 1% of H-P's market cap, it's no more than a nice option.
On the opposite side from the Brean Murray analyst going long H-P ahead of its earnings, for investors looking for an upcoming earnings stock to trade short, Mike Khouw, derivatives trader at Cantor Fitzgerald, said it's time to go short shares of
Target
(TGT) - Get Report
using options ahead of its earnings this week.
The
Fast Money
crowd gave some final recommendations spanning all the themes covered in Monday's show, from buying commodities that have been undervalued, to earnings plays and mirroring the bets of the investment world's most famous managers.
It's time to bet on natural gas. It's also time to buy stocks that are among the favorites in the just-revealed quarterly filings of managers like Warren Buffett of
Berkshire Hathaway
(BRK.B) - Get Report
; in this case, Buffett favorite
Iron Mountain
(IRM) - Get Report
. Finally, Karen Finerman said she is long Hewlett-Packard ahead of its earnings report scheduled for Tuesday after the market close.
-- Written by Eric Rosenbaum in New York
To watch replays of Cramer's video segments, visit the Mad Money page on CNBC
.
"Check out
"'Fast Money'Portfolios of the Week" on Stockpickr every Thursday.
Follow TheStreet.com on
Twitter
and become a fan on
Copyright 2009 TheStreet.com Inc. All rights reserved. This material may not be published, broadcast, rewritten, or redistributed.